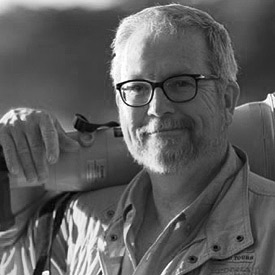 Bruce Dorn
Bruce Dorn has been involved in the visual arts for thirty-eight years. His photographic career began when Conde Nast publishing named him as a Guest Art Director of Mademoiselle Magazine. After opening a studio on Fifth Avenue in Manhattan, Bruce immediately began to shoot for a variety of fashion, business, and news magazines. He soon expanded his services to include both Annual Report and Advertising photography.
Three years later, Bruce was offered a position as a lecturer at the Fine Art campus of Indiana and Purdue University in Indianapolis where he taught all levels of Design and Photography and began the certification process for the school to offer a BFA in Photography. After four years in academia, Bruce moved to Phoenix, Arizona where he opened Studio B, a boutique studio specializing in advertising and visual problem solving. Shortly after, an opportunity arose for Bruce to act as the Director of Photography for series of thirty-second television commercials that took Bruce to the finals of the Clio Awards competition. One of the other finalists in the same category was the Hollywood visual effects powerhouse, Robert Able and Associates. Shortly after the competition, Robert Able interviewed Bruce and offered him the opportunity to direct and ultimate elevated him to the role of Creative Director. After accepting the position, Bruce conceptualized and directed scores of national and international television campaigns for RAA. In the process, Bruce was inducted into the Directors Guild of America and won numerous industry awards. These include multiple Art Directors Club Awards, Clio Awards, Mobius Awards, and a Bronze Lion from the Cannes Commercial Film Festival.
After five years, Bruce spun off to create Bruce Dorn Films, a commercial production company specializing in both analogue and digital effects. As a director/cameraman, Bruce specialized in high-risk cinematography. His expertise in lighting, special effects, underwater, and aerial cinematography was in constant demand.
Bruce currently lives in Prescott, Arizona where he and his wife, internationally-recognized digital painter Maura Dutra, operate iDC Photo Video; a Visual Arts studio. iDC Photo Video also designs and manufactures high-tech accessories for digital filmmaking.
Bruce travels extensively as he serves his commercial clientele, guides digital safaris, and conducts lectures on lighting, photography, and digital film-making technique. Bruce is a Western Digital Creative Master, a Canon Explorer of Light, a Canon Print Master, and a Corel Painter Master.