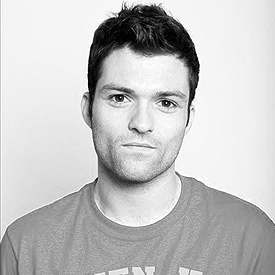 Josh Ruben
j+v films is Josh Ruben and Vincent Peone. Forward-thinking filmmakers driven by the design to push comedic boundaries in commercials, film, music, and branded content.
Josh Ruben and Vincent Peone grew up fifteen minutes from each other in New York's Hudson Valley. They began collaborating at an early age and relocated to New York City to fulfill their creative pursuits.
Regular performers at The Upright Citizen's Brigade Theatre, they began a relationship with New York's skilled network of performers and improvisers. Shortly thereafter, the duo paired their affection for writing and performing with their love for filmmaking. It was at the School of Visual Arts that Vincent studied directing and cinematography, while Josh attended New Actor's Workshop under the instruction of director Mike Nichols. In 2003, they formed sketch group Dutch West, which quickly gained a reputation as a garageband production company for comedic viral shorts. Before long, the duo was producing content for agencies such as Ogilvy and clients Time Warner Cable, BBC, IBM, Comedy Central's Atom Films, Budweiser, Tribeca Productions, and CollegeHumor.
As in-house directors for CollegeHumor, they have been responsible for some of the most viral videos on the Internet. Their wide array of sketches, music videos and commercials have amassed a combined viewership well into the hundreds of millions. Here they have collaborated with such clients as Trojan, Banana Boat, Nintendo, BlackBerry, SoBe, and a horde of promotional content for film, TV, and video games.
As a team, Josh and Vince have worked with the likes of Abby Elliot (SNL), Aubrey Plaza ("Scott Pilgrim"), Ben Schwartz ("House of Lies"), Sarah Wayne Callies ("Walking Dead"), Allison Williams (HBO's "Girls"), Katrina Bowden ("30 Rock"), Kevin Corrigan ("The Departed"), Rob Huebel ("The Descendants"), Patrick Warburton ("Rules of Engagement"), Michael Showalter ("Stella"), Dreama Walker (ABC's "Apartment 23"), Rob Corrdry ("Hot Tub Time Machine"), Aasif Mandvi ("The Daily Show"), Jon Gabrus (MTV's "The Substitute"), Yvonne Strahavski ("Chuck"), Chris Gethard ("Big Lake"), singer/songwriter Rachael Yamagata, and a myriad of others.
Both Josh and Vince received 2011 Webby nods for their work on "Grammar Nazis", a parody of Quentin Tarrantino's "Inglorious Basterds", as well as webseries "Hello My Name Is." Just recently, Paper Magazine ranked their sketch "Woman Afraid of Owls" #3 in their list of 2011's top 10 Funniest Videos Online. Their work has also received praise from E!, CNN, The Huffington Post, NYTimes, The Today Show, and more.