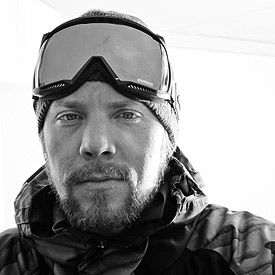 Travis Rice
Travis Rice is universally known for being one of the most versatile and accomplished snowboarders in the world. From the top of the mountains in Alaska to the scaffolding jumps of Munich's Air and Style, this superstar proves no bar is too high for him.
By the age of 18, Travis was not only a successful professional snowboarder, but he began building a savvy business market based on his own name and talent. He began by releasing a limited edition snowboard in 2003 with Lib Tech and has developed multiple Travis-endorsed products throughout the years.
A top tier competitive rider with multiple X Games medals, Travis has the ability to transcend into the mainstream market while also leading in multiple disciplines. This is a testament to both his personality and strength as a snowboarder.
Travis is notorious for breaking barriers as both a filmmaker and snowboarder. He has channeled his passion for the mountains and the art of snowboarding into the production of multiple award winning and top grossing films such as That's It, That's all and The Art of Flight. His innovative skills and cinematic creative vision earned Travis the coveted position of Snowboarder Magazine's 2011 Rider and Video of the Year.
In 2008 Travis joined forces with Quiksilver to create his dream big mountain freestyle event, Quiksilver Natural Selection, in his hometown of Jackson Hole, WY. In true Travis form he continues to push the envelope of possibilities with the conception and development of the Red Bull Supernatural — a first-of-its kind back country competition with a multi-year broadcast on NBC Broadcasting.
He is etching his name in history not only as a rider but a visionary in the world of big mountain freestyle riding. Rice feels strongly that snowboarding should not only be seen as slopestyle or halfpipe, but as a relationship with nature.