NaBahe KatenayKeediniihii
Joined

Location

Dzil Ntsaa Great Mtn. Arizona
Profile Images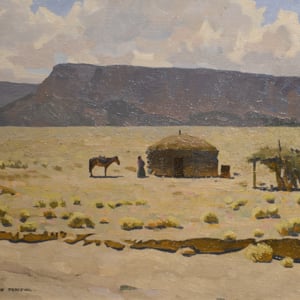 User Bio
Naabahii Keediniihii (original) Bahe Katenay (amerikanized), besides his full-time salary job, currently volunteers to facilitate networking to preserve historical issues and elements of a land based culture, its pristine ecologies and ancient religious accounts, and consults with support organizations on behalf of the endangered traditional Dineh (Navajo) communities. This community located in northeastern Arizona on the Navajo reservation faces a 1974 Law of land partitioning which disrupted intertribal relations. The motivation for this forcible removal policy under the U.S. government is mineral exploitation rather than an intertribal conflict.
With a strong knowledge of both tradition and historical ethnography, Bahe has been responsible for generating the multi-faceted aspects of humanitarian aid, Indian perspectives on socio-political Americana, and indigenous spiritual resistance since 1977. He has particular approaches to human rights work, community sustainable initiatives, cultural information archives, and creation stories' correlation to the sciences. Since late 1970s until the early 1990s, he encouraged his community toward self reliance in order to maintain morale and world communities' interest. Bahe has an endless resume of participations that extends from his local community to abroad all which involves a wide spectrum of human rights, environmental, sustainable living, and cultural and religious exchange.
In the academic sense, Bahe Katenay holds a Bachelor of Arts degree in Electronic Media with a Minor in Geology. He is employed at the Northern Arizona University as a Library Specialist. As an indigenous person, he presents his other profession as a long time rancher, farmer and practitioner a few ancient rituals of his tribe.
Related RSS Feeds