Bárbara Cerón Olvera
Joined
Profile Images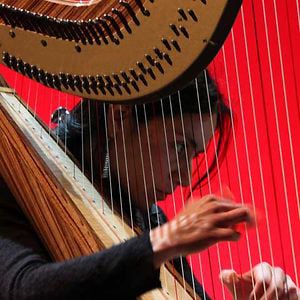 User Bio
Bárbara was born in Mexico City, where she studied the pedal harp with Lidia Tamayo and Mercedes Gómez. Besides the academic music, she also learned the mexican traditional harp "arpa jarocha¨.
In 2007 she obtained her diploma in classic harp at the Royal Conservatory in The Hague with Ernestine Stoop, and in 2008, she gets the diploma in baroque harp with Christina Pluhar at the same school.
Since 2003 is founding member of Modelo62, ensemble that focuses their repertoire on new music of young composers from Latin-America, east and western Europe. They were participating in Darmstadt contemporary Music Festival in 2010.
Since the year 2005, she is member of the ensemble Música Temprana. This group focuses on Spanish and Latin American repertoire. With a very special continuo section by plucked string instruments, Música Temprana, researches both on historic documentation and in oral traditions. They have recorded the CD, "Avecillas Sonoras", a selection of 18th century vocal works from the archives of the Latin-American cathedrals (2008), and ¨Iyai Jesucristo¨ a CD with music from the Jesuit missions in 18th century in Bolivia (2009).
In 2011 Bárbara is member of the Ensamble Lucidarium, playing renaissance music. They have made a new CD named Hombres de Maíz, with Mexican and Italian dances.
Since 2010 is member of the group EnBuscaDe, a Mexican music band based in Strasbourg.
She has participated in many festivals such as Festival Archipel, Festival van Flanderen, Early Music Festival in Stockholm, Darmstadt Music Festival, Early Music Festival, Prague, Festival Cervantino in Mexico City, the Encuentro Latinoamericano de Arpa in Mexico City and in Caracas, Aqua Musica Festival in Amsterdam, the Chicano Art Festival in Chicago, The World Music Days in Puebla, Mexico, Festival del Centro Histórico in Mexico City, Ambronnay Festival in France, Early Music Festival of Utrecht, Festival Internacional de Música Renacentista y Barroca Americana in Chiquitos Bolivia, Festival de Música in La Paz, La Fête de la Musique in Geneva, Festival de Música Sacra y Virreinal, Colombia, and the Festival van Vlaanderen in Brussels, Festival de Música Antigua, Sacra y Virreynal in Bogotá, Colombia, among others.
She is member of the ensemble Capilla de las Américas, leaded by Gabriel Garrido.
Related RSS Feeds