Bar Guerillaz
Joined

Location

Augsburg Germany
Profile Images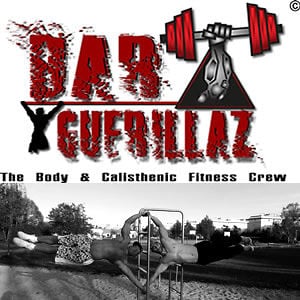 User Bio
Who are the "Bar Guerillaz"?
A new kind of lifestyle! The "Bar Guerillaz - The Body & calisthenic fitness crew" are trained by an international team of athletes and fitness enthusiasts in addition to your body weight with calisthenic exercises. Advantages: Calisthenics give the trainees a free selection of exercises to be carried out only with your own body weight. It is often practiced together with partners, the actual fitness training consists of a variety of basic exercise variations, for example pull-ups, dips, push-ups. Calisthenics are to train a completely new and different way, because instead of monotonous repetitions of their own "style" and new "moves" are the greatest challenge. The "Bar Guerillaz" are Southern Germanies 1st Calisthenics team.
Calisthenics offer not only muscle growth and definition, an improvement of motor skills and physical ability. Not for nothing, the Navy, U.S. Marine Corps and the army are training with calisthenics. The exercises are a guarantee for physical fitness and an enhanced sense of well-being. There is no better feeling than the baser instincts to have overcome!
The "Bar Guerillaz" want to move people to participate in the world. Our workout is not based on weights and mirrors ... the focus is on your muscles and your movement.
Become a member today and discover an elite movement and a new lifestyle ... The Movement has just begun!
Wer sind die "Bar Guerillaz"?
Eine neue Form des Lifestyles! Die "Bar Guerillaz - The Body & Calisthenic Fitness Crew" sind ein internationales Team von Fitnessbegeisterten und Athleten die Ihren Körper neben Gewichten mit Calisthenic-Übungen trainieren. Vorteile: Calisthenics lassen dem Trainierenden eine freie Auswahl an Übungen die rein mit dem eigenen Körpergewicht durchgeführt werden. Oftmals wird zusammen mit Partnern trainiert, das eigentliche Fitness-Training besteht aus einer Vielzahl von Grundübungsvariationen, zum Bsp. Klimmzüge, Dips, Liegestütze. Calisthenics sind eine völlig andere und neue Art zu trainieren, denn anstatt monotoner Wiederholungen ist der eigene "Style" und neue "Moves" die größte Herausforderung. Die "Bar Guerillaz" sind das erste Süddeutsche Calisthenics-Team.
Calisthenics bieten neben Muskelaufbau und Definition auch eine Verbesserung der motorischen und physischen Leistungsfähigkeit. Nicht umsonst trainieren die NAVY, das US Marine Corps und die Bundeswehr mit Calisthenics. Die Übungen sind ein Garant für körperliche Fitness und ein gesteigertes Wohlbefinden. Es gibt kein schöneres Gefühl als den inneren Schweinehund überwunden zu haben!
Die "Bar Guerillaz" möchten Leute weltweit zum Mitmachen bewegen. Unser Workout basiert nicht auf Gewichten oder Spiegeln... im Fokus stehen Deine Muskeln und Deine Bewegung.
Werde noch heute Mitglied einer Elitebewegung und entdecke einen neuen Lifestyle... the Movement has just begun