BARKIN/SELISSEN PROJECT
Plus
Joined

Location

New York, New York
Profile Images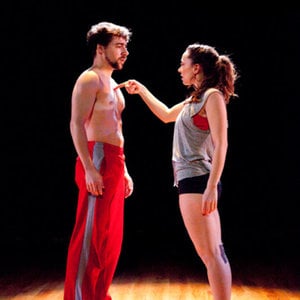 User Bio
BARKIN/SELISSEN PROJECT, founded in 2008, is a new endeavor sprung from the collaborative partnership of artists Kyla Barkin and Aaron Selissen. Together they have been focused on the evolution of their craft while creating work involving interdisciplinary collaboration. The work covers a spectrum of both highly athletic and subtle, qualitative movement that draws from such styles and influences as classical ballet, contemporary modern dance, street dance, wave work, flamenco, the human psyche, and science. It is often inspired by the space and time between beings, between actions, and between breathes, where there is room to explore ideas of cause and effect and to create authentic connections.
Since it's inception, the company has worked with extremely talented collaborators resulting in the successful creations of music, film, and dance. As a combined force, Kyla and Aaron's work has been shown intrnationally including venues such as The Merce Cunningham Theatre, Dance Space Center, Dixon Place, Center Stage, the Clemente Soto Velez Cultural Center, New Dance Group, Dance NOW's RAW series at NYU's Tisch, Grand Space, The Moveable Feast, Silk City Arts Festival, HATCH at Jennifer Muller/The Works Studio, American Dance Guild, Flushing Town Hall, WHITE WAVE's DUMBO DANCE Festival, WAVE RISING Series, and COOL NY Festivals, SHARE, Chelsea Piers, The Choreographer's Canvas, WestFest, O Beethoven in Ubatuba, Brazil, Waxworks, Las Playas Novillero in Nayarit, Mexico, and more.
Kyla Barkin, raised in Tempe, AZ., studied with "La Mariquilla" at the Academia de Ballet Flamenco in Granada, Spain. She attended ASU as part of the Advanced Youth Program, then received her B.A. in Dance from UCLA. Ms. Barkin has been described as having an "exciting, physically expansive attack" (The New York Times). Kyla has been a long time member of Janis Brenner & Dancers and Isabel Gotzkowsky and Friends. She has also worked with The Carolyn Dorfman Dance Co., The Doug Elkins Dance Company, Tamar Rogoff Performance Projects, and others. She has toured internationally and taught at universities and conservatories such as the Juilliard School, NCSA, Wayne State University, Emma Willard, USDAN Center for Performing Arts and also currently teaches various classes, private lessons and workshops. Ms. Barkin is the recipient of the Jean Irwin Award for Talent, Merit, and Potential and is a Fitness Professional and a Yoga Teacher/Therapist. Her writing has been published in DANCE Magazine, and she is also one of the original producers of The Moveable Feast.
Aaron Selissen is originally from Green Bay, WI. He received his B.F.A. in Dance Performance from Butler University. In 2002, he joined David Hochoy's Dance Kaleidoscope of Indianapolis. During his time with Dance Kaleidoscope, he enjoyed annual residencies at the Oregon Shakespeare Festival. He also performed with Gregory Hancock Dance Theatre, Ballet Internationale, Peoria Ballet, and the Indianapolis Opera. In 2005, Mr. Selissen moved to NYC and was invited to dance with the Martha Graham Ensemble. He later joined the Carolyn Dorfman Dance Company, Janis Brenner and Dancers, Isabel Gotzkowsky and Friends, and David Shen Dance Group. In addition to B/S P, he teaches workshops and classes, and designs individual programs based upon his students' needs. Aaron is also a singer/songwriter, guitarist, and a yoga teacher/fitness professional.
It is the mission of BARKIN/SELISSEN PROJECT to forge new pathways in the arts by creating explorative, thought provoking, emotionally driven work. By gathering a community of artists with unique strengths, collaborations reach new levels of potential. B/S P wishes to engage and inspire diverse audiences, and to educate people of all cultures and ages through exposure to dance and the health sciences.
Related RSS Feeds