B. Good Productions (GUisHard)
Joined

Location

Washington, DC
Profile Images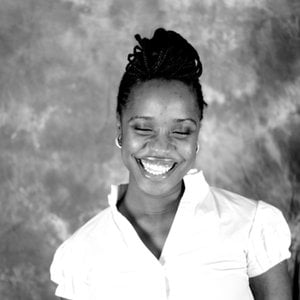 User Bio
A first-generation American, born of Caribbean heritage in 1980's East New York, Brooklyn, Tamika Guishard's ultimate goal as a filmmaker is to foster a re-birth of the after-school special for today's urban youth. Her return to East New York as a seventh grade Social Studies teacher cemented Tamika's desire to make realistic films that entertain and enlighten. Her most recent film, Jackie., was an official selection in Oscar-qualifying film festivals including Cleveland International and Atlanta, in 2012.
Having graduated from NYU Graduate Film in 2011, Tamika continues to innovatively push film's educative boundaries. In her Ranger hat and uniform she was a webisode producer for the National Park Service in collaboration with Ken Burns' "The National Parks: America's Best Idea," African Burial Ground National Monument, WNET/PBS and Harlem Children's Zone. Her work has been screened in National Parks, broadcast nationally, projected in theaters, and integrated into Ivy League and public school classroom curricula—proving that "edutainment" has no boundaries.
Jackie. was extracted from Tamika's first feature screenplay "D-Day (DiDE,)" the cinematic adaptation of a dance production about a drug dealer and his estranged, addict mother, was a finalist for the 2009 Sundance Screenwriters' Lab and more recently selected to the 2014 Canada International Film Festival's Write Brothers Screenplay Competition. Her previous project "Blind Date" was nationally broadcast on BET (Lens on Talent) and Aspire Networks (ABFF Independent).
Currently Tamika combines her passion for filmmaking and education as the Filming Specialist for DC Public Schools, the only municipal position of its kind in the country. While continually developing the feature-length script for Jackie., "D-Day (DiDE,)" she most recently showcased her films to a standing-room only crowd in Washington, DC. Embodying her alma maters' non-sibi principles, she donated a portion of the proceeds to a safe house for youth in foster care living in DC's notorious Southeast quadrant. Since Jackie is the tale of a PA alum whose thrived through an urban foster care system, it is of utmost importance to Tamika to continually lift as she climbs while mainstreaming marginalized stories such as hers.