Staff Blog
Dispatches from Vimeo HQ written by the real humans who work here.
Last Monday through Friday marked Social Media Week in Manhattan, which meant an onslaught of talks, lunches, and presentations geared toward unleashing the power of Facebook, Twitter, Tumblr, Google+, Ello, and yep, even Vimeo. Our own Mike Weissman and Andrea Allen were invited to lead two sessions of what we've dubbed Vimeo Video School Live, a casual workshop aimed at helping digital marketers create and distribute their videos more effectively.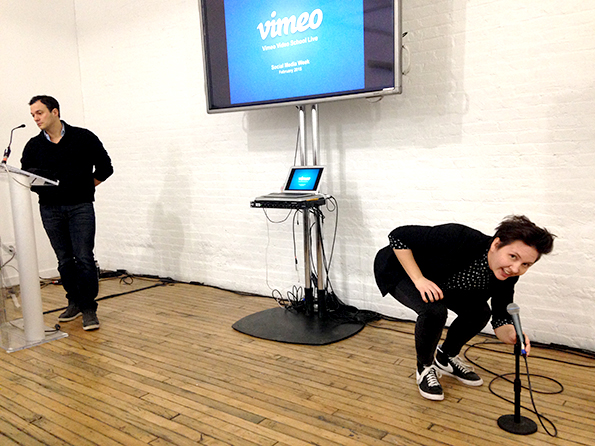 Mike and Andrea have such great on-stage chemistry!
We love leaving the confines of Vimeo HQ and sharing our video wisdom with others. During VVS Live, we related a number of what we hope are extremely helpful tips and tricks for brands and businesses making videos. For those who couldn't attend, here's a quick recap:
Video works, the stats prove it.
Did you know that one minute of video equals 1.8 million words (1)? Or that posts that include videos attract three times more inbound links than text-only posts (2)? Or that footnotes are really fun to include in blog posts? Mike could have gone on for hours (he tried) with more statistics on video, but Andrea was eager to move on to more flashy stuff like showing some great examples of brands using video on Vimeo.
Do the basics right.
What's the first thing your viewers see before watching your video? The thumbnail, title, and description, naturally. An eye-popping thumbnail with an enticing image + clear title and description can really be the deciding factor in getting people to click play. Here are two eyeball-grabbing examples we love:
Brands can make awesome videos.
Filson and Charles Schwab, for instance, are creating amazing and captivating work, and exploring new and interesting ways to market through video. Pro tip: the best brand-made videos don't come across as direct advertisements or infomercials — rather, they stand on their own as great things to watch. Check it:
Filson's "Open Door to Solitude"

Charles Schwab's "Why I left"

Much like Mike, we could go on for days about fun video-related facts and stats, but we'll save that for future posts. Got questions? Hit us up in the comments or learn more about using Vimeo for your business and brand videos.
Footnotes:
(1) Dr. James McQuivey, Forrester Research
(2) SEOMoz
+ 4 Comments
Recent Posts
+ More from the Staff Blog archive