Nikola Tesla was one the premiere inventors of the 19th and 20th centuries, best known for developing the Tesla coil and the modern alternating current (AC) electricity supply system. His inventive mind laid the work for modern-day x-rays, radio remote control, and all wireless technology. However, his most grandiose invention was the World System at Wardenclyffe Tower, which was intended to provide free and unlimited power to everyone on the planet. The utopian plan was predicated on providing 51% of the company and future wireless patents developed from the project to his benefactor J.P. Morgan. Once Morgan realized there was no profit to be made in Tesla's vision of free energy, however, he pulled his funding. In this week's Staff Pick Premiere, filmmaker Matthew Rankin depicts the downfall of Tesla through an electrifying mix of practical animation and avant garde storytelling techniques in "Tesla World Light."
"The breakdown of Tesla's relationship with Morgan is an important turning point in Tesla's life," explains Rankin. "The collapse of his World System at Wardenclyffe provoked a nervous breakdown and more or less represents the end of his active career." In the following weeks, months and years, Tesla wrote dozens of letters to Morgan pleading for additional funding. Oscillating between appeals to his humanity and greed, Tesla became more and more desperate. Rankin says, "In so many ways, I feel the Tesla-Morgan relationship foreshadows how the 20th Century was going to go; how we were going to move from idealism into nightmares and from feelings of hope into feelings of dread." It's hard to argue with, as even now, the excessive inequality and consumption caused by capitalism prevents the desire to promote long-term goals over short term rewards. Through Rankin's imaginative reprocessing of historical data, we are provided a unique lens into the central disillusionment that plagued Tesla and contributed to his mental state.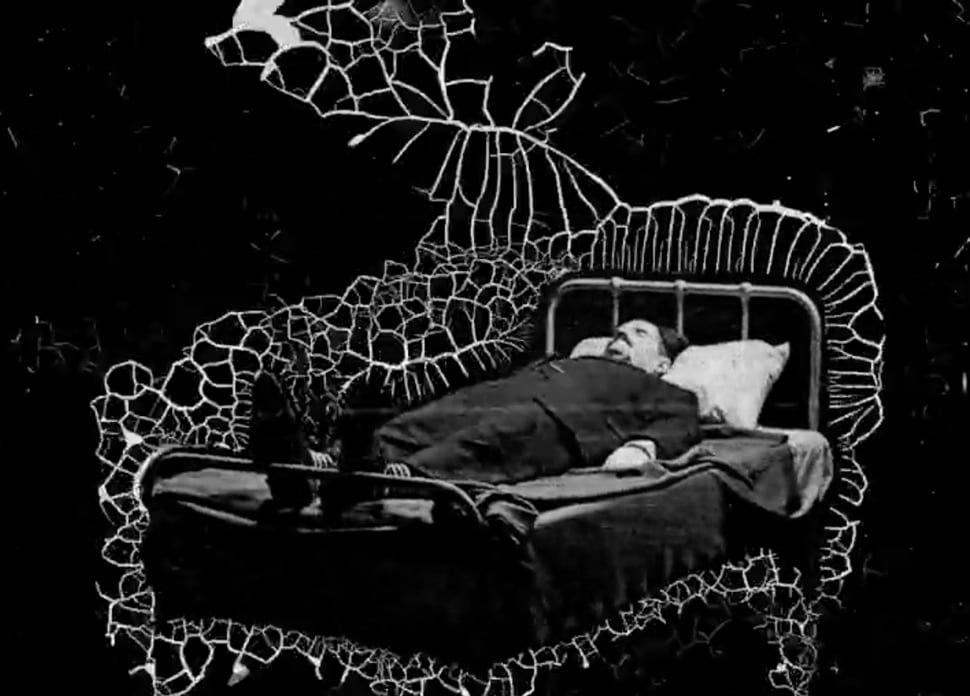 While intrigued by Tesla's story, it wasn't until Rankin discovered the animation technique of light painting that he felt compelled to make a film about him. "You paint with light by moving a light source through a dark space during a long camera exposure. A bit like when you write your name in the air with a sparkler. The result is a streak of light and you can use that principle to create all sorts of wondrous shapes, textures, movements and colors." For this to work, Rankin burned 15,000 sparklers in order to animate each frame separately and captured them in camera on 16mm film. There is no keying or CGI.
To create other effects, Rankin and his production designer Dany Boivin built hand-operated rigs to create "perfectly circular rings of light, spherical orbs of fire and straight horizontal beams, all of which could be animated frame by frame." They also used Christmas lights, fluorescent neons, and flickering bike lamps to create the unique look of "Tesla World Light.". Other techniques and stylistic choices came from avant garde artists and animators including May Ray, Hans Richter, Oskar Fischinger, and Takashi Ito. "To me, Tesla is to science what the early 20th Century avant-gardists were to art, so I wanted to see if I could infuse the visual tropes of these early cinépoètes with narrative meanings," says Rankin. "The idea is to tell the story using an abstract visual language."
Even though the world light project was scrapped and destroyed over 100 years ago, the idea of a Utopian society still persists in the collective imagination. Despite his robust humanism, Nikola Tesla's most ambitious project led to his ultimate demise. With climate change, inequality, hunger, disease and other issues reaching global tipping points, do we persist through long-term projects or give up in exchange for short-term rewards? It's a hard question to answer, but Tesla's story suggests that rediscovering hope and levity is our best path forward. Rankin continues to do his part by completing his first (very) long-term project: a feature length film about the youth of a Canadian Prime Minister who fornicates with a shoe. It's called The 20th Century. Keep your eyes peeled for the feature in film festivals and theaters in the near future.
Check out more of Vimeo's Staff Pick Premieres here.
<
p>If you're interested in premiering your short film as a Staff Pick Premiere, please check out vimeo.com/submit for more information.