This article was first published by Short of the Week creators Andrew Allen and Jason Sondhi. We're sharing their experience here because they learned a lot from it, and we feel it's especially relevant to the Vimeo Community. –Daniel Hayek, Video School Headmaster
Last year, Jason and I released our festival-winning short film, The Thomas Beale Cipher, out into the great wild web. Like many filmmakers, I wrestled with the decisions of when and how to put the film online. After 8 months on the festival circuit, I decided it was time. What happened? What did we learn? Quite a bit it turns out.
First, Background
The Thomas Beale Cipher isn't my first film, but at 11 minutes, it is by far my most ambitious. The production on the animated action-adventure film ran 18 months, with a crew and cast of about 20. Last Spring, the film premiered in front of a large 300+ hometown crowd at the Seattle International Film Festival. Over the following 8 months, the film continued to screen at a variety of festivals (large and small) picking up a handful of awards along the way.
All the while I felt a twinge of guilt. I praised the courage of online films on Short of the Week, yet I was reluctant to post my own film online. Honestly, I didn't know the best way to do it, and I was afraid that a misstep would spell disaster for a project that I, and others, gave so much to. I knew we couldn't just toss it up on YouTube and hope for the best. We needed a plan. And so, we knuckled down and put one together.
The Launch Plan
Simple. Get as many people to see the film as quickly as possible to build up momentum. This meant doing a few things:
1. Go Vimeo. It has a stronger filmmaking community than YouTube which may hit more viewers, but Vimeo will attract the right viewers—those more likely to pass it on to others.
2. Post early. Upload the film early Monday morning (12AM EST) to give the film a full 24 hours to rack up views and stay relevant all week.
3. Harness the crew. Make sure everyone associated with the film knows the plan, and shares it with their social networks. With even 8-10 people sharing on Twitter and Facebook (even if no one individually is Mr. Popular) it's not hard to get over 1000 impressions which can be enough to reach a critical mass.
4. Target key influencers. Email a few major blogs and news sites that share an interest in the film's topic or technique. A key consideration is crafting a good email. As curators of a site with a submit button, we know what it takes to catch a curator's attention. Have a well-designed email with a tight description, a clear statement about why the film is worth watching, a blurb about the filmmaker, and a high-quality image. Make it easy for media to turn around and publish without any further follow-up with you.
5. Keep at it. All day, all week if needed—continue reaching out to new people.
The Release
We launched the film on Monday morning and continued to promote it all week. We started with what we felt was the film's strongest asset—the visual aesthetic—and began by targeting the people we knew—Motionographer, Vimeo Staff Picks, and a few dozen others. Beaming from that initial success, we continued to ask ourselves, 'What's interesting about the film and to whom might we target it to?' We approached different technology blogs and earned mentions on Gizmodo, BoingBoing, and others. As more took notice, I began to take interviews with larger publishers like Fast Company and Wired. Here's the rundown of who took notice when and how it affected the numbers:
Monday 24th, 12AM: Posted the film on Vimeo
Monday 24th, 12noon: Motionographer, Vimeo Staff Picks
Wednesday 26th: BoingBoing, Gizmodo, MetaFilter
Thursday 27th: The Daily What
Friday 28th: Fast Co. Interview, Fubiz
Next Monday 31st: Wired
Traffic over the first 2 weeks (yellow = Loads, green = Plays)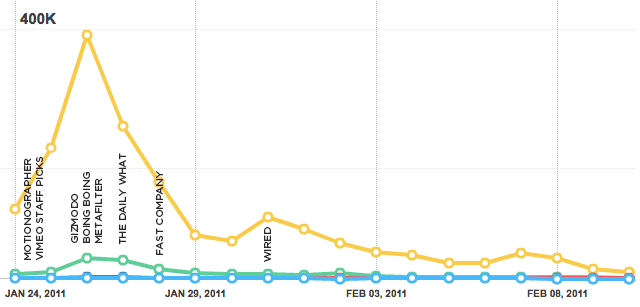 The Results
We've been following the world of online films for the last 5 years. And we know that great films don't always get great numbers, but the results of our first 2 weeks blew past our most optimistic expectations.
170,000 views
1300+ blog reviews/mentions
5000+ shares on Facebook
2000 Tweets
So, How Does That Compare to Our Festival Run?