It most definitely takes a village to make a film. Be it feature, short, animated, documentary, each genre requires its own necessary role(s) that contribute to a glorious finished product. That's why we're much excited to draw your attention to your profile's experience section.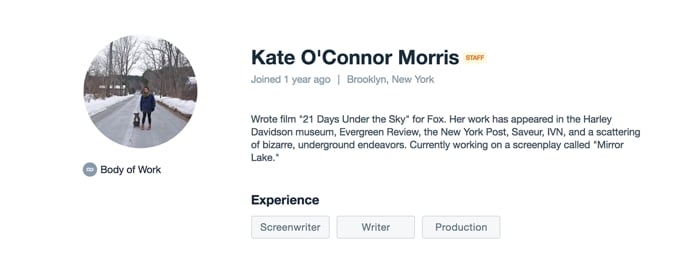 Why is this awesome? Available to Plus, PRO or Business members, this is a quick and seamless way to showcase your talent as a filmmaker. And, since marketers often peruse Vimeo in search of filmmakers to collaborate with, these experience tags make it easier for everyone to connect.
The experience tags appear on your profile page, and are easy like Sunday morning to add in or revise. This means if you're a filmmaker you can quickly showcase your talents, and if you're a brand you can more easily identify creative professionals.
Here's how it works:
1. Simply log in to your Vimeo account.
2. Edit your profile through your settings.
3. Type your skillz and talents into the experience tab. Our drop down menu recognizes conventional credits like Casting Director, Animator, Screenwriter. But you can also go a little hog and choose something along the lines of "lighting beast" or "bringer of good vibes" and the tags will still populate on your profile.
4. Save, and off you go to greater exposure and understanding.
So, whether you're an aspiring filmmaker looking to shine in the eyes of potential clients, or a marketing team seeking out amazing animators, this handy experience section makes it easier to navigate this wondrous community of motion picture people.
Thirsting for some other ways to amp up your profile? Check these tips on cover videos and profile customization.