Existential dread is a slippery feeling. Hard to define, but even harder to ignore. It unexpectedly creeps up at the most inopportune time to remind you that regardless of your achievements or goals, you're still just a tiny animal on a floating rock and none of this matters. We've all felt it to varying degrees and likely pushed it aside to distract ourselves with the next item on our to-do list.
In this week's hilariously dark Staff Pick Premiere, comedian Allen Anders confronts this existential realization in the middle of his stand-up set. What happens next is either the best performance of his life or a nervous breakdown.
Directed by Staff Picked alumna Laura Moss and written by Tony Grayson, who also plays the titular character, "Allen Anders: Live at the Comedy Castle (circa 1987)" feels like a feverish episode caught on tape, rediscovered in dark basement years later. The film, which meticulously recreates the look and sound of a vintage 80's stand-up VHS, is inspired by Grayson's own experimental comedy work.
After meeting at SXSW in 2017, Moss first saw his routine as part of an alternative comedy collective called "The Shithole" in Chicago. "Tony took the audience through the piece so skillfully," remembers Moss. "At first everyone thinks they're watching a terrible comedian, and they're uncomfortable, they're antsy, they're embarrassed for him. The longer you put the audience in that state without losing them, the greater the payoff. Tony is able to live in that discomfort."
The experience, which she describes as an "existential roller-coaster ride," inspired her and producer Brendan O'Brien to work with Grayson on a cinematic adaptation.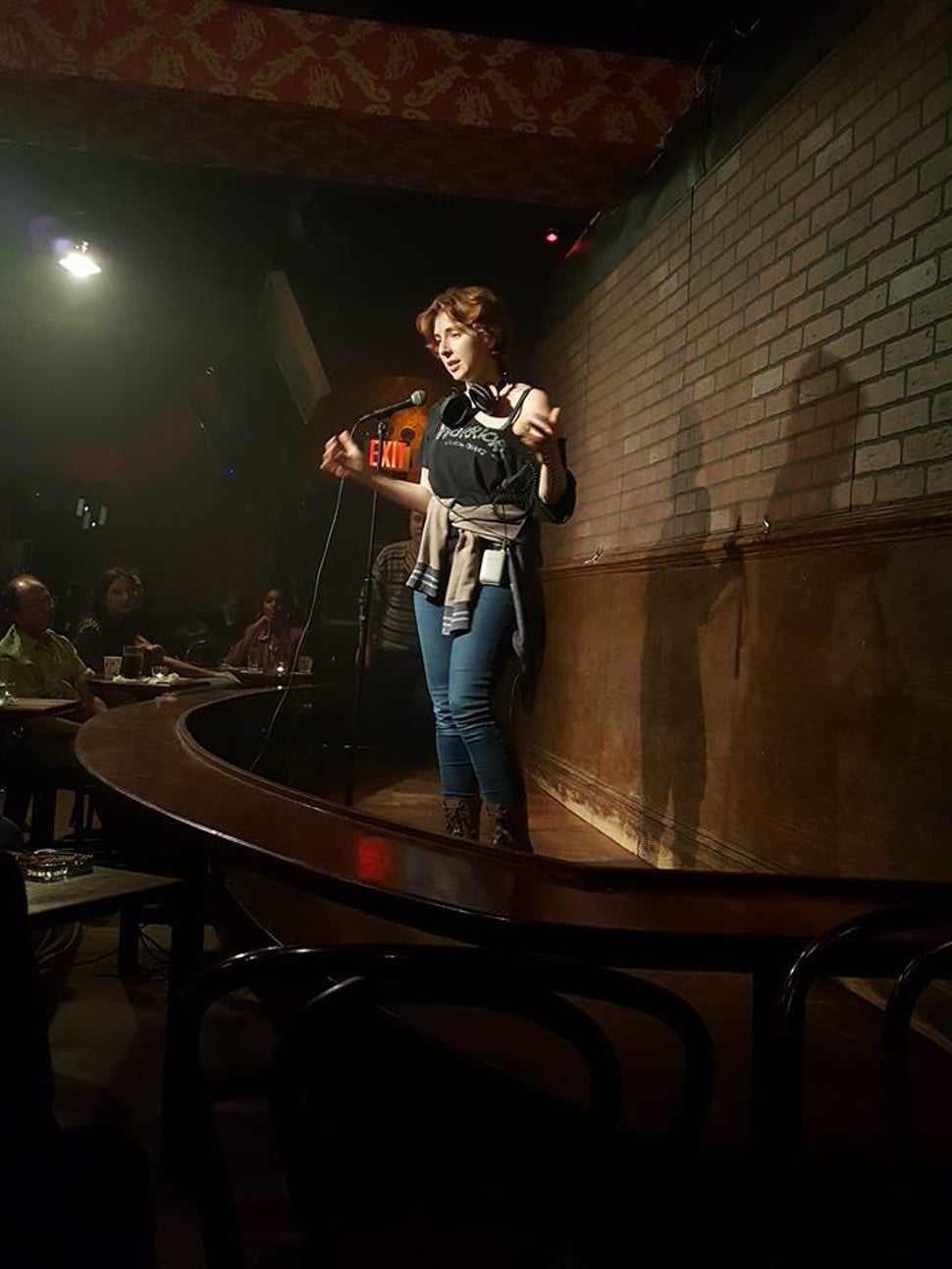 Turning the live performance into a self-contained, hilariously bizarre film is no small feat. In the original piece, Allen Ander's emotional breakdown unravels with sound cues and lighting shifts that help guide the audience through his manic monologue.
"Tony and I puzzled over how to create that feeling in the short," explains Moss, "and we realized we could use the comedy club audience as sort of a design element, something that puts the outside viewers on their back foot." Moss directed a staged audience made up of friends and local hires to laugh as if they were "eating it up."
Through subtle repetition — a woman smoking, a man sipping his beer — and a constant laugh track, the film brilliantly juxtaposes the content of the performance with the audience's reception and exposes the tension that is at the heart of the film. As the looping becomes more apparent, the dark realization that we're all seemingly trapped comes slowly into focus. Allen Anders can't stop performing this routine, both on stage and in life. The audience can't stop laughing, and we can't stop watching.
If you're interested in premiering your short film as a Staff Pick Premiere, please visit vimeo.com/submit for more information.