So, let's talk Android. Yeah, you heard right. Android.
It's no secret that our Android app has been in hibernation for quite some time. Hibernation is cool and relaxing and all (who doesn't like a good nap when it's chilly out?), but after a while, your friends start to miss you. Being the social butterflies that we are, we decided enough was enough — it's time to emerge from our cozy cave and show the world what Vimeo on Android can really be! We spent many a sleepless day combing through your ideas, suggestions, requests, (and one or two complaints), and dreams, and used them to build the foundation for an app that, we believe, does our beloved video platform and community justice. We know you want more control over your videos. We know you want more ways to discover great stuff to watch. We know you haven't been able to do this on an Android device for quite some time.
Fret no more, my fellow humans who can't use iMessage.
Today, you can download Vimeo Android version 2.0 — a completely new experience built especially for your Android phone or tablet. At its core, the app is about providing you, our trusty members, with an experience that embodies our values of community, quality, and control. We've taken the best features from desktop, sprinkled in some special mobile-only goodies, and wrapped it all up in a clean and friendly mobile interface.
Now allow us to reach into that metaphorical goodie bag and see what we find … please let there be Ring Pops!!!!!!
Upload anywhere
At its core, Vimeo is built around the amazing videos made by our community of creators, and without the ability to upload that awesomeness, where would be be? On our couch crying into a large pizza pie, that's where. Because we'd rather watch rad videos, we began our rebuild by making the upload process as simple, intuitive, and fast as possible. We also wanted to make sure we gave you complete control over your video, which is why we've given you the option to apply all the privacy options from desktop, like password protection and people I choose. This means you can feel safe knowing your mobile uploads of your sick rollerblading tricks are seen only by the people you want in the crispiest HD possible.
Gorgeous HD playback
Now that your totally amazing, beautifully transcoded blading video is safe and sound on Vimeo, it's time to share it. And what better way to share it than within our brand new Android player? We made sure all your important info such as plays, likes, and comments are visible at a glance. We've also made it really easy for you to follow video creators, '˜cuz we could all use a friend who's supportive of inline skating.
Not only does that video look great on your phone, it also looks especially nice on your tablet. We designed a special player specifically for tablet to make use of all that extra leg room.  Stretch out with lists of related videos, full video descriptions, and easy access to the stuff that matters.
Explore curated categories
Every day, our human-powered curation team sifts through mountains of beautiful videos. Not only do they make it into our legendary Staff Picks, they also find their way into categories like Animation, Sports, Documentary, and more. Android 2.0 brings all those categories to mobile … finally!
Find a category you like? Now you can follow it, filling your feed with fresh curated videos about things you dig every day. You can also follow creators, channels, and more to see as many amazing videos as possible.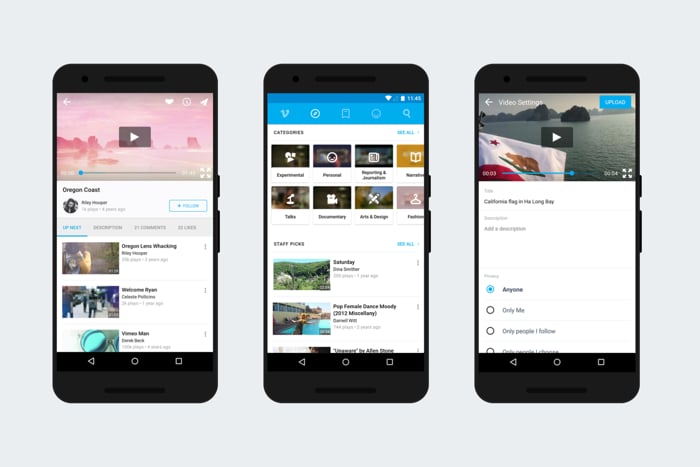 What's on the way
So what now? Hibernation for another three years? Nah, brah. Android v2.0 is just the beginning. We've got some pretty exciting things in the pipeline, but we also want to know what matters to YOU. So, download 2.0, give it a whirl, and let us know what's missing. We're excited to build upon this fresh start and continue to provide all our users (regardless of what phone they happened to buy a year ago when their previous contract expired) with the best mobile video experience in the entire multiverse.
Wait, you're still here? Stop reading and start watching awesome videos (on an Android phone or tablet)! Download the app now.
Merry something to all, and a happy new app!
**UPDATE**
Now you can seamlessly stream videos to your big screen — Chromecast has arrived! Hit play on a video, then tap the Chromecast icon to sync up to your TV.