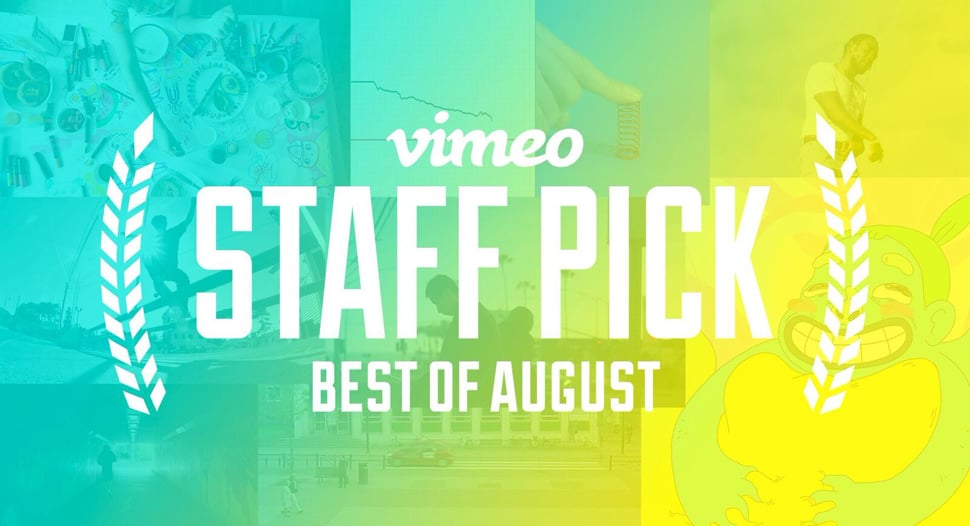 Hey movie nerds, how are your eyeballs doing? We hope you took some time to look away from your screen and check out how that one dusty ol' rock in the sky (science fact: the moon is *not* a planet, it is a satellite) took a bite out of a yuuuge bright star (the eclipse, remember?). While you had your neck craned at a 45-degree angle, we were finding some damn fine quality films to push to the front of the celestial stage.

This month we saw an animated man discover the doughy wonder of boobs, the echoes of civil rights movement photography in Kendrick Lamar's newest music video, the googly-eyed charm of Jon Burgerman, and lots more.

If your mind is still intact after the disappearing magic tricks of the universe, then we have some more for you. These earth-bound vids prove just how cool our planet is. We hope you agree!

"Incident By A Bank" from New Europe Film Sales / Ruben Östlund

On their way to the Swedish Film institute, director Ruben Östlund and producer Erik Hemmendorf saw two men acting peculiarly and holding ski masks, as if they might be planning a robbery. They were doing just that. From this surreal experience came the idea for Berlinale Golden Bear-winning Staff Pick Premiere "Incident By A Bank," a comedy of errors about a couple of burglars whose attempted crime turns into an absurd spectacle of onlookers who witness and even try to intervene.
"Unendurable Line |ガマンぎりぎりライン" from Daihei Shibata
Created for Japan's Peabody award-winning children's show Design Ah!, Daihei Shibata's charming video about "the various thresholds hidden in everyday life" was made to introduce little kids to cool design. It's no wonder then that "Unendurable Line" is both eye candy and ear candy, with an adorably expressive barbershop quartet-esque chorus of singing voices accompanying everyday tasks like flicking a light switch or spinning a toy top. In our opinion, this vid is 2 delightful not 2 watch.
"Kendrick Lamar - ELEMENT." from Jonas Lindstroem
Aside from occasional shots of the artist himself, the music video for Kendrick Lamar's "ELEMENT." is presented entirely in slow motion. Considering the perfectly framed compositions of each striking image in this graphic little film, it makes sense that German photographer/director Jonas Lindstroem would want the audience's eyes to linger — especially because these images were inspired by the works of civil rights-era photographer Gordon Parks. Parks' portraits of black America in the '50s and '60s are photos exposing American racism — they look like they could have been taken today, which is perhaps why this arresting musical piece is so powerful.
"Ivan's Need" from Manuela Leuenberger, Veronica Montano and Lukas Suter
In "Ivan's Need," bread-maker Ivan has one god — the squishy, soft dough that he mixes every day. That all changes when he is summoned with a Rapunzel-esque flourish to the bedroom of a customer named Alva. Ivan discovers a whole new world in the pillowy breasts and sloppy curves of a woman's body in this charming love letter to animal sexuality.
"The Story of Jon Burgerman" from Bas Berkhout
If you follow prolific illustrator Jon Burgerman on Instagram (tip: YOU SHOULD), you are familiar with the hundreds of stupid funny faces he compulsively draws on inanimate objects, or how he often takes a photo of his own face and pastes it on the mugs of unsuspecting subway riders just tryna mind their own business. He's a charm monster whose drawings represent ridiculousness, but eight-time Staff Picked filmmaker Bas Berkhout also explores the less sunny side of Jon —how his Jewish family was profoundly affected by the atrocities of World War II and how this history influences his perspective on life.
"Chase" from Páraic Mc Gloughlin
First-time Staff Pick filmmaker Paraic Mc Gloughlin must have spent an eternity putting together this puzzle of a piece, which he says "became a little obsession of [his]." The fast frames and clickity-clacks of this 100mph journey through Ireland and Poland will hypnotize you for three minutes solid.
"FATA MORGANA" from Amelie Wen
Amelie Wen's AFI thesis film, "FATA MORGANA," sensitively juggles multiple intense subjects at once: China's one-child policy, the contrasting grieving processes of a married couple, the death of an only child, and two foreigners trying to navigate an unrecognizable culture and language amidst their great sadness. With raw, powerful performances from leads Mardy Ma, Liu Peiqi, and the entire ensemble, "FATA MORGANA" gracefully stands as a story of love, loss, and weathered relationships confronted with the worst tragedy possible.
"Skater's Paradise - On/Off" from NOWNESS / Youri Fernandez
"On/Off" is a segment from the "How Many BPM?" project, a performance series that pairs musicians with videos of skaters shredding in cities around the world (you can view more pieces from this project at NOWNESS). In this case, electronic musician Petit Fantone's hypnotic beats are perfectly in sync with the black and white portrait of dudes sliding through Berlin via alternating day and night light. Ultimately, "On/Off" is as much a treat for lovers of eye candy and music as it is skateboarding fans.
If a month's worth of Staff Pick gems didn't scratch your itch, be sure to browse our Best of the Month Channel.