Good news folks! Today we're rolling out some huge improvements for Couch Mode.
What's Couch Mode? It's a special full-screen version of Vimeo that's designed to be displayed on big screens like TVs and controlled only with a keyboard. We launched Couch Mode about about 10 months ago. We've heard some great feedback during that time and today, we're kicking it up a notch.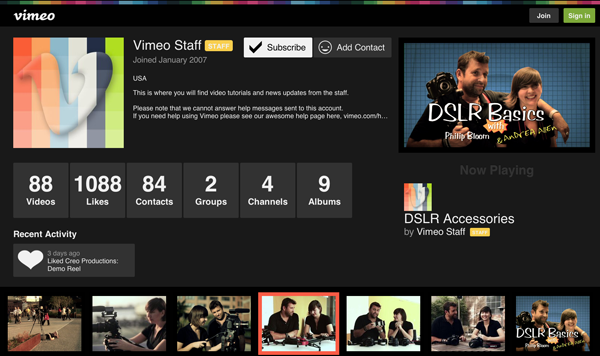 First off, Couch Mode now works on all browsers and can play any video on Vimeo. Originally, it only worked on Safari and Chrome. Now everyone can get in on the action.

Tablet support! Did I say it was only for TVs? I lied! It works great on the iPad and Android tablets too! Try swiping the video browser across the bottom.

We've added tons of new navigation including the ability to browse users, Albums, Channels and Groups. Basically, all parts of Vimeo are now reachable from within Couch Mode.

We also added global search. Just start typing, and the search box will pop right up.

Finally, Couch Mode is now context-aware. That means on every Channel, Group and Video page you will see a button that will take you into Couch Mode and the collection carries over. So for example if you were viewing a video on the HD Channel and hit the Couch Mode button, the videos across the bottom are all from the HD Channel. You can even copy and paste Couch Mode urls, so your video launches in fullscreen when you share it.
Look for The Couch Mode button in the upper-right of any video page on Vimeo.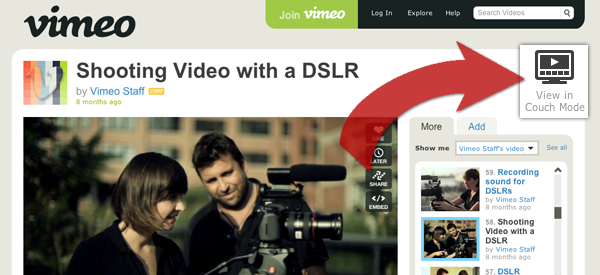 We've been working hard to cram as much functionality as possible into Couch Mode so it's the full Vimeo experience. As I mentioned, Couch Mode is designed to be a keyboard-only: navigate around with the arrow keys and hit escape at anytime to hide the overlays.
Now everybody grab a cold one and kick back to Couch Mode!