The film festival circuit can be a daunting arena to enter as a novice filmmaker. With thousands of festivals out there, how do you know which to submit to, how to submit — and better yet, why should you submit in the first place!? Luckily we've got friends with answers.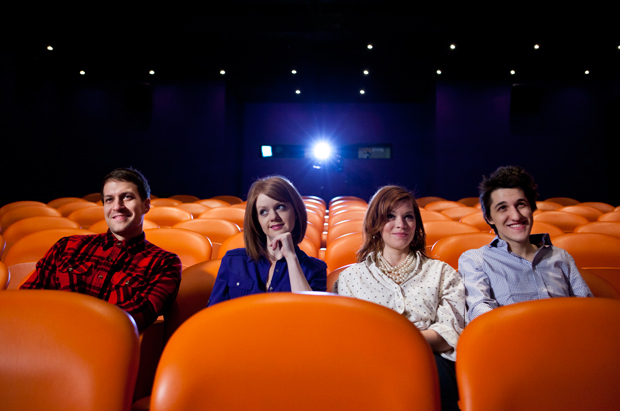 Meet LES Film Festival co-directors Roxy Hunt and Tony Castle (pictured above, they're the two sporting blue shirts and gleeful grins, sandwiched between festival directors Damon Cardasis and Shannon Walker). The LES Film Festival, based in NYC's Lower East Side, is committed to showcasing films from up and coming filmmakers made on a budget. Now in its third year, the 2013 festival will take place in the summer in New York City's Lower East Side, and they've just announced they're accepting submissions for their 2013 festival.
Whether you submit to LES or find another festival that's right for you, listen up close as Roxy and Tony demystify the film festival:
VVS: There are so many festivals out there. What are the factors to consider when deciding which festival to submit to?
LES: As filmmakers, we've definitely gone the route of spending way too much money and conducting seriously long DVD burning sessions to get our films into as many festivals as possible. We blindly submitted because we simply didn't care to research the festivals out there. Thinking back, it might have been important to explore festivals a little deeper, find out who their target audience is, what length of films they typically program, what genres do they tend to show, and what themes or missions does the festival aim for.
VVS: What happens to my film once I submit it? Could you describe your screening and decision process?
LES: We really make an effort to watch films as a group, because no film is meant to be seen by one person alone in room. We want to gauge how a film would play in front of an audience. We judge on all the important aspects of filmmaking, but also think about what the audience response will be. Whether it's funny, heartbreaking, terrifying, etcetera, we want the audience to feel something from your film. But, hands down, we can't even get through your film without solid acting, writing, and well-shot scenes.
VVS: Is there something a filmmaker can do to take their submission to the next level? How important is the application, and all that logline, synopsis, press kit business?
LES: Keep it simple. More often than not, the films with the most EPKs (electronic press kits), posters, postcards, DVD covers, etcetera tend to be the most tragic. Honestly, just make sure your film is in its best format, label the DVD, and that's it. It's all about just having a good film. We've never had to decide between two films, and ended up saying, "Oh, well the one with the 24" x 36" poster should definitely get in!"
VVS: Why does it cost money to submit to festivals? Where is my submission fee going?
LES: We can't speak for all festivals, but for us, your submission fee is literally just helping us pay back our marketing campaign fees that Withoutabox requires of us, and a few initial start-up costs to get the festival on its feet. We know that submitting to festivals can get very pricey, so we keep our fees as low as we can. Also, if you watch out for early bird submission rates for festivals you are interested in, they are usually significantly lower than late deadline prices.
VVS: Withoutabox is a great tool for filmmakers to find festivals. Are there any other sites or resources to consider?
LES: Withoutabox definitely has become a hub for almost all film festivals to be listed, which is great as a tool for a directory, but if you really want to learn about certain festivals, we'd definitely suggest perusing their website in depth, googling them, or whatever it takes to dig deeper so that you can gauge whether or not your film would be a good fit. It seems like WAB's original goal was to streamline the process of submitting your film, but unfortunately in the process you lose any connection to the festival you are submitting to.
VVS: Of course this varies from person to person and film to film, but what is the end goal? Why submit?
LES: Of course everyone probably wants the notoriety of having their film attached to certain festivals, but in our experience, it seems like what benefits filmmakers the most is being there at the festival. The chance to make connections with all of the people who just saw, and hopefully loved, your film is a great opportunity. Our festival is based in NYC and therefore it is very accessible to people in the industry. You have an entire community of other filmmakers and artists who attend screenings and whom you can meet.
Also, you made this film for people to see it, so definitely submit it. If it gets into a festival, a whole audience can delight in your talent.
VVS: Networking. How do you do it? Got any tips? Moves? Good lines? But seriously, how effective is "networking" at film festivals?
LES: Don't be the guy with your business card spring-loaded from a holster. Just keep it simple, engage in a conversation, be modest even though you know your film was the best one there, and always have your next project on your mind — you never want to stare blankly when someone asks "so what's next?"
VVS: If a filmmaker can't attend the festival, what can be done to also make the most of the opportunity and experience?
LES: Get digital! Send us an email, write on our Facebook, tweet at us. We've definitely had some great digital relationships with filmmakers — and not in the kinky way that just sounded.
VVS: How can festival attendees who are filmmakers or aspiring filmmakers get the most out of attending the festival as well?
LES: Go to the festival events for sure, ask questions at the Q&A that aren't really weird or boring, and if you BYOB, bring enough to share!