UPDATE (12.14.16): Check out our new TV apps!
—
Whip out your vuvuzelas — we just released a sleeker, easier-to-use version of Vimeo on Apple TV. Please take a moment to peel your eyeballs away from the World Cup and view what's new:
Simplified navigation
We took our old menu, cut it down to the essentials, and put it at the top of the screen for easy access. Discover awesome videos, keep up with your feed, tackle your Watch Later queue, and quickly get to your own videos, likes, and collections.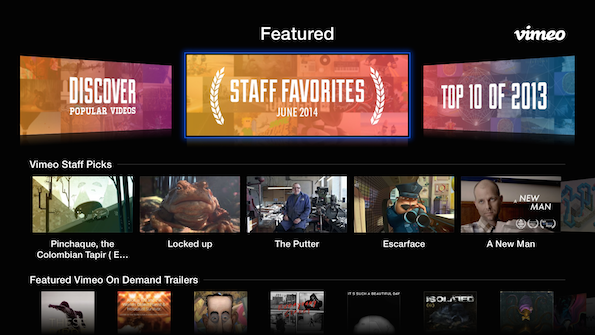 Watch our favorites
Don't have time to watch every single Staff Pick? Our monthly Staff Favorites Albums highlight the best of the best. We've also added the winners of our Vimeo Weekend Challenges and a bunch of curated Channels so you can watch tons of amazing videos right away. (Shoutout to our Roku, Xbox, and Fire people: these featured Channels are available to you, too.)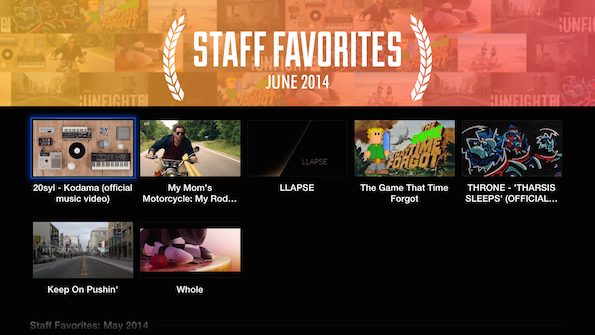 Vimeo On Demand
Starting now, browse thousands of Vimeo On Demand trailers from the unrelenting comfort of your couch. When you find a title that grabs your interest, add it to your Watch Later queue and purchase it when you're ready. Any titles you've purchased will appear in Watch Later and under My Videos.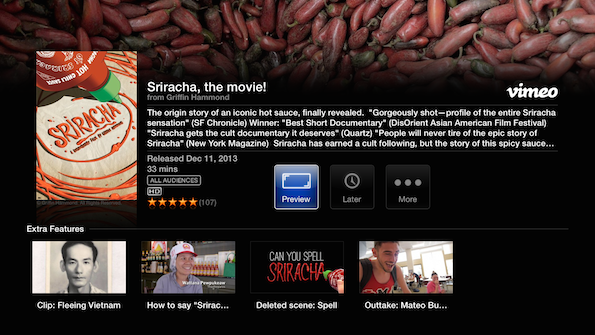 Content filter
Vimeo on Apple TV now has R-E-S-P-E-C-T for your content filter preferences when you're logged in. If you're logged out, we'll show you only stuff that is safe for all audiences.
Easier browsing
Hit the "more" button on a video to see other videos from that creator, along with related Albums, Channels, and Groups.
Hidden features
Enjoy continuous playback anywhere — simply press the play button on your remote while any video thumbnail is selected. Also: Quickly like or add a video to your Watch Later queue by holding down the center (select) button on your remote. Super stealth.
Before that next professional kicking game begins, log in to Vimeo on Apple TV to speedily discover and watch amazing videos, films, and series. GOOOOOOOAAAAAAALLLLLL!