Hey there fellow Vimeans,
I'm happy to announce that the Disposable Film Festival (DFF) kicks off next week in San Francisco! Now in its sixth year, the DFF is easily one of my favorite festivals. It celebrates how the technology to make great video has stretched beyond beret-sporting auteurs and arrived in the hands of the smartphoned masses. More filmmakers mean more stories, more perspectives, and more audiovisual richness, all from a swath of humanity so wide it's like a gigantic snuggly blanket wrapped around the world. And that's cause for clapping, cheers, hollers, and a statistically significant number of hoots. In all "I'm so serious I wear a bowtie" seriousness, the DFF is great because it focuses on making video with tools you already have, whether that's a newfangled mobile device or a beloved point and shoot.
Don't get me wrong: I drool like Pavlov's filmmaking dog when I see footage from a RED Scarlet or an Arri Alexa. But the DFF reminds us that it's all about the story we're sharing, not the gear we use to capture it.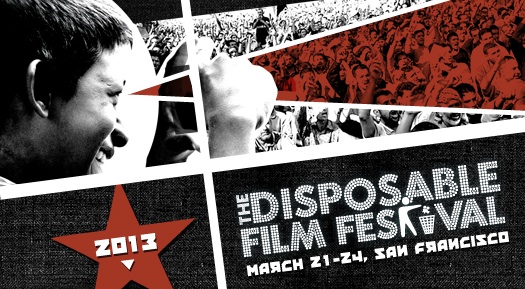 So if you like screenings of great original videos, panel discussions that make you go hmmm, and weekend workshops (some led by yours truly) featuring some of today's most innovative new filmmakers, then join us at DFF 2013.
Because film is too important to be left to the experts. :)