A new version of Cameo has just been unleashed on the world, and we are excited to announce that it now includes built-in uploading to Vimeo! (Quick refresher: Cameo is a wonderful and award-winning iOS app that enables you to make awesome cinematic videos using just your phone.)
What this means is that you can now seamlessly share your Cameo videos directly to Vimeo — simply sign in to Cameo with your Vimeo account and post away. It's pretty slick.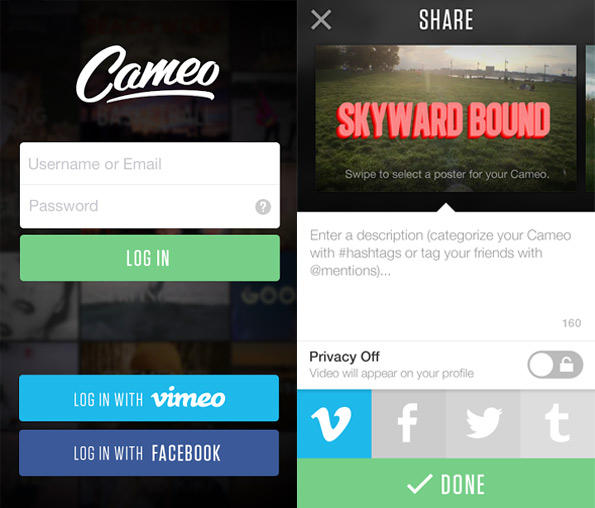 BUT THAT'S NOT ALL. The newly Vimeo-d Cameo has a couple other changes to get psyched about:
Badass soundtrack browsing: We redesigned the soundtrack library to include genre sorting and a fun interactive player so you can preview tunes more swiftly. Simply swipe to quickly check out lots of music.

Email confirmation: Once you've successfully uploaded a Cameo video to the cloud, you'll receive an email reminding you to share your masterpiece with friends and family. (And yes, you can easily opt out of the email.)

Grab these new features by updating to the latest version of Cameo in the App Store.