You've uploaded your video to Vimeo, added the perfect title and description, selected just the right thumbnail — all in all, life is good. But there's one more important thing to determine: which privacy setting do you choose? Vimeo offers you tons of privacy options to help fit your needs, because it is one of the most important things to our community. And since we want to make your Vimexperience as seamless as possible, here are some helpful tips for common use cases we see to help you navigate the particulars of privacy — so you can get millions of eyes on your videos, or just a few. The settings are your oyster.
First, if you want to control the privacy settings for all of your videos, go to Upload defaults in your profile settings. You have a few different options under Privacy to control where and to whom your videos will be available. But, we all know that there are always unique cases and scenarios where you might want to curate different options for your videos, depending on what you're using them for. You can get more granular and control privacy for your individual videos by accessing the privacy settings of an individual video. Click Settings under your video, then click the Privacy tab. Voila! Now you're ready to select from the following: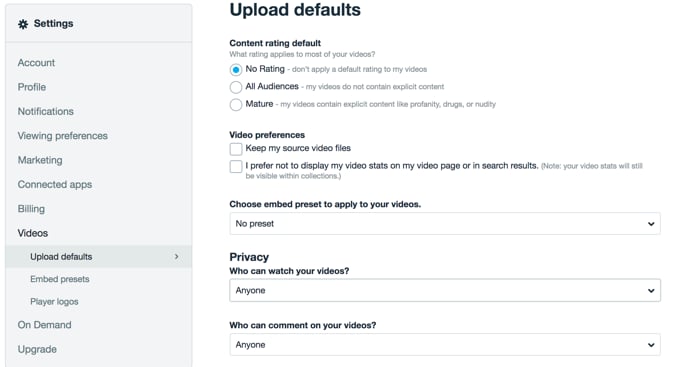 Anyone
Allow anyone to see this video
Got a video that you think the whole world should enjoy? Setting your video's privacy to "Anyone" will allow all humans of earth (who have an internet connection) to access your beautiful creation. Your video can be accessed via direct link, and, added to Collections so you can easily group videos into sets or curate by theme. And, it will be surfaced in search results both on Vimeo and on third-party search engines. Hello, SEO! (And that goes for your Vimeo Live videos, too.)
Only me
Make this video visible to me and no one else
Perhaps you're a team of one still working on a rough cut. Or maybe you rep a brand with a finished video ready to go, but you're waiting for a big event to publish it. Or maybe you just want to save that milk-shooting-out-of-your-nose video for your own personal giggles, and not necessarily have it show up when your boss Googles your name. Applying the 'Only me' filter is a great way to store videos for your eyes only.
Only people I follow
Make videos visible only to people I follow on Vimeo
This setting is a nice option for limiting access to your videos to certain, pre-selected people. It allows only the Vimeo members you follow to have viewing access to your video, and they must be logged into their respective accounts to do so. For example, if you're an educator and want to easily share class materials with your students, have them create a Vimeo account and be sure to follow each of them. From then on, anytime you upload a new video and set it to "Only people I follow" your students will have access to your videos automatically. It can also be a great way to target the clients, filmmakers, and brands you admire most.
Only people I choose:
Select VImeo members with whom I want to share this video
Want to share a family video with your loved ones, but don't necessarily want the world to have access to your precious memories? The "Only people I choose" setting allows you to hand-select Vimeo members for viewing access. It's a great way to share personal videos with the people that matter. Or, say you've just finished streaming a lecture through Vimeo Live, and your video is now archived. Opt for this, and the lecture will only be accessible to those diligent viewers you select.
Only people with a password
Protect this video with a password (shareable with non-Vimeo members).
Password protecting your videos is one of the most secure ways to control who sees your video. This comes in handy for everyone from wedding videographers, marketers and production houses that professionally live stream, to filmmakers delivering clients a new cut. Share your Vimeo URL and your designated password, and your clients, crew, or whoever else you share it with can manually enter that password to gain viewing access again and again. Keep in mind though, that they are then able to share your link and password onto others if they choose (free will, amirite?).
Only people with the private link
Only available to Plus, PRO, and Business members, this setting requires a specific link in order to view your video. With this option, your video cannot appear in Channels or Groups, and any credits you've added can be removed. (Psst: friendly reminder that you can credit collaborators in your videos which will then appear on their profiles too!) If you want to have credits appear, simply pin the video in question and you're off to the viewing races.  This setting is great to use when sharing videos for festival submission, or to collect and gather feedback with unlimited reviewers from a review page. But back to that whole free will thing, people can still share this link with others — so be sure to share that link just with those you trust.
Hide this video from Vimeo.com
This is another option only available to Plus, PRO, and Business members. If you select this, your video can be embedded on external sites but cannot be viewed on vimeo.com. This also means that your video can't appear in Channels and Groups, but can still be added to Albums and Portfolios (which you can learn more about in our Help Center). This is a great option if you want to embed your videos to a third party site or blog, and want to direct eyes to your site, rather than back to Vimeo (hey, we want you to succeed everywhere — not just on our site).
PRO and Business members can also create video review pages, which are semi-private, unlisted video pages intended for sharing with clients, collaborators, or anyone else you want to share your video with. Basic members will need to upgrade to a Vimeo Plus, PRO, or Business membership to unlock all of the video privacy settings.
The launch of Vimeo Live means that all these privacy options listed are ready for customizing for live streams and archived videos, too! And to better cater to this real-time format, you can set your privacy preference as soon as you create your event (which can be days, months, or further out in advance). That way you can focus on your live event the day of, and not stress about secure sharing.
You can also go an extra step and use email capture in tandem with privacy settings to help boost your marketing efforts. For example, you could send a private link to your live event and enable email capture. That way, only viewers who enter their email addresses can view your live stream, and once your live stream ends, you can easily sync the email addresses you collected with places like MailChimp, Constant Contact, and more to target your most loyal fans. Hurrah, privacy pre-prepared!
Now go forth! Take on the world! And share (or hide) your videos when you need to!
Still stumped on which awesome setting will benefit your video the most? Feel free to shoot us a message through our Help Center and we can help you decide!