A number of incredible films and series go from but a wish to an actual thing with the efficacy of crowdfunding. Con Man is one of the most successful Indiegogo campaigns to date, and our recent Vimeo Original Wizard Mode finished production with the help of the masses. But it's not just artists who are rallying like-minded individuals behind a cause: brands and teams, ranging from tech startups to nonprofits, are also reaching bigger audiences, gaining support, and launching new products thanks to crowdfunding.
Canary, a company that designed a pretty spectacular smart-home security device, is one such place. From the get-go, they folded videos into their marketing strategy, and the results were staggering: they blew right past their $100K goal in a matter of hours, and went on to raise nearly $2 million. Impressive stuff! We had to know more. So we reached out to Canary co-founder Jon Troutman to unearth some insight, and he was kind enough to dish on how videos helped their campaign — and why uploading and sharing is a crucial part of their ongoing success.
Vimeo: When the idea for Canary was first coming together, did you know that crowdfunding would be a part of your business plan?
While crowdfunding wasn't part of our initial plan, it did play an important role for our growth as a company and in the way we approached our product development. Crowdfunding allowed us to validate quickly — and in a big way — the fact that there wasn't any other product like Canary out there. It also gave us access to a passionate and invested community of backers who were invaluable in providing insights and feedback throughout our development process.
Can you walk us through the process of creating a video for your crowdfunding campaign? Was it done in-house or outsourced?

For us, the video was all about taking this vision of what we knew Canary could be and telling the story in a way that would feel real and inspiring to our potential backers. We wanted people to start to experience the product as they watched our video. In order to do this, we needed to invest in writing a solid script and producing a high-quality video. The script was the easier part. We knew exactly what we were building, why we were building it, and who we were building it for. The harder part was making sure that the direction and production quality of the video was held up to the same standard as we held the product we were building.
Luckily, I had the advantage of being close friends with some incredible filmmakers based out of Salt Lake City, Utah, who collaborated with us on our Indiegogo video. The director, Julian Acosta, flew out to NYC and spent a week with us filming the interviews, footage of the Canary device in people's homes, and footage of our prototyping process. We worked with them on getting a final edit that we were all happy with. It was a really great process.
What were you trying to capture with your video? And how important was creative control?
We wanted the video to do two things: clearly articulate what Canary is, and show people how it could fit into their lives. The first part was especially important because we were creating an entirely new category with this product, so we needed to educate people and introduce them to the concept of an intelligent all-in-one home security device.
The creative challenge here was to combine the geeky tech-specs and education aspect with the more inspirational storytelling. We wanted the video to keep a consistent tone and energy throughout, and this is really where expert direction, cinematography, and editing played such a key role. Creative control was not an issue because Julian was someone I'd collaborated with in the past, so we were aligned creatively on how we wanted the video to turn out.
Do you think your video was a factor in the success of your campaign?

Absolutely. It's a real challenge to communicate why someone should want or need something that doesn't exist yet — something that still needs months and months of development to become a reality. Video is an extremely powerful tool and, when done well, can enable people to have a cerebral experience with a product long before they get their hands on it.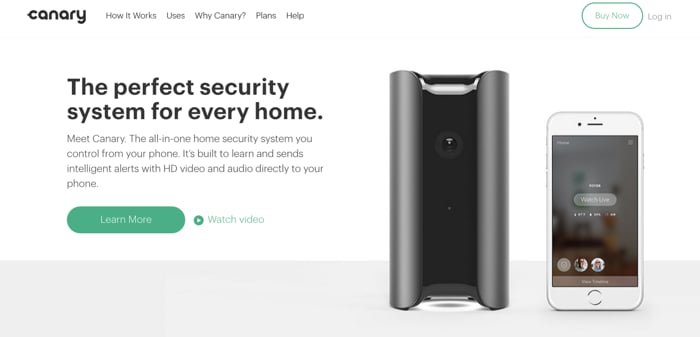 You've continued to use videos since your campaign. Your landing page, for example, prominently features a "Watch video" button. Why do you choose to communicate through videos right away?
Same reason as above! The only difference is that now someone can watch the video on our site, order the product, and have it the next day.
Your product itself is known for being sleek, clean, and easy-to-use — and your videos mirror that spirit as well. How do you achieve this unity?
I'm glad that it comes across that way! We certainly aim to deliver a consistent experience across everything we do — from our videos and mobile app to our hardware and packaging, and everything in between. We think of it all as one holistic relationship that Canary has with our users. It's certainly helpful that we have an amazing team of in-house designers (and I use that term in its broadest sense) that think about and work on the entire experience, as opposed to outsourcing all the bits and pieces to separate groups.
What advice would you give to other brands looking to develop their campaign and rewards?
A lot of preparation goes into a successful crowdfunding campaign. Much of that preparation is around the campaign itself, but the majority of the preparation should be around the product. The most important thing is that you get your product or idea buttoned up to a point where you are really ready to share it. Do your research. Make prototypes. Have a plan. A lot of crowdfunding campaigns fail because their idea is half-baked and their execution strategy is not fully thought out.
Once you are confident that you know what you're doing and that you can accomplish it, then you can start planning your campaign. At this point, it's natural to start scoping out other campaigns in search of inspiration and ideas. This is a great way to see how others described themselves and their project, how they tiered the rewards, how they told their story — but keep in mind that your campaign needs to be unique, and honestly represent you and your product. Learn from others, but resist the urge to imitate.
And similarly, what advice you can give to other brands looking to create videos for their products?
The best way to think about video is as a single touchpoint in a larger relationship that someone will have with your product or brand. You need to ask yourself, at what point will someone encounter this video? How will this video help meet the customer's needs at that specific point? What tone will it set? What expectations will it introduce? The most important thing is that you know exactly what role the video is meant to play, so that it can be effective and valuable to both you and the customer.
What do you think the future holds for Canary and videos?
One of the most exciting things is that we expect to see more and more user-generated videos from Canary users. As the number of people with Canary devices in their homes continues to grow, we're already seeing people capture and share all kinds of interesting footage on social media, blogs, and other outlets.
We look forward to seeing what comes next. Thanks, Jon!
<
p>If you're seeking more video marketing tips, advice, and how-tos, our archive is but a click away.