Creators are using 360 video to capture a wide array of genres — and we've started to see more and more folks shooting concerts in this new format. And after the launch of Vimeo 360, where I helped craft Vimeo's first 360 video production, I caught the bug and wanted to try something new: capturing a band's live performance in 360. Watch below, then read how it all came together.

As fate would have it, one of my favorite bands, Grandaddy, played their first live show in NYC — after a 10-year hiatus — the same week we were finalizing our Vimeo 360 videos. I reached out to the venue and the band's label and management, and after some back-and-forth, they gave me a green light.
I contemplated renting a wide range of cameras, and then got super lucky (again!) when John Engstrom from Scheimpflug (who joined us for our recent 360 Q&A) had a Nokia Ozo free for just that night. One perk of the last-minuteness? I was able to rent it at a reduced price.
Needless to say, I was pretty excited, and the thought of turning this around just as Vimeo 360 launched made my heart aflutter. But then something pretty fundamental occurred to me: I had no idea what I was doing.
That's kind of scary! Aren't you Vimeo's director of production? Yes, and I've got tons of experience with your average video setup: narrative and comedy scenes, on-set gear malfunctions, post-production time-crunches, etc. But a 360 live music video? Kinda uncharted for me.
Would I make some obvious, first-timer camera settings mistake, and leave the venue with 60 minutes of nothing? Would the vibrations from the kick drum shake the the camera and make the footage unusable? Would it be impossible to stitch what I captured without crazy artifacts appearing everywhere??? Who knew.
I called Scheimpflug, and they told me to chill out, and then they scheduled a camera walkthrough with Donald Eggert, one of their digital techs.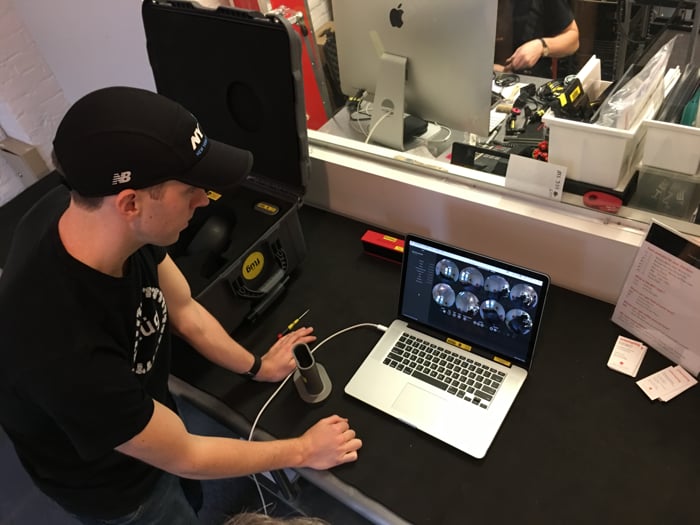 Donald Eggert demonstrating the Ozo software at Scheimpflug
Donald immediately put me at ease, walking me through the camera setup and answering my questions about how to check my levels quickly. Navigating the Ozo, it turns out, was much more straightforward than I'd anticipated.
Once I got more comfortable with the camera menus and settings, it became pretty clear that the success or failure of capturing Grandaddy live would mostly depending on positioning. The camera needed to be close enough to the band to make the viewer feel like part of the action, but not so close (about four feet away) to any single band member, so as not to create issues with the stitching.
I arrived at the venue just as the opening band finished their soundcheck, and Grandaddy's sound guy, Jordan, immediately relaxed when he saw the super manageable camera size, and how quickly I could get it up and running. While the original plan called for an on-stage setup for the entire night – including the first band's set – we agreed that it would be easy enough to place the camera on stage during the changeover between bands, just before Grandaddy took the stage.
I adjusted the levels based on the lighting during the opening band's set, and soon it was time to set up my laptop next to the monitor mixer, and wait for the band to take the stage. I stayed there for the first few songs, so I could get a feel for how the footage was looking and make any adjustments to the capture (via the Ozo's remote software), before I joined the audience to enjoy the show.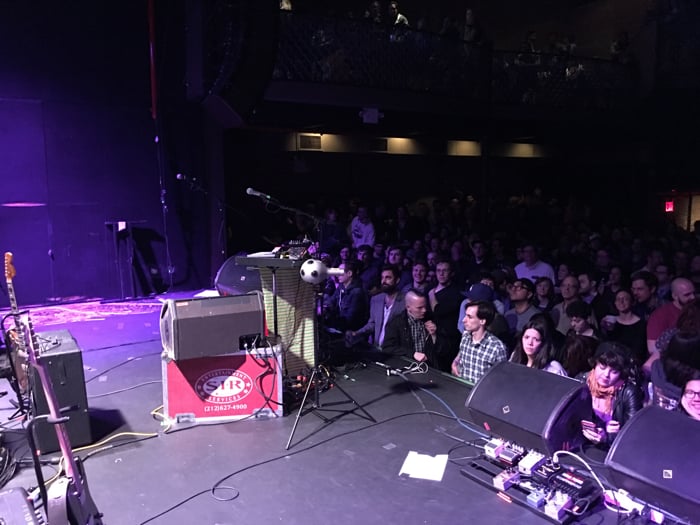 The Ozo in position on stage
The band came out, and I hit "Record" on the Ozo panel controls and watched as Grandaddy launched into their first song, "Hewlett's Daughter." The levels all looked good, the camera seemed to be just about the right distance from Jason and the other band members, and it started to feel like the capture was going to lead to some great footage, post-stitch. Major relief.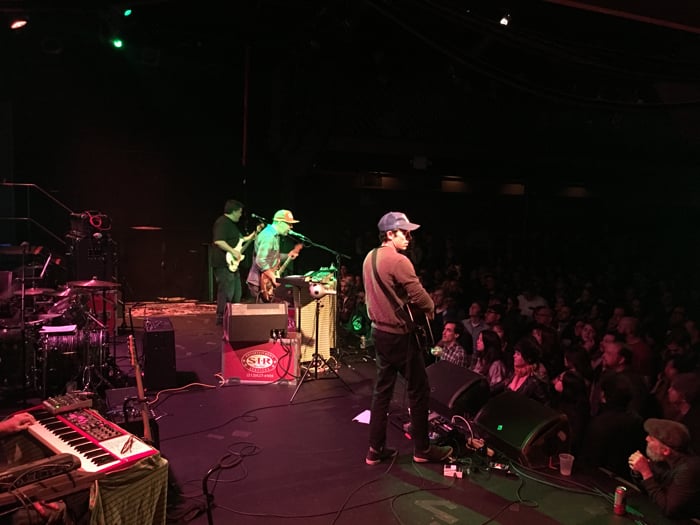 Grandaddy on stage with the Ozo camera
I joined my friend, and logged into the Ozo's wireless menu from my phone to monitor the battery and recording time left from the audience. Having seen their set the night before at a different venue (as I said, I'm a fan…), I thought that their new song "Evermore" would be ideal to feature. I was thrilled when they played it about 20 minutes in, while I still had a good 30 minutes of capture time/battery life left.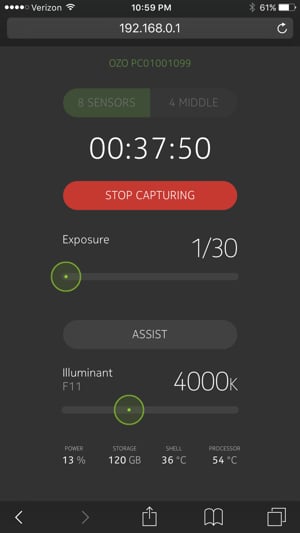 The Ozo's remote display on my phone during the show
The next day, I made my way Seaside Studios in Brooklyn, with the Pro Tools files provided by Bowery Presents, and I was all set to mix "Evermore" with engineer Charles Burst. Once I synced that track with an export of the footage from an Ozo Creator stitch, it was time to wait for approvals from the band, label, and management. Kind of amazing, kind of nail-biting.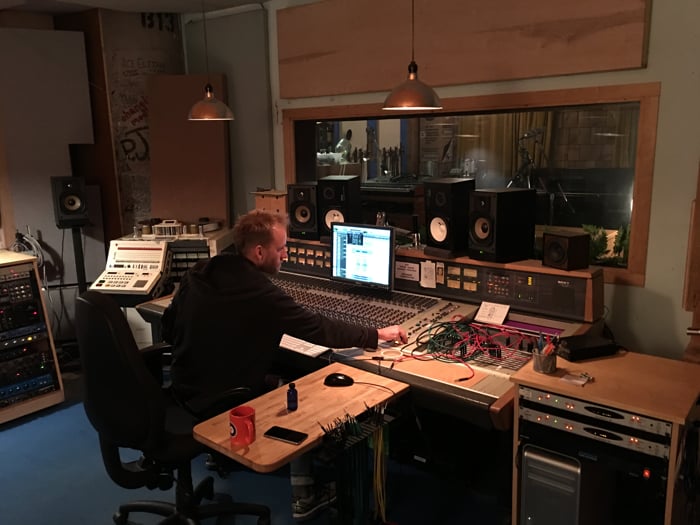 Charles Burst mixing the live version of "Evermore" at Seaside Studios
Fortunately, they loved how the video turned out, I exhaled for the first time in days, and you can enjoy it now on Vimeo. One of my biggest takeaways? Just go for it, creators. 360 videos are an evolving medium, and filmmakers shouldn't be intimidated to dive in, create a 360 video, and upload their stuff for all to enjoy.