While watching and sharing videos on Vimeo is great, what if you want to add the latest dynamic vistas to your Pinterest or Tumblr that's all about time-lapses? Or maybe you're promoting the work of visually innovative artists on your site, à la the delightfully seasonal Yule Log. Or, perhaps you run a business, and you want to add some helpful, polished videos to your FAQ page.
Whatever the reason may be, most people want to have control over where their videos are displayed. So, we've given you that control! Whenever a video is put on another (non-Vimeo) website for others to watch, we call that embedding. You can embed both your own videos and those of other community members.
But how do you do so, and in just the way you want? Keep reading and I'll tell you!
To get started, you're going to need the embed code. You can grab this by clicking the Share button on any Vimeo video page: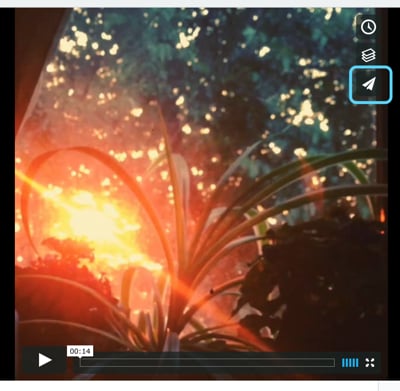 From there, select the embed code and copy/paste it into the site you'd like your video to appear. And with a click of the "+ Show options" link, you can access some basic customization options to add a more personalized touch.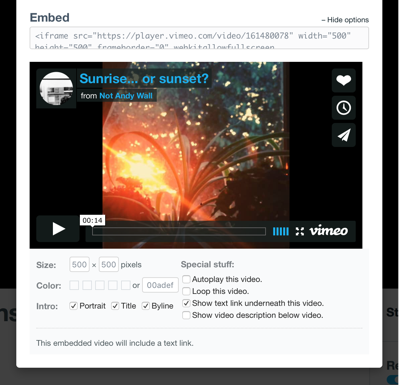 These are available to all members, from Basic on up to PRO. They're fairly self-explanatory (size of the embedded video, color of the player text, autoplay, etc.), but the three boxes next to "Intro" can provide more information for prospective viewers before they've even pressed play.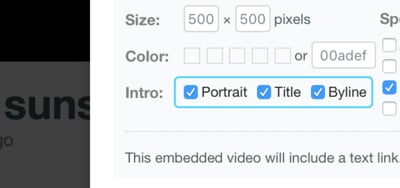 "Portrait" is your image on Vimeo, "Title" is whatever you've called your video, and "Byline" lets viewers know who it's from with your Vimeo username (and badge, if you're Plus or PRO).
You can also use the social media buttons as a shortcut to embed the video into your platform of choice. Just keep in mind that you need to copy/paste the updated embed code for those to take effect.
A note on embedding other member's videos: while permission is not necessary or required, it's always good form to let someone know if you're featuring their work on a website outside of Vimeo. That said, all Vimeo members have the ability to allow, or disable, the embedding of their videos. Simply visit your video's Privacy settings or your global video settings.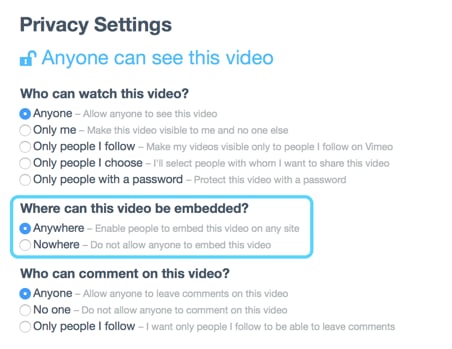 If you're a Plus or PRO member, you also have the ability to limit where your videos can be embedded — referred to as domain-level privacy — which can be done within your privacy settings. To whitelist a site, select the "Only sites I choose" option, add the desired URL, and save your changes.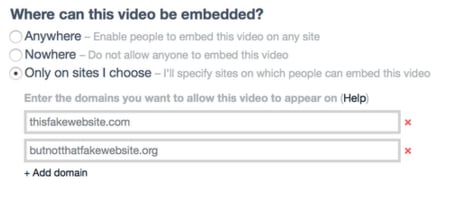 On the global video settings page, you can also apply that option to all of the videos on your account with a quick check mark of the "Also apply to all existing videos" box.
Plus and PRO members also enjoy many more customization options via the embed section in a video's settings. You can remove nearly every button and external control from the player, change what people see once your video ends, and create presets of your preferred settings to apply to future videos or groups of videos you intend for similar purposes (say, your upcoming web series or a set of instructional videos for your company's website).
To make a preset, go into your video's embed settings and customize the appearance to your preference. Once that's set, click the "+ Create preset from these settings" button, enter the name for your preset, and save it — and apply this all your videos, if you so choose, in your global video settings.
There's one last feature for you PRO members that allows you to brand our player for your embedded video: player logos. This lets you incorporate custom logos for you or business seamlessly within the bottom right corner of your video.

You can upload a logo from your advanced account settings, then add it to the video of your choice in its embed settings. We recommend transparent PNG, and we automatically scale images to fit within 100×100 pixels. You can further customize it by adding a link to the image, keeping the logo up during playback (which doesn't interfere with our captions/subtitles), and creating a new embed preset so you can apply your beautiful logo to current or future videos.
And that, fellow Vimeans, is the inside scoop on adding your gorgeous videos to the internet world outside of Vimeo. More comprehensive details on embedding can be found in our trusty FAQ. Thanks for reading, and for all of you who made it to the end, I think it's time to take a break and relax with a nice 4K time-lapse!