Mac Premo is an American artist and stuff maker. The 'stuff' refers to a lot of things: animation, devices that will assist you in smashing light bulbs, carpentry, collage, skateboards made out of discarded buckets, and films that somehow blend it all the together. His films are dense. Within them, he utilizes tactile objects, informal interviews, and quick transitions — ones that take days to create yet last fractions of a second on screen. It's these visual and auditory qualities that carry his voice as a filmmaker, both conveying the subject while introducing himself as the storyteller to the audience.
So when we saw that he partnered with Jad Abumrad of RadioLab to create a film, we smacked our foreheads and exclaimed, 'Of course!' Their styles of storytelling, both layered, complex, and downright interesting, hold so many similarities that we were excited to see just how they would complement one another. We were wowed — and immediately reached out to the man himself to hear just how it all came together.
Ian: Your visual style, particularly in its use of stop-motion, has many parallels with RadioLab's audio style. How did you and Jad link up?
Mac Premo: Off the bat, I'll take any comparison between my work and RadioLab as a high compliment, so thank you. I remember first hearing RadioLab years ago and feeling an immediate connection. The manner in which Jad Abumrad and Robert Krulwich produced each program seemed to be the same way I made art: collage.
Then a couple of years ago, I wrote and performed a one-man play called The Luckiest Arab in Belfast, and my friend Doreen brought Jad along one night. A few days later he came back to the visit the art installation that doubled as the set, and we hit it off. We spent a couple hours talking existentialist shit and kind of realized that we were probably friends.
Since then, we've met a number of times, plotting collaborations. We came up with some protracted plans, making large-scale instruments that play sounds assigned to specific emotions [and] esoteric stuff like that. Then we decided to just sit down and talk about the basics. And then this film happened.
Curiosity is the unequivocal mandate of any worthwhile interview. Without that, nothing happens…'
The audio in the interview feels very conversational and the camera movement that you use really complements this feeling. Did the film's subject arise from an organic conversation?
The subject matter emerged through Jad and I drinking too much coffee. We'd meet for these pre-work hangouts and come up with grandiose ideas of how sound and physical form could meld into something that would even wow the likes of David Byrne. After a number of incarnations — all of which I still think are pretty rad — we pulled it back to the core value of what we were talking about. We decided to have a conversation that addressed really rudimentary aspects of sound and music and humans, and then I would take that conversation, edit it, and illustrate it through film stuff.
When we sat down together for the interview, the first thing I did was play Jad like a dozen songs and talked to him about what each piece of music evoked in him. Then we went on to why he had the kinds of reactions he did. From there we let the conversation lead itself toward a discussion about what music is. It was kind of like being at a bar, but it was 9 a.m. So like being at a coffee bar.
The camera movement part was a challenge. This was a self-funded / self-made/ self-shot / self-everythinged film, so I was interviewing and operating at the same time. You know that phrase, 'When you want something done right, do it yourself'? That's kind of bullshit. That's just lack of planning and a shite Rolodex. But when you hear, 'If you want something done the way you want it done, but don't know what that is until you are in the middle of doing it, then do it yourself,' well, that's just responsible citizenry.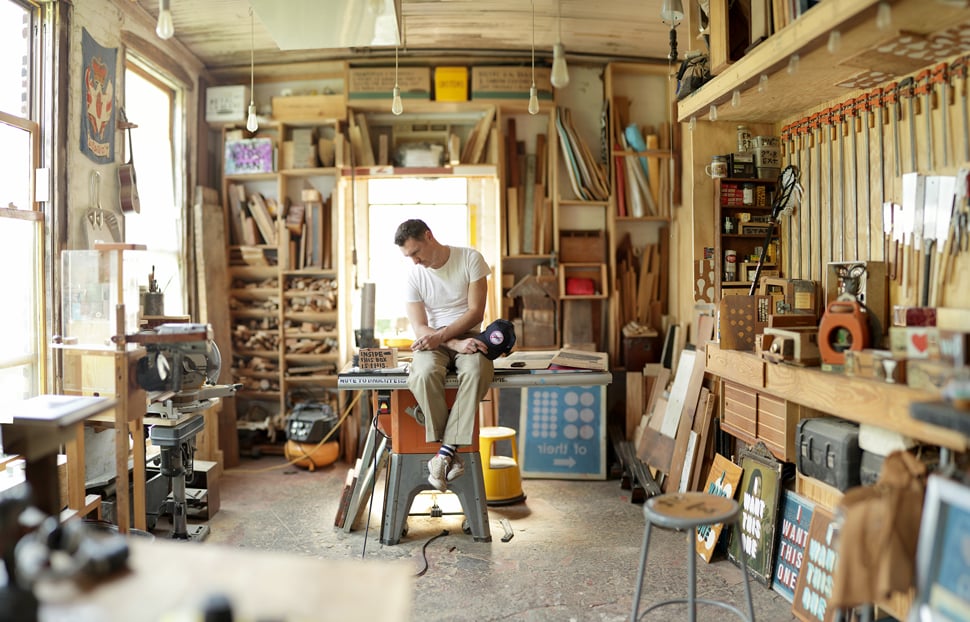 Do you have any tips for interviewing, both from asking questions to working the camera?
Curiosity. Curiosity is the unequivocal mandate of any worthwhile interview. Without that, nothing happens, no matter how fast your frame rate or how long your slider. I went to Jad with questions I wanted to hear him answer. If you listen to the interview, they aren't even remotely groundbreaking questions. I mean, 'What is music?'… not like that one hasn't been lobbed up there before. But I hadn't heard it placed to Jad yet.
The job of the interviewer is to offer the opportunity for discovery. If you aren't discovering as a filmmaker, then there's no way in hell the audience will discover anything.
As for working the camera, my objective is to play it like an instrument. This does lead to a shitload of missed opportunities. But if you treat the camera — the focal length, its movements or its lack of movement — like an entity that reacts to or anticipates what is being filmed, then the camerawork plays a role. But it's got to mean something. It can't just pretend to be dramatic.
But like I said, this is going to lead to missed opportunities because invariably you are going to decide to make some camera move right when an on-the-point comment is ever-so naturally uttered. Those moments are hard to stomach. But way less hard to stomach than arbitrary camera moves.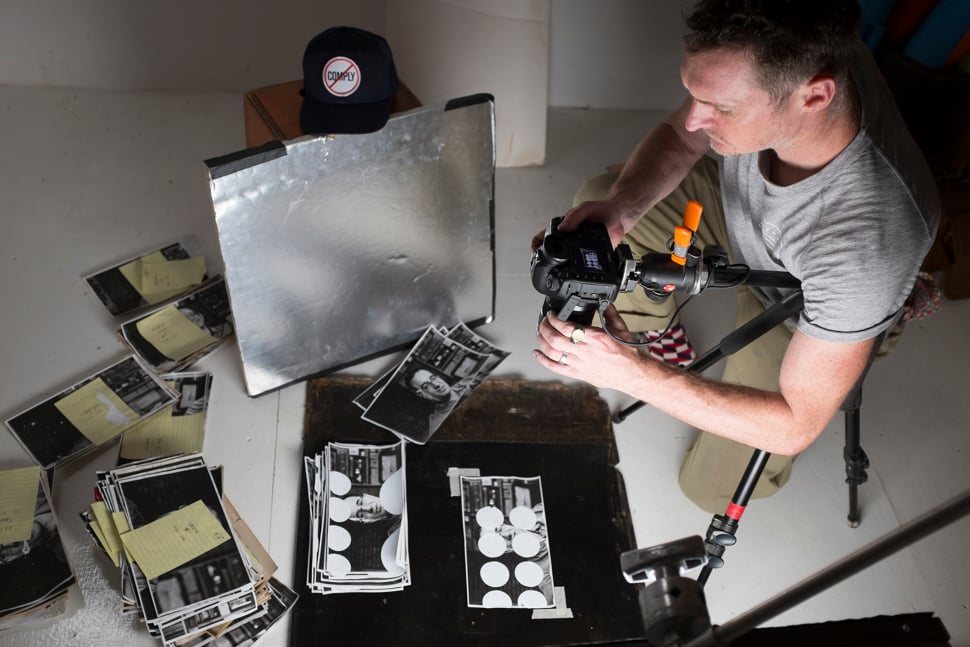 The sound design on this piece is especially strong. When approaching a subject like music, I suppose it should be. Can you describe your techniques?
I've developed a specific sound design style, I guess. I don't recall having set out to do so, it seems to have just kind of emerged. There is no doubt that the way I think of sound has been influenced by the work that Jad does, which is part of the reason I was so stoked to work with him.
Also, I enlisted two very rad pools of talent to help me make the sound ideas in my head become audible. Owen McLean and I recorded Foley sound and designed out all these little details. He then created a sick bed, which the folks at HEARby sound out of Seattle took and augmented / mastered into a dense tableau. The best part of working in film is watching the people around you do stuff you just can't. I don't even know what an 'equalizer' is, really.
In terms of technique, I look at sound like another element of the collage, and thusly [it] needs to be treated with equal parts respect and abandonment. [For] that Foley Owen and I recorded, what we did was take all the props for the film and recorded the sounds that they make: sliding cassettes across metal, dropping cassettes on wood, opening and closing tapes decks, macro sound of a record needle, the inside of Ed's Schmidt's ear. Stuff like that. Then we treated that collection of sound like an instrument and augmented the visual through the manipulation and placement of that sound library at specific moments.
Sometimes the sound is what you are seeing; sometimes recognizable sounds are paired with completely disparate imagery. It's like, if I collect sounds gleaned from the places and objects used to make this film, then any sound can legitimately be paired with any image.
'My studio, though meticulously organized, is an enormous catalogue of crap, from old encyclopedias to machine parts to tons of reclaimed wood.'
I'm such a fan of your non-film work or as you put it, 'stuff.' In this film, it seems like you really had the opportunity to flex your created objects and illustrate Jad's audio. How does this ideation begin? Where do all the individual pieces come from, and how do you see the finished objects informing the storytelling?
Thank you for liking my stuff. The operative word in your question is illustrate … I think of this kind of film as having moving illustrations distributed throughout it. Sometimes that's a stop-motion animation of a specifically created object, sometimes that's a live-action shot of Suzanne holding her boy Harland. Sometimes that's the inside of Ed's ear.
The ideation for these shots is informed by the interview. First thing I did was film Jad and I talking. Then I edited it down to almost what you see in the final here. Then I start thinking of ways to represent the most evocative moments through the medium of moving images.
As for where all the stuff comes from, well, I have a lot of stuff. My studio, though meticulously organized, is an enormous catalog of crap, from old encyclopedias to machine parts to tons of reclaimed wood. For projects this specific, I also drink wine and go on eBay late at night. Now I own a lot of cassettes.
Regarding the finished objects informing the storytelling, I don't think of them like that. They aren't finished objects that reflect back onto the film. They are objects designed to advance the ideas in the film. The role they are built to play in the film defines them. So I guess they are props.
What do you do with all of the objects after you shoot them?
Generally, I cannibalize them. I scrap them for parts. And those parts become part of some other object, or they become an object in and of themselves.
'My hope is that this film offers up a bit of respect at the shared mantle of music. I really just want to offer my thanks to the fact that music exists.'
How has music influenced your work? How has it influenced your life?
I spent my formative years inside the Beltway, growing up in Maryland on the outskirts of D.C. We talked about politics constantly in my home, and the music I was lucky enough to be around — the phenomenal work coming out of Dischord in the late '80s — talked politics, too. The way that music was played … it was both emotionally inclusive and intellectually empathic. You could feel the power chords ripping through you, and appreciate that visceral occurrence, but at the same time, understand that this music was really, truly about something.
I'm not saying that a continual political influx is of necessary value (especially now). What I am saying is this: as I grew up, the music wasn't just sounds to me, nor was it a parade of immediately relatable emotional tall tales. It was [the] embodiment of meaning.
But I think what's most exciting about music is the way that even just a melody can affect you. It's something that can't be communicated through images or words. When music hits you, it ceases to be a form. It becomes a medium.
I know I sound sanctimonious. But I don't really care, because if I could choose only one art form to impart the importance of to my daughters, it would have to be music.
Music has challenged me and taught me. It has accompanied some moments of my life with such vociferous loyalty to its medium that certain songs are hard to even listen to anymore. My hope is that this film offers up a bit of respect at the shared mantle of music. I really just want to offer my thanks to the fact that music exists. I mean, I'm pretty stoked I'm a human: I get to listen to Warren Zevon.
Thanks for all the brilliance, Mac! Keep making all the stuff. 
To find more conversations we've had with filmmakers and to take a peek behind other Staff Picked videos, head to our archive.