Michael Marantz is remarkably buoyant. He's an all-too-rare blend of joyful and pensive, and when he describes his filmmaking process, it's filled with urgency, contemplation, and an easy sense of humor. That makes for a good interview — and marks our latest for Videos for Good.
Michael's personality carries through to his Staff Picks, music compositions, and his work for Already Alive, the creative studio he founded, which aims to inspire and empower through thought-provoking filmmaking. Even when he's grappling with difficult narratives on poverty, gun violence, or race relations, his optimistic view of life rises to the surface, and fills viewers with both hope and resolve. When you watch his films, you want to act. And his Q&A below delves into it all, and the vision behind his particular brand of filmmaking.
Accomplished as he may be, Michael is just getting started. Stories for Good, a new project founded by his wife Isabelle, just hit the internet — and we could not be more on board. Their mission is to harness storytelling to "drive positive change in the world," leaning on Michael's filmmaking prowess and Isabelle's policy background, which includes an eight-year tenure in sustainable development at the United Nations. By uniting film with concrete actions, they're giving viewers a direct and immediate way to contribute.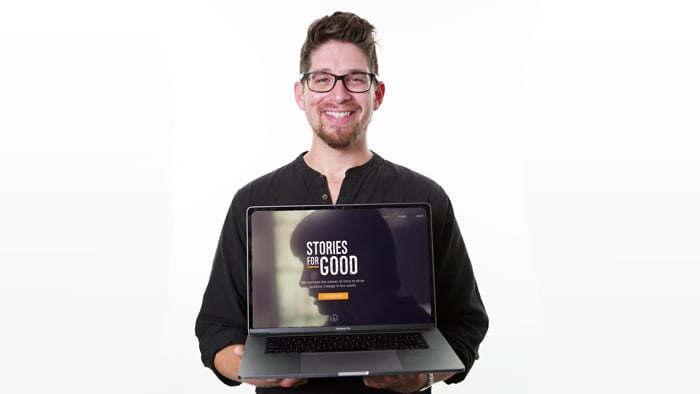 Connecting those dots is the kind of thinking that pushes the boundaries of filmmaking into the future, and gives new meaning and purpose to artistic work. And it's filling us with serious inspiration. We've got our eyes on all your wondrous projects ahead, Michael! Go, go, go.
This month, we're talking with brands and organizations that leverage their talents behind the camera to shift our perspectives and inspire action. Peep all our Videos for Good interviews now.