Dearest creators,
While you've been busy making wonderful films and series to sell, we've been building new features to further enrich your lives. We hereby present a handful of helpful updates to Vimeo On Demand creator tools:
New stats dashboard
Advanced Stats are awesome, but sometimes you want just a quick glimpse of sales numbers, where sales are happening, and how much you'll be pocketing. To that end, we built a handy dashboard that drops down from the top of your Vimeo On Demand page when you're logged into your account. We've also updated the On Demand section of your Advanced Stats to include referrers, embeds, and regions.

More promo code options
Now when you create promo codes, you can choose the kind of discount to offer
(percentage or dollar amount off), select the type of purchase the codes can be applied to (Buy/Rent/Buy All/Rent All), and set start and end dates for code redemption.

Simpler region selecting
Because we're obsessed with making worldwide distribution insanely easy, we reworked our region selector. Now choose to include (or exclude, if you must) as many countries as you'd like, in just a couple of clicks.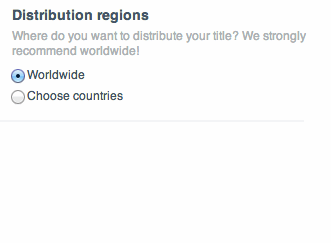 Whether you're tracking the performance of an existing title or getting ready to promote the heck out of a new one, we hope you enjoy these fresh additions. Have a film or series that you want to sell? Start selling on Vimeo On Demand »