You pour blood, sweat, and tears into every film you create in hopes of telling a great story that reaches as many people as possible. But, for the most part, one simple step in the post-production process is often missed — and as a result over 55 percent of the world's population may not able to enjoy your hard work. we're talking about closed captioning, a text-based representation of your video and audio.
Ray Tsang and Joe Stunzi from the production company Locomotive are here to show you how adding closed captioning to your videos will ensure your stories are accessible to all, as well as help to boost your exposure.
As Joe and Ray mention in this tutorial, we're big (big!) fans of Amara, a nonprofit subtitling service whose mission is to make videos as accessible as possible. The great part is that it's integrated with Vimeo, which makes it super simple to either manually add closed captioning to videos yourself, or pay Amara's community take care of it for you. We've also used Rev.com in the past with great success.
Here's how you can add closed captioning to your next Vimeo video:
On the video page, click 'Settings'
Go to the 'Advanced' tab
In the Add Captions & Subtitles section, select one of three options:

'Choose file' to upload your own SRT file (other file formats that Vimeo supports: WebVTT, DFXP/TTML, SCC, and SAMI files)
'Launch Editor' to use Amara's editor right without leaving Vimeo
'Purchase' to pay Amara translators to create files for you

Show off your wondrous, newly accessible video to the world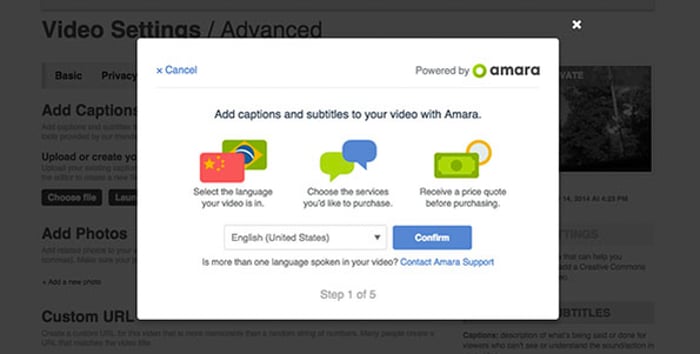 For those seeking more tricks for maximizing your video's exposure, head on over to the Academy of Storytellers, where there are over 135+ tutorials that cover the entire gamut of filmmaking — including how to get your films seen (and seen by the right people). And, of course, our Video School archive is ripe for the reading and filled with more helpful tutorials.