Good lighting doesn't have to cost a lot of money or be overly complicated. You can use inexpensive items just laying around the house to improve how your scene and subjects are lit. Anything from a floor-lamp, a reading light, or a paper lantern.
<
p>A key element of good lighting is soft light. Too strong or too harsh lighting creates shine and harsh shadows that generally don't flatter most settings. It's great to have a nice strong light source but you need to temper those photons with something to soften up their punch. Luckily there are common everyday objects that provide excellent soft lighting like a paper lantern, sometimes known as a China lantern. As you may have guessed, paper lanterns are made of paper, held together by a metal wire structure, with a light bulb hanging in the middle. You can find paper lanterns for cheap at many retail outlets, attics, and college dorm rooms near you.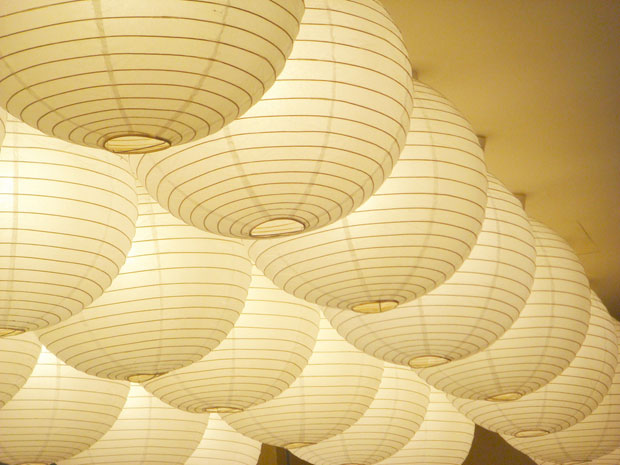 Behold, a plethora of paper lanterns! For most shooting situations just one will do just fine. (Image Courtesy of Shutterstock)
The magic behind the paper lantern is how it diffuses and creates a soft light for your subject. A paper lantern can also act as a great fill light in your three-point lighting setup or if properly positioned can act as your sole light source. For a detailed explanation check out this video by Framelines TV explaining how to mount and use one-
<
An important consideration to keep in mind is bulb wattage, be careful not to exceed about 200 watts (or the manufacturer's suggested limit) with a standard incandescent bulb or it's compact fluorescent or LED equivalent. Most importantly make sure the bulb is in no way touching any of the paper as that it may begin to combust.
Take the time to try different lantern positions by both increasing and decreasing the distance from your subject. It might take a bit of playing around to get just the right amount of light from the right angle, but it'll be worth it for the higher quality image you'll be capturing. Most importantly experiment. You never know what you might capture with a little time and curiosity.