As a creator-first platform, we know how much work already goes into crafting the perfect video. Distributing those videos across your social channels — aka sharing it with the world — should be the easy part. Like, "click one button from a homepage" easy.
That's why we launched publish to social last year, to help creators increase their reach beyond Vimeo, no matter where in the world their fans were watching. Since then, more than hundreds of thousands of your native videos graced the feeds of Facebook, YouTube, and Twitter.
And now we're beyond excited to announce that we added LinkedIn as our latest publish to social integration, enabling you to publish videos natively to LinkedIn Company Pages. This marks LinkedIn's first end-to-end integration with a video platform. And, with the world's largest professional network now included in your video distribution arsenal, your audience just grew by 562 million business-minded people. Vimeo now provides the widest publish to social distribution for your videos — Youtube, Facebook, Twitter, and LinkedIn.
This means businesses, brands, and other creative professionals on Vimeo who rely on the power of video to tell their stories can now natively publish their videos to their LinkedIn Company Page, to reach more professional and business oriented audiences. Plus you're still able to reach your followers across all the other platforms our publish to social feature integrates with.
The best part? Vimeo tells you how each of your videos performs on each social platform, revealing important insights toward your overall video marketing strategy, all from the comfort of your Vimeo stats dashboard.
Here's why this is big news for you and your videos.
LinkedIn means business
This Vimeo-LinkedIn integration makes our publish to social offering even more powerful because the LinkedIn user is unique to all social platforms. LinkedIn is not for your cousin's new puppy or your college roommate's vacation cruise video. People use LinkedIn to connect with peers, find new partnerships and collaborators, to learn, and to keep up with the latest news in your industry. In other words, the LinkedIn user is a business-savvy decision-maker more so than on any other social network.
And, with this context in mind, you can now use publish to social to cater your videos to a business-focused base to reach your goals. Whether you work in film, advertising, education, non-profit, ecommerce, or any other industry where video is an essential tool for marketing and communication, you can now tap into this highly-engaged audience, right from Vimeo.
Your control room for video distribution
Creators now get the best of Vimeo and LinkedIn. You can host all of your videos centrally and securely in your Vimeo account, and then publish those videos directly across your various social networks.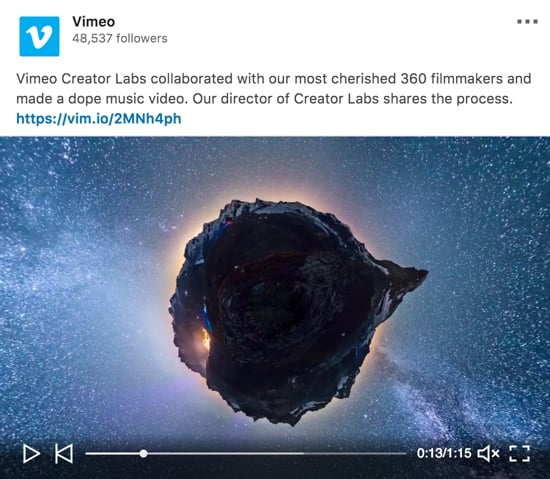 Instead of manually uploading videos to each social destination, Vimeo members can distribute their videos directly from Vimeo with one click all over the web. This includes their LinkedIn Company Pages, their websites, and other social destinations. Now you can host it alongside your other videos, and promote it at any time. Each social platform supports its own specific audience with its own unique benefits, so you can pick which videos to publish where — all it takes is a single click.
Reach your *actual* people
More channels means more eyes on your stuff. And social feeds nowadays favor native uploads, so creators who distribute their videos natively across channels are significantly increasing their video's reach. LinkedIn Company Page videos specifically see 5x the engagement than any other type of post. So, if your business doesn't have a LinkedIn page yet (even if you're a one-human empire), this is a good time to give it a try.
Analyze this, or that
You can improve engagement and grow your audience across those channels with stats and analytics from those social networks in your Vimeo stats dashboard.
Use your stats dashboard to see how your videos are performing on LinkedIn, and across the other channels we offer, too. You can track watch time, number of total views AND unique viewers, and beyond to better measure the holistic impact of your video campaigns.
One of the benefits of having all these stats from all your publish to social destinations in one place is that you can start testing your campaign success. Experiment to see what kind of videos are successful on which platforms, and that will help you improve your social video strategy over time. Use that specialized intel to hone your craft, increase engagement, and grow your audience across your networks. You can even further expand your video's reach with our suite of marketing tools — end cards, email capture to expand your reach on your website, and more features that will help you achieve that sweet ROI.
What should you be publishing to LinkedIn?

First, identify your purpose on the platform and establish your goals. Maybe you're looking to build your client list, promote your products, or receive recognition for your creative work.
Next, be realistic: what facet of your industry are you an expert in? What do your people need to learn from you? From there, you can come up with creative ways to market your concept:
Promote your brand with a sizzle reel
This mission-driven short from online educator Skillshare does the trick.
Educate your audience on a product or service with a product overview or a customer soundbite
Like this straight-forward product walkthru from Moo.
Share your expertise with an educational video
Seamstress company Colette Patterns put out simple and very popular tutorials on sewing basics. Like this how-to on sewing the illusive invisible button.
Get recognition for your video work, with a trailer
Here's a trailer from Staff Pick alum Jim Cumming's feature of Thunder Road. We're already certain: it's going to be great.
Promote an event with a compelling testimonial
Square's series of unlikely customer use cases redefined their brand, and showed the possibilities of their product.
Attract new employees or followers with behind-the-scenes videos.
The surf-obsessed art collective, Vissla shows their pro athletes in a new light with their small talks series.
The possibilities are endless, so really take the time to define your niche.
Already have a bunch of LinkedIn ready videos? Great! Start testing the waters, and use our stats dashboard to see what your community responds to. Hint: we do it all the time.
If you don't have existing footage, no biggie. Start small in your areas of strength and make waves with this distribution tool.
Publish to social is an effortless way for you to streamline your workflow, distribute your videos anywhere in the world, grow your audience across major platforms, and achieve your campaign goals. Upload your videos and get started with publish to social.
Already using our marketing features to get the most out of your video campaigns? Let us know what you're loving most, and what you'd like to see more of. When you talk, we listen, and good things become great.