Today is a big day — one of the biggest in the short-ish history of our small-ish company. For the past year (37 years in Internet time), we've been working nonstop on a project that we've desperately wanted to tell you about. Because, frankly, it's all about you. Our willpower muscles are pretty much at the breaking point right now, and so we are doubly ecstatic to finally let the tiger out of the satchel and make this officially official announcement: We built you a new Vimeo.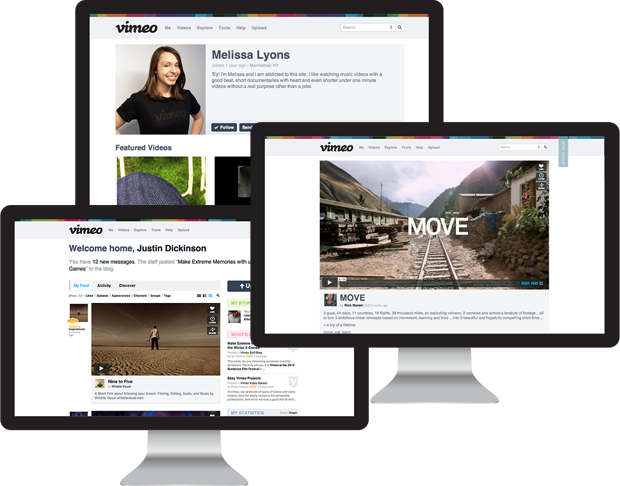 If your reaction to this news is, "But wait!!! I love the old Vimeo!!!" we totally understand. In fact, we're happy you feel that way, because we love the old Vimeo, too. However, within our unconditional love there lies another sentiment: the burning desire to make Vimeo better. So, that's what we did. We tore Vimeo down, thought hard about every aspect of it, and created the new Vimeo from scratch.
And whether you call it a redesign, a reboot, or a redistribution of awesome, we had three big goals in mind:
Big Goal #1: Put a greater focus on your videos
From day one of our existence, Vimeo has been committed to making your videos look as good as possible. And so the new Vimeo shines an even brighter spotlight on the videos you upload. We started by reimagining the video page, and designed the entire user experience around it to minimize distractions and put the focus where it belongs — on your videos.
Big Goal #2: Make Vimeo easier, faster, and more fun to use
In addition to increasing the visual splendiferousness of your videos, we enhanced just about every aspect of the Vimeo experience. We simplified. We optimized. We organized. We spiffed and speeded things up. We packed it with features that help you share, connect, and learn. We made sure it reminds you that taking video should be a blast and a half. Heck, even two blasts.
Big Goal #3: Give you the features you want
Every day we get great ideas about how to improve Vimeo from our incredible community, i.e., you. And the new Vimeo was a chance to take your suggestions, sprinkle unicorn dust on them, and turn them into realities. We've incorporated lots of your ideas, from minor tweaks to massive features, to the point that we're making all of you honorary Senior Vice Presidents of Brilliant Concepts at Vimeo. The check is in the mail.
(Quick note to impatient types: If you've had enough preamble and you're itching to see what the new Vimeo is all about, go to vimeo.com/new. You can always read the warm and fuzzy conclusion to this post later.)
To achieve these goals, we improved Vimeo in thousands of ways. Here are just a few of the bigger changes that will make the new Vimeo hands down the best Vimeo of all time:
Brand New Video Page: Bigger videos, better tools, and new keyboard shortcuts.
Better Browsing: More ways to discover things you like.
Your "Inbox" Is Now Your "Feed": A whole new vibe for your homepage.
Following: An easier way to keep up with what you care about.
Better Uploading: Upload multiple files and more.
More Privacy Control: Better control over who sees what.
Advanced Search: Get specific and find what you're looking for.
Browse Videos With Creative Commons Licenses: Discover videos available under various CC licenses.
Recently Viewed + Related Videos: Handy lists of what you've seen and what you need to see.
To learn more about these new big things in more detail, head over to vimeo.com/new. It's also the place where members can sign up to try the new Vimeo as we roll it out over the next few weeks. Go ahead - you know you want to check it out!
Finally, while we're on this theme of bigness, it's also important to mention that the big idea behind Vimeo has not changed — we've just updated it for 2012. Vimeo is still and will always be a friendly place to watch, share, discover, and be inspired. We still offer the highest quality video on the planet. We're still not putting ads before, after, or on top of your videos. We're still home to a respectful, supportive community of creators. And we still love video — and the people behind it — with all our