Welcome back, old buds and pals — did ya miss us? We're back in action with Part II of our web series Q&A! Just to recap,
we asked a few notable Vimeo web series' creators some questions
that we thought might expand upon the art of the series. Here's who we're talking to today:
The Better Half
, a web series that follows a lesbian couple through the day-to-day hurdles that come with making a relationship work.
F to 7th
, a comedy about Ingrid and her descent into pre-middle age.
All Over It
is a liveplace/workplace comedy about the exploits of a scrappy band of co-working/co-living Philadelphia artists trying desperately to sell out to the first available bidder, without injuring themselves or each other.
SRSLY
is Alexandra Fiber and Danielle Gibson, two NYU- and UCB-trained ladies making short, snappy videos loosely based on their semi-glam lives in New York.
Eat Our Feelings
, a series about a couple of hip Brooklyn gals, making food, eating food, and exploring the harrowing depths of their emotions. They laugh, they cry, they put avocado on everything.
Break-ups
, an improvised series about, well… breaking up.
Jack In A Box
, an original web sitcom about a mild-mannered young man with a BFA in acting and no life skills.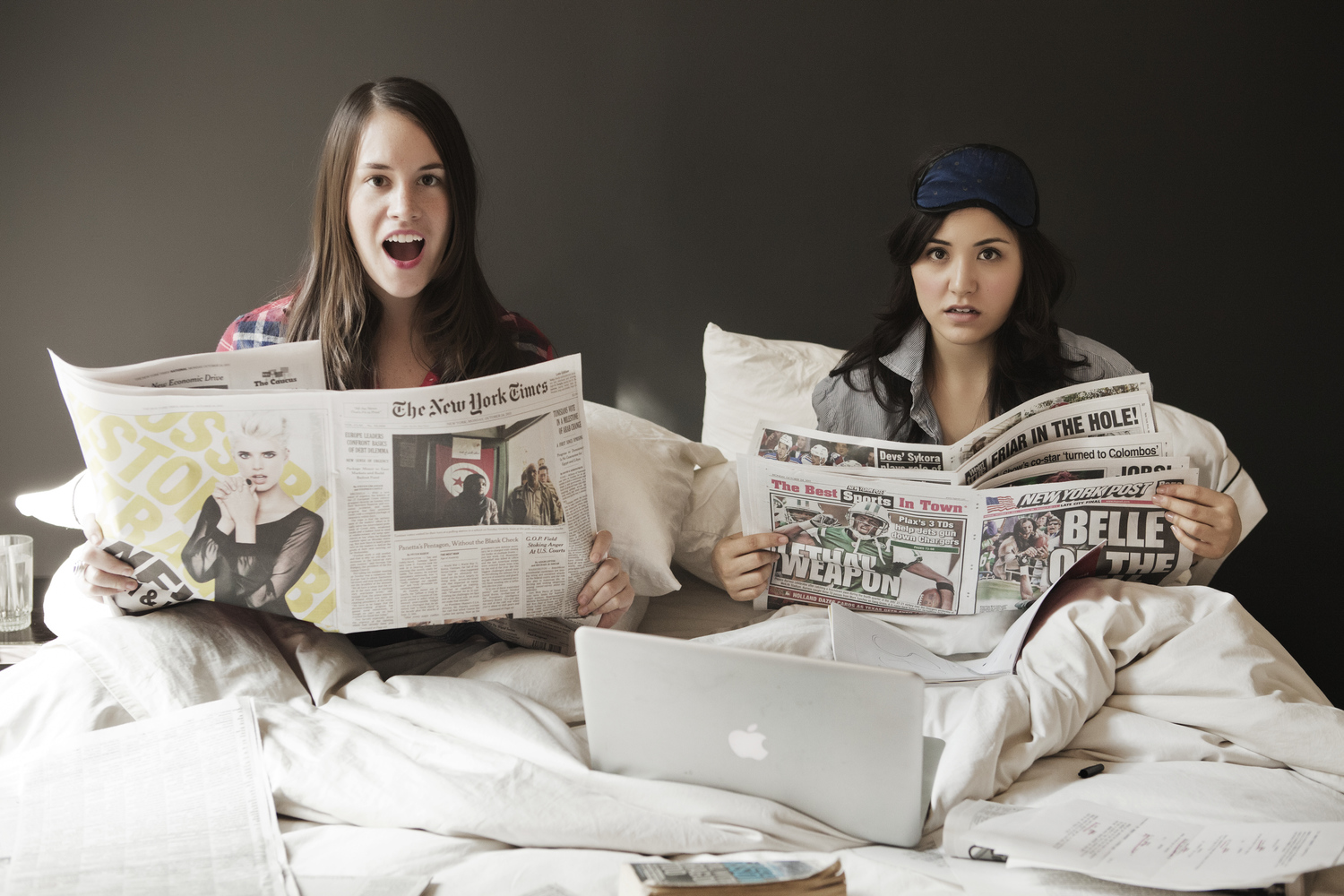 SRSLY
This week, we're focusing in a little closer on the production side of things, since that's so crucial to a successful series launch. Y'all ready to do this thing? Let's dive in!
VVS
:
What does your shooting schedule look like? Do you try to knock out multiple episodes at once, or does each episode have its own dedicated production process and timeline? About how many people are in your production crew?
The Better Half
: We shot at our apartment for most of Season One and that helped a lot. We tried to use whatever resources we had to our advantage. The four of us [the four co-creators] would sync up work schedules every few days and shoot for a few hours here, a few hours there. We learned to work really quickly and efficiently to the point where we'd get an entire episode done in a day or two.
F to 7th
: We try to shoot two episodes per day. It's super fast and light. And I like to shoot all at once — it would end up being about six days each season after you work in cast schedules. Usually, about a five person crew — me, the producer, the DP [Director of Photography], the sound mixer, a PA [Production Assistant]. The producer on my shoot wears several hats and we would all sort of AD ourselves, although if I did it again, I would have an AD [Assistant Director] so I didn't have to say a line and then turn and ask the Producer how much more time we had.
All Over It
: We shot all episodes at once, over five sweaty days, in Philadelphia. We had a fairly buttoned-up production team of about 15-20 people, give or take.
SRSLY
: We try to do a leisurely five episodes a weekend, if that. Our crew has grown and grown, and we now consider these the bare essentials: a director, a DP, sound, second camera operator, grip and a PA. If we can have hair and makeup, that's a blessing.
Eat Our Feelings
: For our first two episodes, we shot them individually. Those two were paid for out-of-pocket, so we had to get the money together. The next four episodes, which were funded by a Kickstarter campaign, we shot in three chunks (two three-day, one four-day). We did all of the cooking scenes one-after-another to make use of the equipment and set-up. By the fourth day of cooking scenes, we were all a little delirious! The size of our crew depended on the day of the shoot, but we keep it pretty small.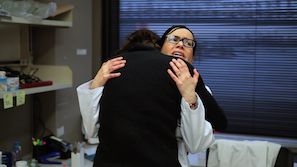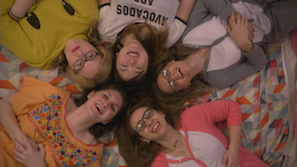 Left: F to 7th's "Nature" episode; Right: Eat Our Feelings' "Slumber Party" episode
VVS
:
Did the series require funding from outside sources? How did you go about that?
The Better Half
: It would have been great to have some funding from outside sources, but sadly we did not. We didn't have any additional crew and any expenses we incurred we split evenly between us. We mainly spent money on props, food and hard drives.
F to 7th
: Yes. We
Kickstarted
the first season and then the second season I got a Spike Lee grant and some NYU thesis allotment money. My dream is to have a real budget and pay people what they deserve.
All Over It
: We were mostly self-funded, with some generous help from [co-writer / co-director] Ted's commercial production company,
Furlined
; we were lucky that the key players in our cast and crew were drawn to the idea and script and basically worked for peanuts. We used peanuts as a metaphor; there were no peanuts on set, Ted's allergic.
SRSLY
: We've funded everything out of pocket; once we started doing more branded work, we would use the money towards making new, non-branded episodes, so it became sort of self-sustaining.
Eat Our Feelings
: For sure. We knew that for the [next] four episodes, we needed to raise $12,000 to achieve the quality that we wanted and be able to pay our crew (everyone was generous with their time, and though we didn't have enough to pay their day-rates, it was important that we be able to give them something). So we did
a Kickstarter campaign
, and it's thanks to the support of our backers that we were able to make those episodes.
Break-ups
: I often say that the entire series budget was $11 because I had to buy my friend
Paul Jurewicz a pint of Jameson to take his shirt off
. However, I also spent a good portion of my life savings at that point to buy a Canon 5D Mark ii, Zoom H4n, two wireless lavs, and two lenses. That totaled about $8,000, but I've been using that gear for six years now, so I've spread out the cost.
Jack In A Box
: We self-funded, calling in favors for extra hands, locations, etc. I own my own equipment, and through his job, Michael had access to a theater box office that would allow us to shoot there before they opened. We spent money on snacks for the actors and cupcakes as props.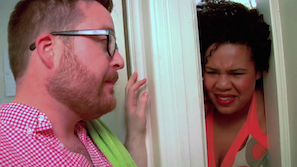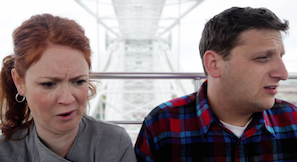 Left: Jack In A Box's "The Roommate" episode; Right: Break-Up's "Tim & Emily" episode
VVS
:
Can you tell us a little about your general process in creating the series?
The Better Half
: At our first meeting we worked on a season arc together and we shot the first few episodes over the course of a few days. We wrote each script episode by episode with room for changes when we were shooting. We wanted each episode to be self-contained and still be a part of a bigger story.
F to 7th
: I wrote each season all at once. The first season were more self-contained episodes that as a whole, had a subtle arc, but were mostly just individual parts of a bigger idea about gender and sexuality. The second season, I wanted to explore more of a TV format — a main character arc and recurring characters, etc. I take a couple of months to write, then I rewrite until we shoot and sometimes make changes once the actors are there.
All Over It
: It took us about a year to get from the idea on paper to our shoot, because life is full of eight hundred other things all the time. Because our series was broken out of a longer piece, all nine episodes were written, and then adapted — as we cast, as location & production realities set in, and as we rehearsed and ran the one table read we had time for (which was great).
Break-ups
: I chose one actor and asked them, "Who do you most like working with?" With our couple cast, we would have about a 10-minute discussion about the initial reason for the break-up, then find an interesting location to carry out the scene. They would improvise for about fifteen minutes until we found the energy, content, and characters we wanted to pursue, then they'd play for about an hour and try to nail something special in one two to five minute shot. No shoot took more than three hours, cost more than $11, or had more than three crew people.
Jack In A Box
: At first,
Michael Cyril Creighton
(the writer/star) would write an episode or two and we'd schedule a shoot (very piecemeal), but as we continued, he would write a whole season and then we would plan and schedule our shoots. Michael always wrote for the cast he wanted, and luckily always got them. He created wonderful characters for great actors. Great casting is pretty key.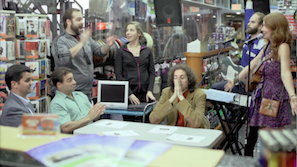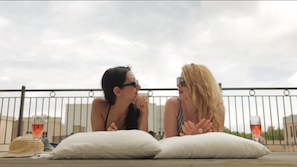 Left: All Over It's "The Pitch" episode; Right: The Better Half's "Lesbifriends" episode
VVS
:
How would you advise filmmakers to get started on their own web series?
The Better Half
: I don't want to be cliché but you just need to do it. Find people you love working with and come up with an idea together. The internet has made filmmaking and storytelling available to everyone. You just have to get to the finish line and when you do, it will pay off.
F to 7th
: Know your goals. Sounds life-coachy, but the most important thing in all of your work is for you to have clarity. Why do you want to do it and what do you want to get out of it? And the second thing is to know what you have access to and design your show around that because the point of all this is to make your work. Don't overextend, don't think beyond your means. Focus on what you want to say and say it simply and concisely, then find collaborators who can help you make it happen.
All Over It
: Creative people aren't "supposed" to do this, but they do do it: think about venues, formats, and audience as much as you thought about your script—even if it's just to limit yourself to a time-frame or a structure that will keep people coming back. Have an idea of who might connect with this idea and why. Be realistic about your limitations.
SRSLY
: Just do it. Don't wait! The glory of the internet is there truly is an audience for everything, so just get to work, be persistent, and everything will fall into place.
Eat Our Feelings
: Surround yourself with positive people that also believe in your vision. Our team is made up of friends that we trust and respect, who make work that we admire. Also- don't be scared to ask people for favors! The community of artists and filmmakers is a giving one, so take advantage of that. We all want our friends to succeed, and we all want to be making interesting work. So ask for help, and when someone needs yours, give it! Also: Supply your crew with good snacks. Sometimes, pretzels aren't enough, y'all.
Break-ups
: Be in love with the idea. So much so that when it's 4 a.m. and you're between two jobs and your partner is leaving you and you can't pay your rent, you'll be able to say (and mean it when you say), "At least I have this."
Jack In A Box
: I would suggest writing a short run, like a first season (six to eight episodes), and spend time planning how to go about producing it with your team. Like any independent or low-budget project, it's very useful to write for what is achievable and accessible (i.e. locations obtained through friends, and not a gun fight on top of the Empire State Building). Michael always says it's important to know your tone from the beginning, making a strong impression up front and running with the world you've created. Then let it grow from there.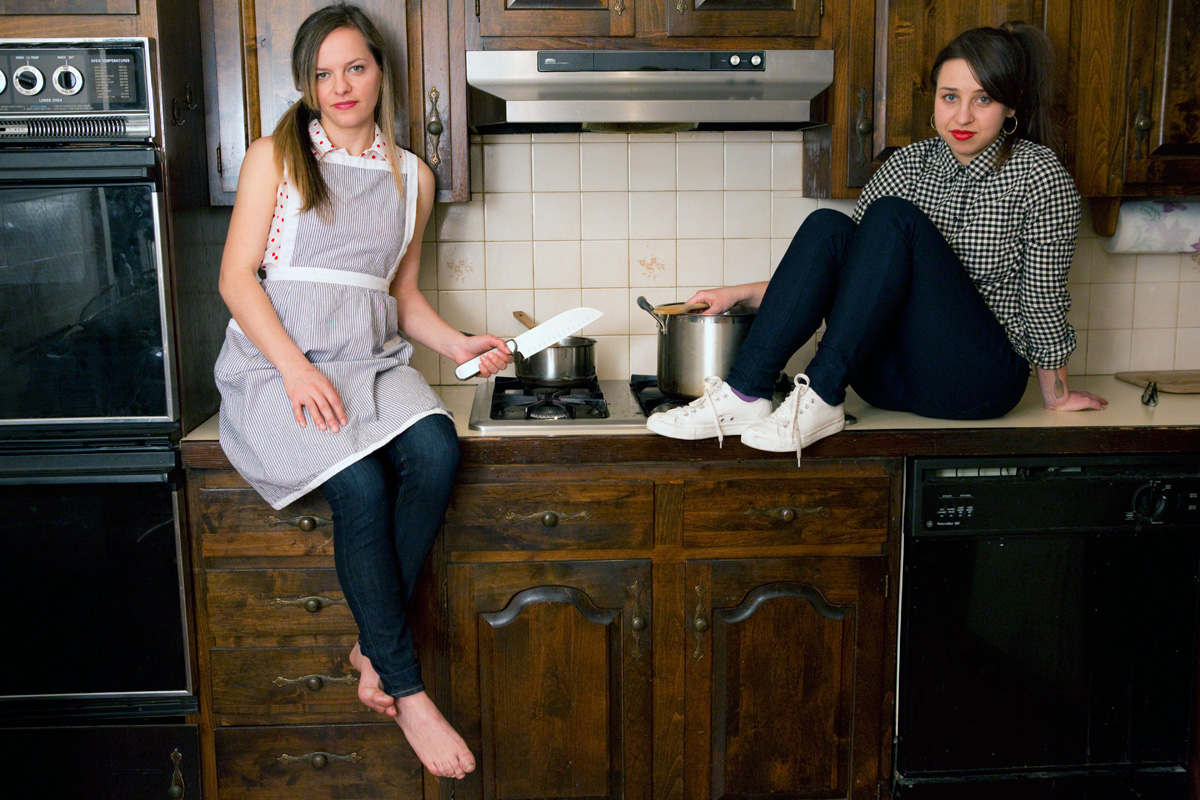 Eat Our Feelings
And that's a wrap! Huge thanks to all of our contributors for donating their words of wisdom to all of us here at Vimeo — now get out there and try your hand at an original web series! Be sure to check out
Part I
in case you missed it, and we'll see ya next time!