Update: This feature is available to all Plus, Pro, Business, and Premium plans! AND, you can now publish natively to LinkedIn's Company Pages, as well as to Facebook, Twitter, and YouTube.
Distribution is arguably the most important step of any video or live stream. You've planned, you've worked hard, and you're ready to share it with the world.
We're introducing two new tools to simplify your distribution workflow, and to help your videos succeed out in the wild. For uploaded videos, you can now publish videos as native social posts. And for live events, you can now live stream simultaneously across multiple social platforms. Together, these updates give creators a central hub for managing and distributing their videos.
Simultaneous streaming
Live streaming across multiple destinations, or "simulcasting," is one of the best ways to reach a wider audience, reduce bandwidth, and simplify your workflow. It's been the top request from our live community, and within a select group of users who've already been using this feature, over 90% reported that it made it easier to grow their live audience. So we're excited that live plans can now simultaneously live stream to Facebook, YouTube, Twitch, Periscope, and more — along with wherever you embed the Vimeo player.
Start from the Videos page to create an event. To set up streaming to social within a live event's settings, you can go to the Social tab to connect to your social accounts. Once you're in, you can automatically connect to Facebook (including all your different pages), and you can add YouTube and RTMP destinations by entering your stream info (provided by the destination).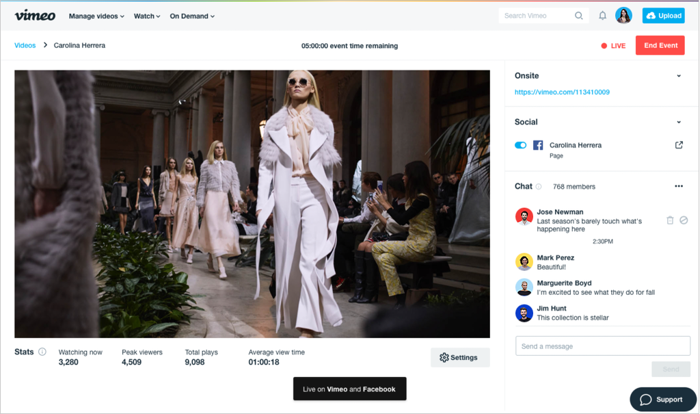 Heads up: this doesn't replace your live stream in the Vimeo player. You can still embed your event wherever you want, and fully customize that experience. Only now, you can do all that while you also stream all over social.
When you're done live streaming, your event will be automatically archived in the highest quality, so you can easily download, review, and even replace post-event videos.
Publishing videos as native social posts
We're also expanding the ability to publish videos as native posts to social destinations like Facebook and YouTube. Now, the feature is available to all Plus, PRO, Business, and live plans.
Because platforms tend to favor native uploads, publishing natively boosts your videos' visibility, and helps you succeed wherever you choose to distribute videos. Instead of having to upload videos to each social account, you can publish from your Videos page in a couple clicks. Plus, you can track stats for your social posts right from your Vimeo stats dashboard. You can learn a lot more in this article.
Make it happen
Try it for yourself. You can publish a video from your videos page (just click Share then Publish to social on any video), and live members can add social destinations from the Social tab of an event's settings page. Psst! Curious about live? Start a demo.
Along with other tools (like team members, albums, and version history, to name a few), these updates offer a single mission control for your videos — the best place to manage and distribute both live events and uploaded videos, whether it's to your website, social platforms, or even custom apps with our APIs.
Let us know how these tools help you and your team. When you talk, we listen, and good things get even better. As always, you can find more details in our Help Center.