Greetings Vimeo,
On behalf of the Vimeo Curation Team, I am here with good tidings! We thought it fitting to once again showcase our absolute favorite videos from the past month. These videos are the crème de la crème of May's Staff Picks, the A+, 4.0 GPA kind of videos, the videos that we found ourselves watching again and again after long days in the office. These videos put a smile on our faces, and we hope that they'll do the same for you.
One of our favorites from the bunch was that of BAFTA-award-winning Ainslie Henderson.
In Moving On, Ainslie not only wowed us with his inventive and technically inspiring craft, but accomplished the feat of moving us emotionally through characters made of a material we generally associate with things like scratchiness and cold winter days. We wanted to learn more about his process, so we sat down with Ainslie and asked a few questions.
What is your relationship with the band James and the music? Did the song help inspire the imagery and story?
My relationship with James is a long and evolving one. I discovered them in my late teens and have loved their music ever since. I was a musician before I became a filmmaker and I was lucky enough to meet a couple of members of the band and record an album with them, we stayed friends, but I've never lost that feeling I first had for their music, I've never stopped being a fan. Their honesty and earnestness, they make the most brilliant, heartfelt music. They have a knack for making unashamed pop music without being shallow or disposable.
The tone of the band, and of this song was a huge influence in creating the narrative. We'd talked for a while about collaborating; I loved the song and had some conversations with Tim (the singer) about what it was about. He told me a story about trying to get half way round the world to be with his mother when she died. He described her death as a birth, and that statement stuck with me, there's a line in the song 'time always unwinding' some days later I was walking past a typical Edinburgh knitwear shop and all these things fell into a story.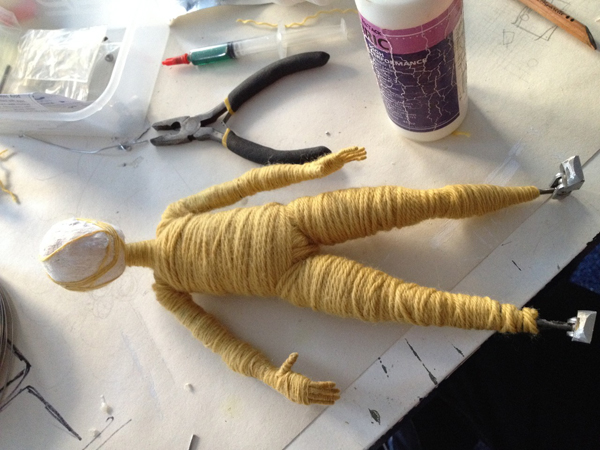 When creating an emotional story such as "Moving On', what did you find was key to get people to relate to animated characters made out of yarn?
I remember sending the band some test shots of the film early on and there being concerns about the lack of eyes, much of my previous work relies on the puppet's eyes to a great extent, I understood why they were worried, to be honest, I was too, but I wanted to try something different with this. I think because we understand the situation that the characters are in, and through their movements and gestures we, as viewers project our emotions onto them in the same way we would if we could see what the puppets were feeling through their eyes.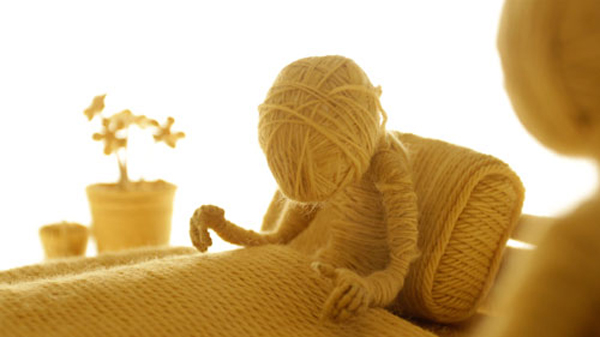 What are some of your favorite videos on Vimeo? Are there any creators that particularly influence you or influenced "Moving On"?
I'm enchanted by the work of Allison Schulnik and Tobias Stretch, both stop motion animators, they share something eerie and magical. I should also give a nod to the film 'Adore' which was made by the lead animator of Moving On, Mike Hughes. Seeing what Mike did with so little gave me confidence, both in him as an animator, but it was also a huge reference for us in how to communicate with featureless puppets.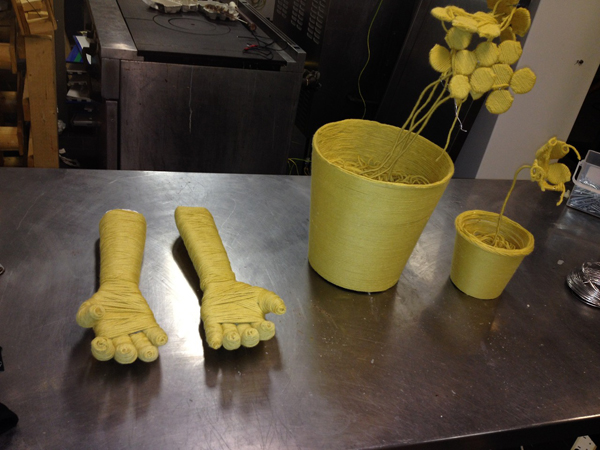 How long did the creation process take? What were the different steps? Were there other techniques used than stop motion?
The deadline for this was so tight, it took about two months to make. One month was spent writing, planning, storyboarding, building puppets and props. The second month was spent animating. This was the first production where I've hired another animator. I worked out that we needed to bring in 6 seconds each a day to finish on time. Luckily Mike was a much better animator than me, I rarely managed 6 seconds, and he always took up the slack.
Everything you see is pure stop motion, no editing, no Photoshop, no aftereffects, it's all done in camera. I'm not a purist, I'm not one of these stop motion filmmakers that think any post production is 'cheating', I just prefer working this way when I can.
Thanks Ainslie!