Forty years ago, two of the best basketball players in the NBA duked it out on the last day of the 1977-1978 regular season for the league's scoring title. David "Skywalker" Thompson of the Denver Nuggets trailed 14 points behind George "Iceman" Gervin of the San Antonio Spurs and the Nuggets played first. Thompson played one of his best games ever, breaking Wilt Chamberlain's 18 year record for most points scored in a quarter with 32 and ended the game with 73 total points. Gervin played hours later, breaking Thompson's newly minted record by putting down 33 in his second quarter and ending the game with 63. By the end of the night, there was only a 5 point difference between the two players as Gervin clinched the title with 2,232 points to Thompson's 2,227. It still stands as the closest scoring title in basketball history. "Do or Die," this week's Staff Pick Premiere from Peabody-Award winning director Dan Klores, dynamically captures their legendary matchup through stylish watercolor animation and interviews with the players and their coaches.
Basketball fans these days might not be familiar with George Gervin or David Thompson, but in their day, they were as big as it gets. Both started off in the American Basketball Association (ABA), a league that only lasted 9 years, but one that transformed the sport by utilizing a flashier style of play, including the 3-point shot and pioneering the slam dunk contest. According to Klores, the older days of basketball were different. "You didn't even get thrown out if you hit someone. And the ABA was as rough as you could get. Rougher than the NBA. I mean these guys were fighting for jobs, for paychecks, for status. They loved to brawl. In fact, bounties were even put on players by rival coaches. Neither Thompson nor Gervin were fighters. They were too talented."
In 1976, the ABA merged with the NBA including their players and four teams. As these two talented players entered the NBA, they brought their rivalries with them. "Thompson and Gervin didn't like each other personally but they were competitive as hell and in the 70s, their respective coaches, were best friends," Klores said. Gervin was dubbed "Iceman" for his cool demeanor on the court and for allegedly not sweating. Nike even created a now iconic poster of him sitting on blocks of ice in 1978. His trademark move was the "finger roll" and was known to make them from as far out as the free throw line. Gervin went on to hold the most scoring titles of any guard in league history until Michael Jordan came along. Thompson earned his nickname "Skywalker" for his incredible 44-inch vertical leap and theatrics on the court. He was the game changer that happened to invent a little move called the alley-oop dunk with his North Carolina college teammate Monte Towe. After that '78 season, Thompson signed a record-breaking five-year contract with the Nuggets for $4 million.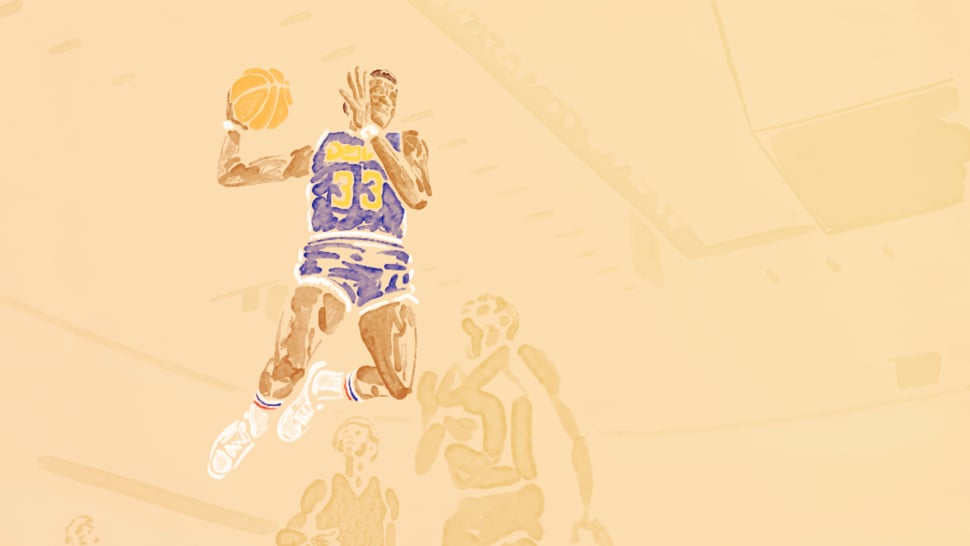 To capture the incredible run for the title, Klores decided to use animation for two different reasons. Back in 2010, he met Chris Isenberg, the producer of the animated short film "Dock Ellis and the LSD No-No," which screened before his previous feature Winning Time: Reggie Miller and the New York Knicks at the Sundance Film Festival. They've been trying to work on something ever since and this standalone piece from Klores' Basketball: A Love Story, a 20 hour ten-part film series on the history of the sport, was the perfect vehicle. The second and most important reason was that after scouring the archives they discovered that no footage of either game exists. No national or local footage. Isenberg hired Staff Picked animator Andy Baker to create the impressionistic watercolor animation and give one of the most legendary face-offs in Basketball's history a proper tribute. Both Gervin and Thompson have yet to see the film, but let's hope the NBA Hall of Famers get to see it soon and recognize how much joy they brought to Do or Die and basketball fans around the world.
Check out more of Vimeo's Staff Pick Premieres here.
If you're interested in premiering your short film as a Staff Pick Premiere, please check out www.vimeo.com/submit for more information.