Hello again, students! Welcome to another installment of Storytelling the Stillmotion Way, with our guest professors from Stillmotion! We're almost ready to pick up that camera! But before we do, there's just a few more steps to take in the pre-production process.
In parts one and two you should have already established who you'll be filming, where you'll be shooting them, and what the journey and purpose of the film will be. With that in mind, let's jump in:

Final Prep
-A storyboard is a way to organize and visually represent the main shots of your film.
-Making a storyboard allows you to be more thoughtful about composition, lens choices, and transitions and to be prepared for the big day.
-In addition, it's helpful to share a storyboard with clients and your crew in order to let others involved in on your vision, to promote discussion and generate feedback. Sometimes a full storyboard isn't necessary, and a shot list might be better.
-Write out a list of the key shots in each scene, include camera movements and lens choices.
Now it's time to schedule your shoot! A great resource to help you and your crew stay organized on the day of your shoot is a call sheet:
-A call sheet is a simple one-page document that includes the contact information of everyone in the crew, shoot locations, and a minute-by-minute breakdown of what to cover and when.
-Even if you're shooting solo, it's still a good idea to estimate how long it will take you to shoot each piece, and in what order you'll be doing so.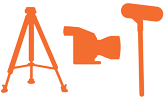 Gear
We're getting closer! Now it's time to plan out your gear. Lenses, camera movement, and lighting can greatly influence the overall tone of a piece, so the more thoughtful and deliberate you can be with these choices the better! Here are four things the Stillmotion folks keep in mind:
-Remember your keywords. Handheld and available light for a raw, documentary feel? Or steadicam and a full on light kit for a sleek, high production value feel? Make sure the tone matches the keywords you've set!
-Review your storyboard. What gear will be required to bring these shots to life?
-Limitations of your location. How much space you have, and other physical restrictions, will shape which tools are available for you to use.
-People's comfort level. Be mindful of how long it takes to set up certain gear, or how intimidating your setup appears to an outsider.
Shoot Day
Ok, it's call time. With all the time and thought you've put into pre-production, you should be pretty well-off on production day, but as anyone who has made a film before will tell you, things never go according to plan. Keep these tips in mind when complications arise:
-Be present at all times. Remember that your interactions with your characters define their experience and influence the material you capture. Make sure to engage with your characters and environment so that you can maintain a productive atmosphere and adapt to changes.
-Keep it simple. Don't try to over-complicate things! If you're faced with two choices and two equal outcomes, choose the simpler route. It will help you to remain present.
-Three over one rule. Try to cover everything in sequences of threes. You can think of this in terms of beginning, middle, and end, or close-up, medium, and wide shots. Make sure to capture a variety of shots and to cover the entire story so that you have options in post.
-Get in there! Where you put your camera is where you put your viewer, so get in the action and bring the viewer even closer to your story. Congratulations class! We've come so far — there's only one session left. We've already learned how to develop our story and purpose, choose compelling characters, make the most of our locations, and come prepared with a storyboard or shot lists to know exactly what we need to get for our story. Next we'll put what we've learned to work. In session four we'll be challenging you to go out a tell a specific story using this process, and we're excited to announce that Cinevate and With Etiquette have donated thousands of dollars worth of prizes for the winners and finalists, so stay tuned!