Yo Vimeo!
Last week a highly trained team of Vimeo operatives, armed only with mobile phones and business cards, laid siege upon the Texas capital. There we engaged in hand-to-hand networking, performed reconnaissance at various screenings, and detonated what was perhaps the most explosive Vimeo feature in the history of online video: Vimeo On Demand! Here's our recap of SXSW 2013:
First, we hosted two screenings of 'Moving Images to Melt Your Mind and Expand Your Heart', an awesome selection of the Vimeo Staff favorites that you can watch here.
Tuesday was Vimeo's big day: we announced Vimeo On Demand, our new tool for creators to sell their work directly to their audience. To make such a massive announcement in proper Vimeo fashion, we paired it with a screening of Don Hertzfeldt's beloved film, 'It's Such A Beautiful Day', which is now available to stream and download on Vimeo On Demand.
We also sat on a bunch of panels! Andrea held it down on 'Easy as 1, 2, 3: Point, Shoot and Share' where she expounded upon the merits of using mobile devices to shoot videos; Jeremy explained why short documentaries work so well online at 'Shooting for Impact: Online Doc Shorts Now' (answer: immediacy, clarity of message, presence of Grumpy Cat); and Blake tamed not one, but two panels! 'Finding Your Audience with Open Web Technologies' and 'The Future of TV', which, in Blake's highly specialized technical analysis, is "looking pretty darn good!"
Oh yeah, and we also hosted the PARTY OF THE CENTURY, which included performances by Surfer Blood, Murder by Death, and Neon Indian. A thousand people showed up, among them LeVar Burton of Star Trek: The Next Generation and Reading Rainbow, who tried explaining to us how long a century is (100 years? Nice try, LeVar).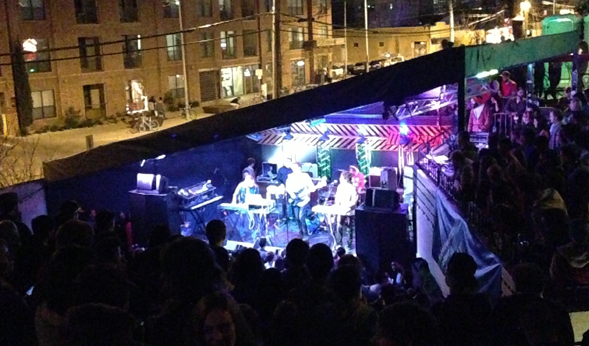 And then there were screenings. Lots of screenings. One film that we especially enjoyed was 'euphonia', by our friends ornana films, who you might know from '(notes on) biology'. Their newest gem of a film is headed to Vimeo on April 21, so check out the trailer and put a little star sticker on your calendars!
That's all, gang. Remember to check out Vimeo On Demand, and keep Vimeo weird.
Peace!
Sam