Art has always kept a close relationship with money. And filmmakers, be you fledgling or established, know that without access to funding, it's much harder (if not impossible) to get your idea off the ground. This arrangement has pros: artists should most definitely get paid for their work! But it also comes with cons: it can be incredibly difficult to secure funding for your project — especially if you're a woman, minority, or other undeserved group in the industry.
To help filmmakers navigate the oh-so-complex world of funding, Women at Sundance hosted one of their many intensive sessions on financing and strategizing in NYC earlier this month. The panel, just one piece of the day's activities, brought together a handful of companies committed to female filmmakers (Vimeo included!) and ready to share their advice. In hopes that their words of wisdom reach the eyes of as many aspiring creators as possible, we've summed up the most money questions and answers from the panel.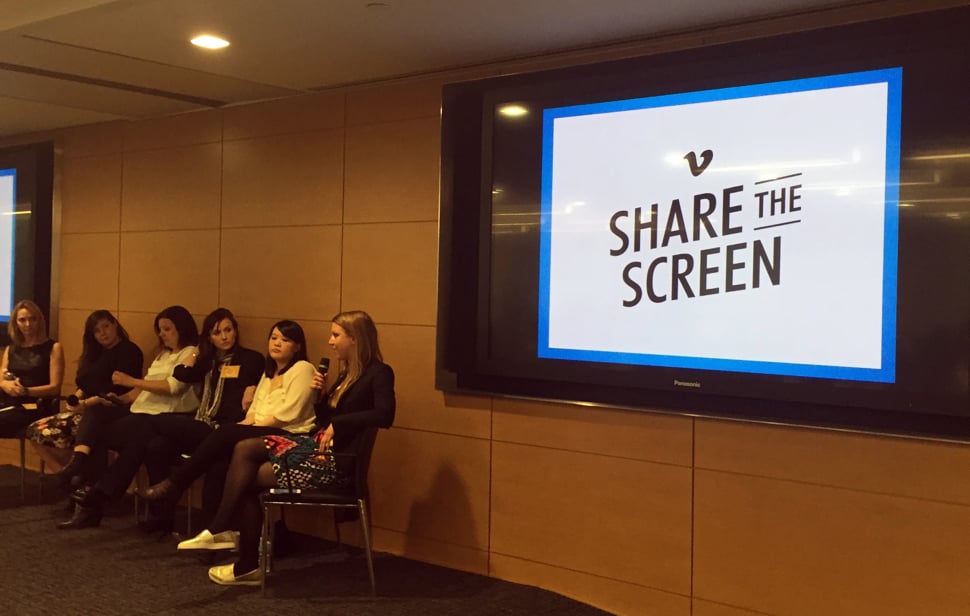 At what stage should you pitch your project — and what's the best way to pitch it?
"Vimeo isn't ad-supported, which means your creative vision is crucial. We don't give notes, so the control is in the creator's hands," our programming pioneer Laura Turner Garrison explained. She recommended providing potential investors with a video example, a teaser, trailer, or proof of concept to accompany the script. The video itself, she said, even more so than a script, can clearly establish a filmmaker's visual style, their capabilities, and a well-defined direction. If you have a finished piece, or the makings of one, share it. Show investors exactly what they'll be investing in.
If you can't shoot prior to pitching, have a strong (and typo-free!) one-page or treatment that succinctly conveys what the project is, who it's for, and why it matters.
"Every 10-year-old has a camera now," said another panelist. That is, the world is over-saturated with ideas for films and series these days. It's crucial, then, that your pitch explain exactly what differentiates your work from everyone else's. If you tell investors this, they'll know yours is a story that needs to be told — and you're the filmmaker with the chops to do it.
What do businesses look for before investing?
Each business comes with its own set of requirements and hoops for filmmakers to jump through. Gamechanger Films, for example, has a robust FAQ section about submitting your project for consideration. They emphasize the importance of enlisting a producer, networking, and submitting to festivals where they scout. Put Your Pretty On (PYPO), on the other hand, helps develop and sell comedic videos, so the scope and stage of what they're looking for is drastically different.
But there are some things you should always include in your pitch, no matter what. Laura offered a helpful framework for creators looking to get their work noticed: "Ask yourself what you can bring to the table," she said. "Is it a group of fans connected to the project? Or a story that reaches a particular audience?" The Outs, for example, built a huge following organically on Vimeo for their first season, and attracted guest stars like Alan Cumming, along with amazing press coverage. When Vimeo heard a second season was on the way, we knew we had to get behind it.

This is good news! It turns out you don't have to be super established to find funding. Instead, the key is to demonstrate that your idea fits within an established marketplace — and one that's in line with the network's mission or audience. You could show off that small but dedicated social following you've amassed, or research that shows your film's commercial viability. But even if there isn't an established marketplace for your work, that could very much work in your favor. Play up the fact that you're pitching something completely new, and point out *why* this gap you've identified is one that needs to be filled.
Where and how your work will be distributed is also something potential investors want to hear about. If a network can easily identify that your video project works well across platforms (online, TV, big screen) — and that you understand how your videos fit into those spaces — you have a way better shot at getting picked up.
Though every company has its own "what we fund" flavor, there's one rule that every panelist agreed upon: as a filmmaker looking to get funded, you should really, really know who you're pitching to, and tailor that pitch accordingly. If you want to create a New York Times feature documentary, you should do your homework first to get a sense of the types of videos they typically feature, their sensibility, and their aesthetic. Heads up: no one wants to receive a copy/paste email pitch with zero thought behind it.
How does the industry determine success?
Last year, the TV network Lifetime noted that five of the top six movies across all cable networks were directed by females. Investing in women, they've reasoned, is a solid bet these days. It's this kind of research — rooted in hard data — that's breaking down more and more barriers for female filmmakers. For Vimeo, on the other hand, success isn't determined simply by looking at numbers. Our top priority is to empower creators to tell stories their way, without ads or notes, and help creators earn more money from their videos. If we're accomplishing that much, we're happy.
What is the landscape like for diversity as a whole?
When we talk about leveling the playing field for women, it's not *just* about women — different races, sexualities, ages, nationalities, etc. factor into biases and the types of stories we see on our screens. According to Lifetime, "If you're not servicing all kinds of viewers, you're out of touch." And Refinery29, for example, proactively seeks out stories that bring more diversity in the fold as part of their roadmap.
OK, but back to women for a second. Did you know that older women are the leading filmgoing audience? Those kinds of stats are 1) the reason more and more companies are investing in female creators, and 2) why women are sloooowly starting to infiltrate the Hollywood machine. As moderator and bonafide wonder woman Pat Mitchell put it (to uproarious applause), "Older women are the fastest growing demographic in the world — and the most dangerous." Not only is it the *right* thing to do to tell diverse stories … it's also a good business decision, both for creators and networks.

Though our Vimeo Originals range in format and subject matter, they each aim to give voice to creators with strong points of view — from The Outs, an original series centered around relationships that also happens to feature gay men; to Wizard Mode, a documentary following autistic world champion pinball player Robert Gagno; to Darby Forever, a short film about a woman who works and dreams her days away in a fabric store, written and directed by comedian and star Aidy Bryant. When the Vimeo team is scouting for new work and creators to invest in, we're always on the lookout for new voices and perspectives.
The best way to get noticed (and get money), all panelists agreed, is to include a breadth of characters in your story, seek out diversity in your crew, and target your pitches to the places making headway in these areas.
Although there's no surefire path to finding funds, we hope this advice helps you in your ongoing quest for investors. For more resources for female filmmakers, peruse all our Share the Screen posts, packed with interviews, announcements, and more.