It's hard to believe, but almost two years have passed since we introduced our mobile site. Mobile devices have come a long way since then, and to get with the times, we have a nice list of improvements we're launching today!
What's new:
Search! Yes, you can finally search Vimeo! I can't believe this was missing either.
Watch Later. Now you can add videos to your Watch Later queue or browse and play back videos you've previously added. This feature is perfect for when you don't have time to watch a long video, or you have an unreliable connection. Just add the video to your queue and play it back later on a computer, TV, or set top box like the Apple TV. Boom!
Many more videos work! We've made a ton more videos mobile-compatible and for those of you lucky enough to have an iOS or Android device purchased within the past two years, pretty much everything in your inbox, Watch Later or Likes should be playable.
A refined look with lots of pretty animations and optimizations for faster page loads.
If you have a compatible phone, go give it a test drive by heading to vimeo.com and let us know what you think.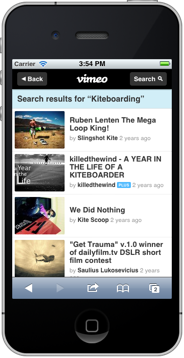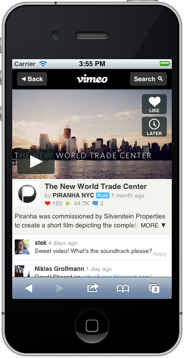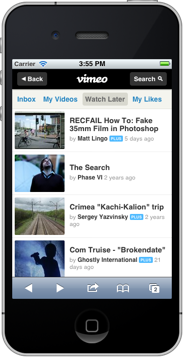 As before, the mobile site works best on Android or iOS phones. Also, we already have an iPhone App which has a ton of other great features. And to preemptively answer your questions, yes, we are actively working on an Android and iPad app.
If you're having trouble, our support staff is happy to help over in the Help forum.
Thanks and enjoy!