Hello greatest video sharing site in the known universe!
Our Vimeo Offline events are always a blast and this time around we're stoked to give the west coast some love in sunny San Diego, California. We're going to be showing a collection of Vimeo videos centered around southern California culture and creators, along with some other true video gems I just have to share. This event is being co-produced with our friends at Invisible Children, a very cool non-profit based in San Diego committed to ending the use of child soldiers and restoring peace in central Africa. Together we'll be showing high quality Vimeo videos ranging from captivating short documentaries, insanely creative animations, and everything in between. Please come join us for an event that will be casual and friendly with a large dose of great video content.
The screening is taking place at Aloha Sunday, a brand new surf-inspired clothing and craft retail store in the North Park section of San Diego.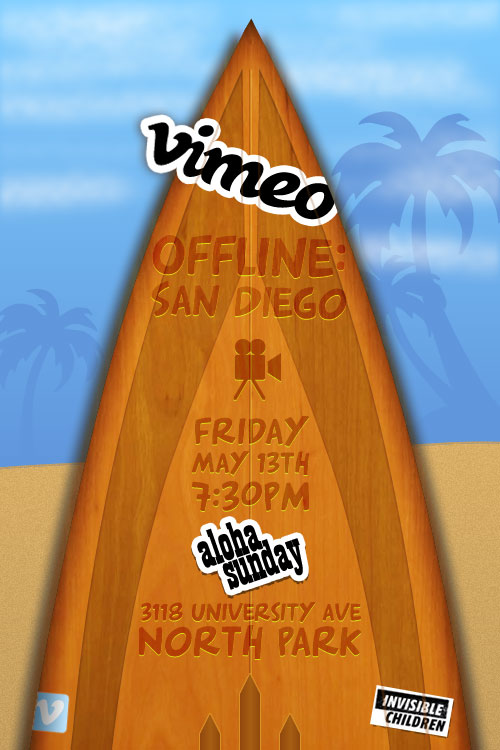 Poster art by Matt!
Here are the details-
When- This Friday May 13th at 7:30PM
Where- Aloha Sunday 3118 University Ave in the North Park section of San Diego (map)
This event is free but seating will be limited so get there early!
Hope to see you all there!!!