Marina Abramović has seen and experienced multitudes. The Yugoslavian-born "grandmother of performance art" won the Golden Lion at the Venice Biennale, staged perhaps the world's most famous performance art piece, "The Artist is Present" at MoMA in 2010 (which became the subject of a doc with the same name), and starred alongside Jay-Z in his "Picasso Baby" video. Newly 70, she recently released a memoir and staged a silent 70th at the Gugenheim with the Page Six-worthy likes of Bella Hadid and Naomi Campbell in attendance.
But her status as the world's most ubiquitous performance artist wasn't quite enough — always inquisitive and looking to foster even more creativity in herself,Abramović decided to journey to Brazil in search for a spiritual awakening. This journey is captured in the Vimeo original documentary Marina Abramović in Brazil: The Space in Between, in which director Marco Aurelio del Fiol followsAbramović as she purposely gets of out her comfort zone, immersing herself in Brazil's spiritual world. Abramović appears in the doc different than ever before — wearing austere white, her hair in a simple plait — ready for a spiritual awakening to wash over her and reinvigorate her ability to create art.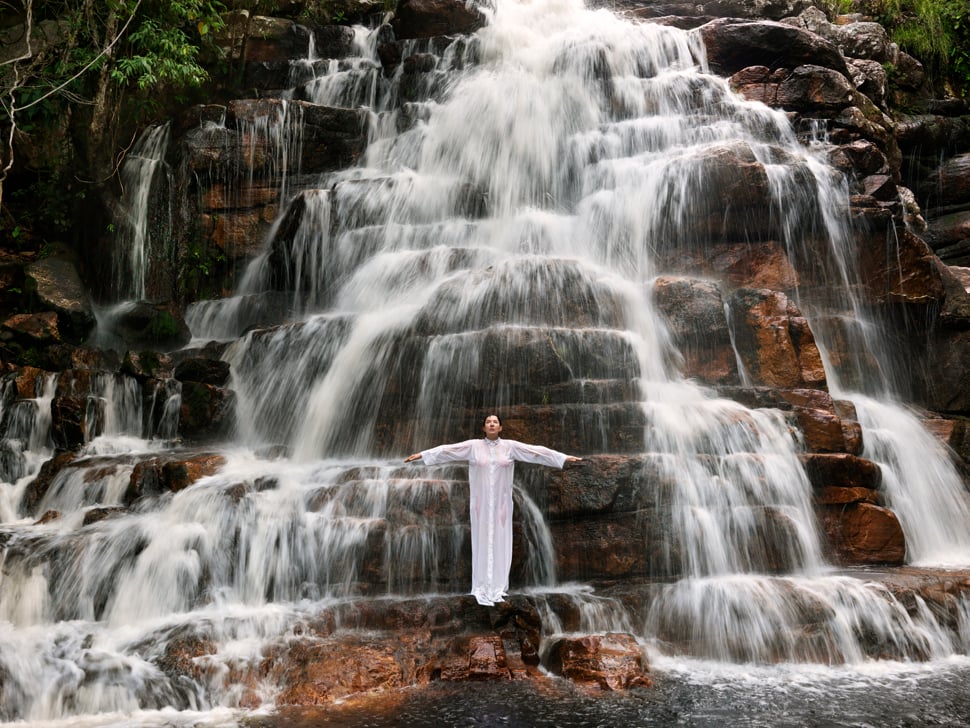 "After all of this, I really needed to make art," Abramović explained at a Q&A following the Museum of the Moving Image's screening of the film on December 15th. "The whole journey was healing — in the end, I understood me, in a new period in my life."
Abramović continued, stressing the importance of travel and new experiences, "It's so important to go on these kinds of trips because it's so important to experience something which is outside of your normal life, out of your ordinary space and time. To take yourself out of the box, to get into places you've never been. Places that you don't know what they are, to meet people that you don't even understand. And you really confront yourself with all of these things, because in our culture, everything is so rational, from the brain, and there it's all about intuition and a very deep, strong relationship to nature, which we lost completely."
"The whole journey was healing — in the end, I understood me, in a new period in my life."
Gaining access to all this new otherworldly frontier was not easy, however. Unlike many other documentaries, where filming can be granted via the simple release form, the filmmakers needed to ask permission — from the spirit world. Abramović recalled the issues the crew encountered when attempting to film the healer John of God as he performed both spiritual and physical surgeries — the physical ones included slicing open eyeballs and other body parts, sans anesthesia.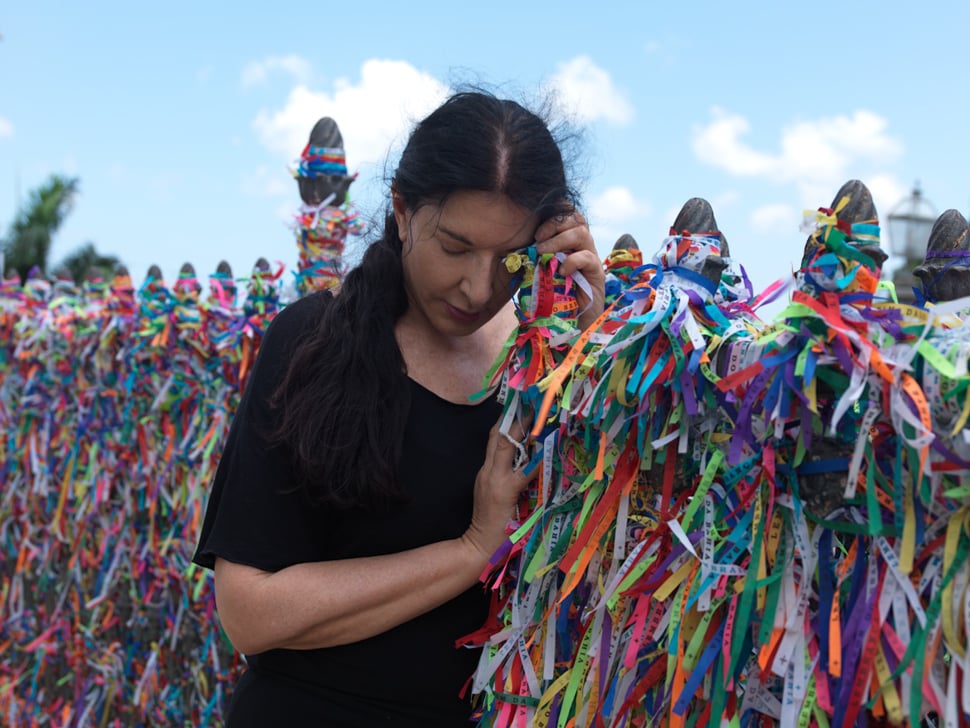 "It was so difficult," she remembered, "because, first of all, we could not just go there and film all of the operations without any permission. So we went there first to find out if we were allowed to film. And they said, "no, absolutely not — there's no way." But John of God said, "˜I am just a man. And I incorporate 120 spirits — at least. So all the spirits have agreed that you're okay and you can film. So we went there for about ten days until the spirits one day said, "you're okay," and then we filmed. This is business in the spirit world!"
There were other parts of the film, however, that Abramović was less enthusiastic about making it to the final cut. Most notably, when she took a second massive dose of ayahuasca — after a more restrained first dose — and ended up screaming, naked before the camera lens. As a consummate artist, she was over eager to gain insight into new experiences but did not realize the potential consequences. "It was something that I experienced in my life where I could not move," she recounted. "This first trip was seventeen hours — I couldn't move, I wasn't myself, I lost complete control and that was the thing that was so terrifying. I was so eager to have experience that I took a normal dose like everyone else. A man saw me and he said, "you are not on the trip — take this" and gave me a beer glass full of pure hell. You know when you're greedy for experience, and you don't have experience with drugs? This is what happens. So don't be greedy."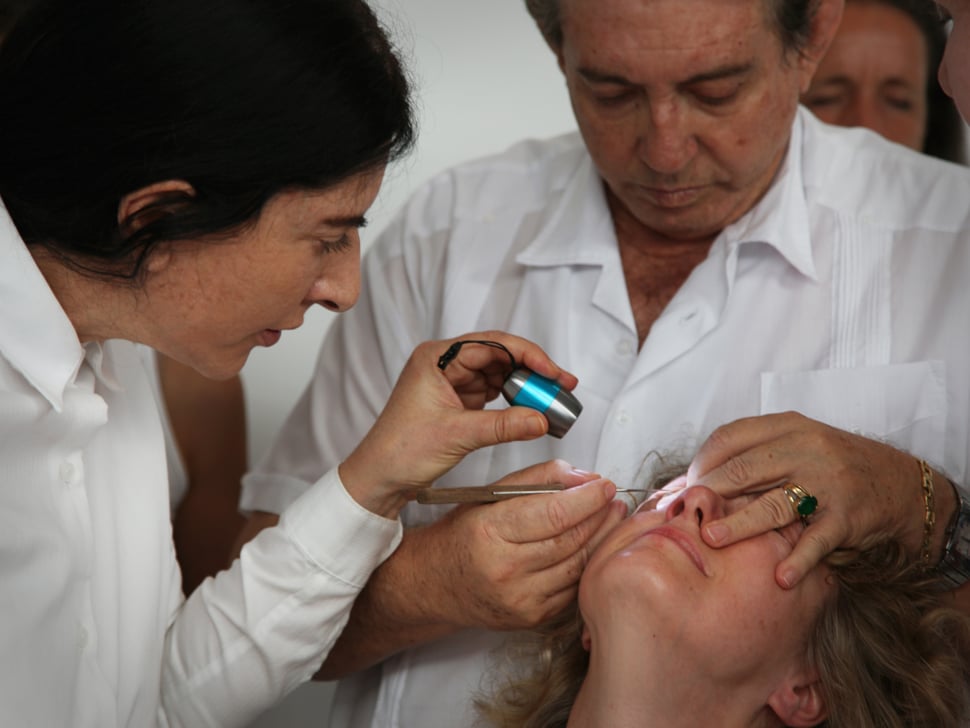 It was then that Abramović realized that, yes, this documentary exposed an unfiltered version of her to the public — but that that was a large part of why it is such a successful film. Her raw emotions splashed all over film have become a means through which the audience could identify with her on a raw, humanistic level, which perhaps was a first for the seemingly untouchable performance artist. She remembered, "When I saw all of the [documentary] material when we stopped editing, I said, "˜I completely opened my heart. There's one thing when you're in pain, and one thing when it's okay to share this with the public, but there's another point when it's so private that you say, "˜Who cares? It's their problem, not yours." If it's just my problem, my story, and doesn't resonate with you, then that's not a good film."
It's true that Abramović is an art world iconoclast. She rubs elbows with Jay-Z, Lady Gaga, supermodels, staring into her piercing eyes for prolonged period of time can make a grown person cry. Marina Abramović in Brazil: The Space in Between, however, proves the utter power of documentary filmmaking in that none of that pomp and glamor ultimately matters. When the artifice is stripped away, even iconoclasts prove to be people too. Out of the ashes of her psychedelic experiences, an emotionally bare Abramović emerged — one even better equipped to make art and captivate the world.
Rent or buy Marina Abramović in Brazil: The Space in Between here.