Change is inevitable. Styles change, formats change — in 2014, y'all blazed new trails in every medium that we thought we had a handle on. The more things change, the more they stay the same, though. We'll always have one essential mission: to highlight the latest and greatest from you, the talented video-makers who make Vimeo the world's greatest creative community. Thus, we present to you: the Best of Vimeo 2014.
Watchtower of Turkey from Leonardo Dalessandri on Vimeo.
With 11 Staff Picks, Leonardo Dalessandri is one of the all-time most decorated Vimeans, but it wasn't until the debut of 2013″s "Watchtower of Morocco" that his present style began to take shape. Incorporating tons of in-camera motion, rhythmic swoops, and artful wipes alongside a mélange of techniques from hyper lapse to slow motion, Dalessandri's formal innovation achieved perfection in this year's follow-up, "Watchtower of Turkey." This hard-developed skill, paired with a sense of both drama and grace, created a travel video unlike any we'd seen before. (Jason Sondhi)
Sevilla from Bram Schouw on Vimeo.
Bram Schouw plops us down into the passenger seat of a life-changing road trip in his short film "Sevilla." As a viewer, you both see and feel the intricacies of the characters" friendships — and you want to be a part of them. What's more, the film lets you. Through the beautiful warmth and nostalgic tones of the 16mm film, you watch as the best trip you've ever seen unfolds. The love between the characters feels real, and the loss really wallops you, so much so that it might change you forever. If only for the better. (Ian Durkin)
JohnnyExpress from AlfredImageworks on Vimeo.
Animation has deep roots in visual and slapstick comedy. Whether it's Wile E. Coyote falling off a cliff or Daffy Duck getting shot in the face, there is a long history of people laughing at stuff that would be pretty horrific in a different context. It is with that history in mind that we find "JohnnyExpress," an animated short about a space deliveryman named Johnny floating through the sky and wiping out full civilizations with a single step. Highlighted by fantastic character design, "JohnnyExpress" is definitely one of the most technically impressive animated shorts of the year. However, it is director Kyungmin Woo's ability to combine both one-off gags and long, complex comedic sequences that makes "JohnnyExpress" a slapstick comedy torchbearer and also one of our favorite videos of 2014. (Doug Klinger)
Moving On from ainslie henderson on Vimeo.
Moving On is just plain moving. We're as susceptible to the feels as anyone, and this artful music video has them in abundance. Ainslie is a hotshot indie animator fresh off a BAFTA win last year, and this, one of his first commercial projects out of school, is a home run. A parable of life, death, and reincarnation, Henderson imbues yarn with the emotional sensitivity of a great actor. The rare piece where medium and theme perfectly harmonize, "Moving On" is destined make viewers shed a few tears, and be remembered for a long time. (Jason Sondhi)
Urban Isolation from Russell Houghten on Vimeo.
Within any city's limits, a skateboarder can find a bank or a ledge that has been rendered un-skateable due to its proximity to pedestrians or traffic. In "Urban Isolation," Russell Houghten considers this idea and cleverly acts on his impulse as a skater to create a world where its population has disappeared. The streets have become empty of cars and full of potential for a skateboarder. Left alone with the impressive concrete infrastructure that a city requires, Russell and the skaters have the city to themselves; they're able to set up beautiful compositions and skate any spot they want. (Ian Durkin)
Paolo Nutini "˜Iron Sky" from Daniel Wolfe on Vimeo.
No video highlights how far music videos have come as an art form more than Daniel Wolfe's "Paolo Nutini "˜Iron Sky"." Feeling more like a documentary than a scripted story, "Iron Sky" keeps a tight grip on your attention no matter how many gritty and painful images it throws at you. Rather than structuring the video around a traditional narrative, "Iron Sky" is built with raw emotion, creating a personal connection between the characters and the viewer that is truly unique to the music video form. (Doug Klinger)
JUNKYARD – Hisko Hulsing from il Luster on Vimeo.
Hisko Hulsing's festival favorite is a class of production that you just so rarely see anywhere, let alone online. A massive production spanning over six years, it innovatively (and painstakingly) combines 2D and 3D animation on top of 120 oil-painted backgrounds.Hard work alone won't get you on the list, but that innovative design pairs with a genuinely moving story, a gritty remembrance of childhood's turning points and karmic cycles. Loosely inspired by Hulsing's childhood dabbling in crime and drug culture, the story of two friends who take different paths in life registered strongly with this viewer. We've all left someone by the wayside, and often it is the right choice, but it still pangs at my conscience. (Jason Sondhi)
The Game That Time Forgot from Adam Butcher on Vimeo.
"The Game That Time Forgot" has a special spot on our list. Filled with honesty, it reveals Adam Butcher's personality and is created with that particular simple human instinct for sharing a experience that we cherish on Vimeo. What's better is that the video documents another one of Adam's passion projects: his 13-year quest to develop his own video game. Through Adam's story, he reveals his own shortcomings to us; we see his miscalculations and how he grows as a person. We are left with a deep understanding of the pride that he feels, and a close connection to his process, and are hopefully reminded of a few hair-brained ideas from our own childhood. (Ian Durkin)
Cazzette – Sleepless (Director's Cut) from Peter Huang on Vimeo.
On first watch, "Cazzette – Sleepless" is one of the most tense and suspenseful videos of the year, featuring a dark and emotional narrative that weaves the song into the story in a really inventive way. A video so impactful that it almost requires an immediate replay, the viewer's anticipation is actually intensified the second time around as the subtle visual cues become more prominent. Couple that with remarkably layered and complex performances by the actors, and the result is a video that gets more satisfying every time you watch it. (Doug Klinger)
SLOMO from Josh Izenberg on Vimeo.
Portrait documentaries are seemingly everywhere. They are one of the most common types of films on Vimeo, but what makes a good one? I find "Slomo" to be the platonic ideal of a portrait doc and is thus a good place to look for the answer. Utilizing thoughtful cutaways and recreations alongside beautiful slow motion cinematography, Joshua Izenberg nails the production cinematically, but it's the character he found, California eccentric John Kitchin, who elevates the film to rarified territory. A boardwalk legend for rollerblading all day, everyday, Kitchin is the year's most fascinating character — equal parts inspiring and mystifying. (Jason Sondhi)
All in all, 2014 was a great year for Staff Pick videos. BUT WAIT! THAT'S NOT IT! Vimeo On Demand grew from 5,000 to over 14,000 titles being sold by creators directly to their audiences. Combing through these full-length films and series was quite the Curation undertaking, but we're pleased to say that the following titles are completely in keeping with the highest of high standards of our Vimeo Staff Picks.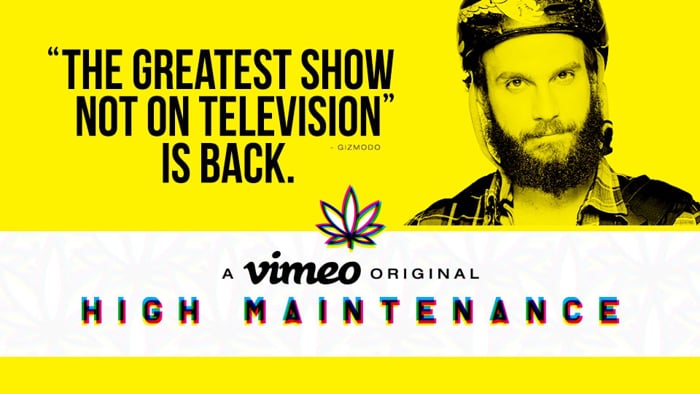 High Maintenance from Janky Clown Productions on Vimeo.
What started as one of the most beloved web series on Vimeo (or on the Internet for that matter) evolved into our very first venture into original programming! Creators Katja Blichfeld and Ben Sinclair rolled out three new episodes this November and have the final three of season two slated for a February 5 release. All biases aside, this web series continues to prove the power of stories told in a length and style that support the vision of the filmmakers. The duo refuses to conform to traditional media standards, which should've been obvious given that the show is about "a nameless cannabis dealer (Sinclair) as he delivers his product to clients with neuroses as diverse as the city they live in." (Jeffrey Bowers)
less – Trailer from Level 1 on Vimeo.
Irreverent and wild, the newest offering from Level 1 is no-holds-bar fun. Filming over a dozen athletes on location from all over the world, the Level 1 team makes one of their most accomplished, while still playful films on what is now their 15th time out. Both a love letter and a screw-you to urban skiing, the film finds some of the best skiiers in the world doing their most inventive tricks on and off office buildings, staircases, city parks, and more. With those brain-boggling tricks, new and exciting skiers and the best cinematography to date, LESS proves that it is definitely more. (Jeffrey Bowers)
Little Feet – Trailer from Factory 25 on Vimeo.
Do you remember what it was like to be a kid? Every place was your playground and everything was a diversion. If you miss making up fairytales, wandering without a care, or screaming simply for the sake of screaming, then settle in and snuggle up with Alexandre Rockwell's LITTLE FEET. This critically acclaimed gem will transport you back into your prepubescent brain (or a luscious 16mm b/w version of it) and take you on what is both an epic and miniscule freewheeling adventure to deliver a depressed goldfish to a new home. (Jeffrey Bowers)
Return to Homs – Trailer from Journeyman Pictures on Vimeo.
You've never seen anything quite like RETURN TO HOMS. Talal Derki allows you to watch a civil war unfold literally in front of your eyes through unflinching reportage and on-the-ground footage during the Syrian revolution. With geo-political tensions heating up and Syria still a hotbed of activity, this is a film that screams to be seen, which is also bolstered by the fact that the documentary took home the World Cinema Grand Jury Prize this year at the Sundance Film Festival. (Jeffrey Bowers)
SHOCKWAVES – Trailer from kasumi on Vimeo.
Artist Kasumi's SHOCKWAVES is definitely on the different side of film. Constructed entirely from 25,000 public domain film samples, the 82 minutes pulse and shake with the history of cinema, life, and the folly of verbal and visual expression. Like the Mad Hatter, the film employs dizzying logic to shift through a man's life, the ups and downs and all arounds. It is by far the most challenging film on this slate of five, but if that intrigues you, give it a try. I thought I'd end on a rhyme since, after all, it's Christmas time. (Jeffrey Bowers)
Happy holidays!
Love,
Vimeo Curation