Calling all Vimeans of a Mac persuasion—
Apple's new Mountain Lion operating system (OS X 10.8, for those keeping score) pounced on the world last week, and among this swanky feline's hundreds of new features is one that makes uploading videos to Vimeo ridiculously simple. Mountain Lion's new "Share" option lets you send videos from your computer desktop to Vimeo in just one swift click!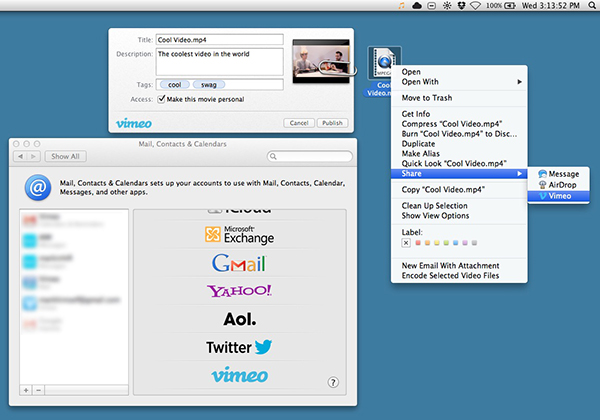 Here's how to make the magic happen: once you download Mountain Lion, open System Preferences, then click on Mail, Contacts & Calendars. Here you'll see a variety of apps that you can connect to Mountain Lion. Choose Vimeo and log in to your account.
To send your video or raw footage to Vimeo, right-click on the file, select "Share," then select "Vimeo." Ta-da, that's it! It's just as simple if you're working in iMovie or Final Cut Pro — just click the "Share" button and send your magnum opus right to Vimeo. And however you share, you'll have the ability to give your masterwork a title, description, and tags, if you're so inclined. It's as easy as apple pie! An apple pie being devoured by a ravenous mountain lion.
Learn more about Mountain Lion >
Happy uploading!