Hey there, magnificent makers!
Hopefully you've tried out the new visual side of the Enhancer by now? With just a click, you can preview different filters on your video, instantly. If you haven't tried to find the perfect Look yet, then you're in luck, because I Double Dog Dare you to participate in this weekend's Challenge!
This is a special one thanks to a new incentive. On top of a shiny new Plus account, the winner of this (and future) Weekend Challenge(s) will receive our Weekend Warrior trophy: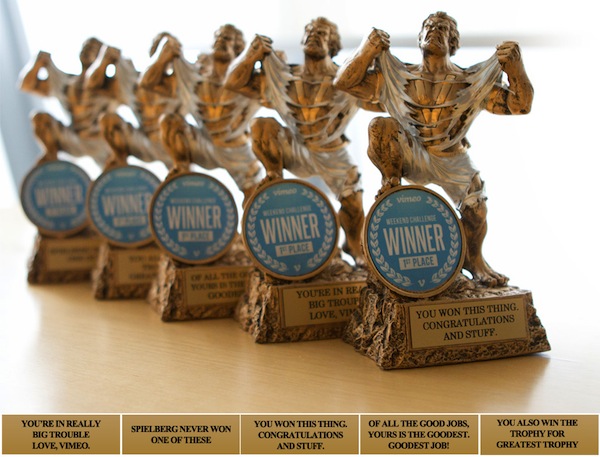 I'll let you catch your breath.
To get one of these suckers, you've got to wow us. This weekend, the subject is broad and the rules are simple: use our library of Looks to help you visualize the concept of "Before and After" in one minute.
Maybe you're a literal person who can show us how to spice up some otherwise drab visuals with a zesty Look. Perhaps you'd like to act out your resolutions for the year with a bright color scheme? Or you could use the Enhancer to help tell a dramatic tale of choices and their consequences.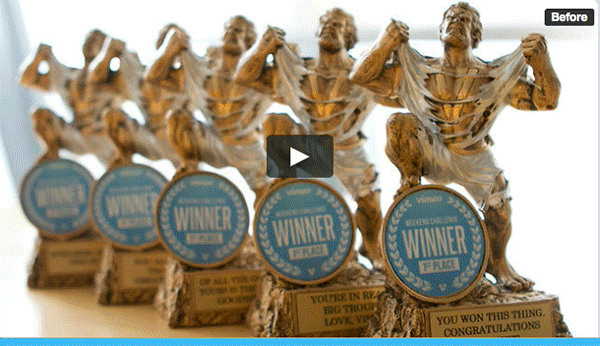 There are so many paths to take, so many Looks! Boy Band Bypass and Bovine Bliss are favorites of mine, if just for the names (who doesn't love a little alliteration?). Try running an enhanced video back through the enhancer to add more Looks!
The Rules:
+ Use the Enhancer to add at least one Look to your video.
+ Keep your video under one minute.
+ If you add music, use a song you've created or something from the Vimeo Music Store -- get that Enhancer on double duty!
+ Upload and post your video to the Weekend Challenge Group by Tuesday, April 2nd at 11:59 PM (EST).
Remember that only videos made specifically for this Challenge will be considered (although you may use old footage).All videos must be approved by the Vimeo Staff before appearing in the Group, so don't worry if your video doesn't show up at first; we'll get to it!
The winner of this Challenge will receive a free Vimeo Plus account for one year, and one of our stunning new trophies!
If you're already a Plus member, you'll get another year! The runner-up will receive an extra 3GB of upload space, Plus account or not.

Ready for a challenge?
Use the Enhancer to show us what Before and After means to you.
Accept this challenge
~~~~~~~~UPDATE!~~~~~~~~
Great job this week! The most interesting Challenges to judge are the ones that are the most varied, and there was quite a bit of variation this time around. We've got a little message for the winner:
As seen above, the inaugural Weekend Warrior trophy goes to Thibault Grégoire for his video,
CHROMA, that amped us up and introduced us to the full spectrum:
The Runner Up is Andrey Perro with the spooky masterpiece, Pilgrim's Lane.
Shout out to Eric Perrella for Hangover, which was an intense experience.
See you all next time!
-Cam