Like any new, unexplored task, cooking a meal that you have never made before can be daunting. This is where how-to videos come in: these break down each step of a process, creating a visual walkthrough of a project. In the case of the recipe videos, you can clarify confusing instructions, settle someone's nerves in the kitchen, and make everyone reeeeeeeeeally hungry at the same time. That's why recipe videos resonate well with the more apprehensive of home chefs (and it's much more seamless than a 20-pound cookbook).
Vimeo's own Mark Cersosimo has been making recipe videos for a while now, all of which are conveniently compiled into an album for you to drool over. My personal favorite is this video he created showcasing the recipe for french toast rollups.
Do you have a particular chocolate chip cookie recipe that your friends and family have been asking for forever? Or maybe you just want to convince your coworkers that they too can make your famous spinach dip. As long as you can whip up a particular meal, dish, snack, dessert, etc. without looking up the recipe, we want you to show us how!
My mom made vegetarian Japanese potstickers (or gyōza) all the time when I was growing up and now I regularly make them for myself. It's one of the only things I can make without needing a recipe, and it's super easy to swap things out, or add additional veggies. So, it seemed like the most obvious subject for my recipe video! Enjoy.
The Rules:
Create one recipe video (of something you know how to make by heart), no more than three minutes in length.
If you add music, make sure to use a song you or a buddy created, or that you have the rights to it.
Anything goes for your title, but add this to the end of your video's description: "Created for the Weekend Challenge: https://vimeo.com/groups/weekendchallenge"
Upload and post your video to the Weekend Challenge Group by Tuesday, December 13, 2016 at 11:59 p.m. (EST). Just follow the screenshots below: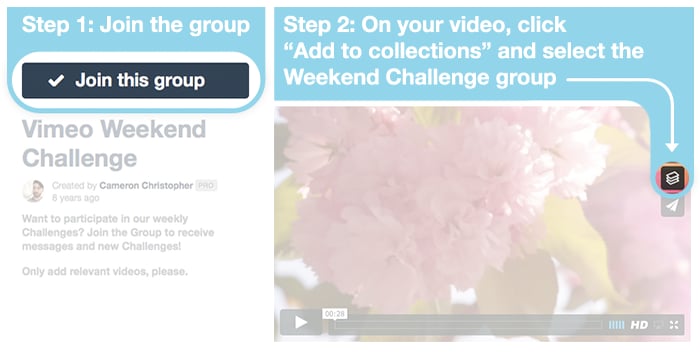 The Prizes:
The winner will receive a badge and a free Vimeo Plus membership for one year! If you're already a Plus member, you'll get another year tacked on. If you have Vimeo PRO, we'll give you six more months of PRO added to the end of your current membership.
The runner-up will receive a free Vimeo Plus membership for six months. Current Plus members will get six more months added on, and PRO members will earn three additional months of PRO.
All videos must be approved by the Vimeo Staff before appearing in the group, so don't worry if your video doesn't show up at first; we'll get to it!

Thank you to everyone who submitted to this Weekend Challenge! There were so many mouthwatering recipe videos to choose from.
The winner is NOOK COLLECTIVE with Kitchen Wild.
Our runner up is Thibault Rodrigues with Pica e Repica.