We're right in the middle of fall here at Vimeo HQ. The air has a bite to it, the leaves are crispy, the pumpkin spice lattes are flowing and the smell of old garbage and urine in the streets of NYC has subsided. What a time to be alive!
For this challenge we want you to create a 5-second film. Your theme? You guessed it: fall. Oh, what's that? You don't have seasons where you live? Good thing "fall" is a reasonably vague term that can be interpreted in many ways! You can keep it traditional and make a film about autumnal beauty or you can go rogue and give us something about the fall of the Roman Empire, falling in love, or falling on your face.
Please pay special attention to the rules below! Lots of people have been ineligible to win in past 5-second challenges because they didn't follow the timing structure. We've added a special prize for this challenge, too. ;)
Here's a little something we came up with:
The Rules:
Tell a story in 5 seconds. The actual video portion should not exceed 5 seconds, 2 seconds for an intro title, 1 second for an outro title. 8 seconds in total.
If you add music, make sure you use a song you or a buddy created, or one that you have the rights to.
Only videos made specifically for this Challenge will be considered.
Anything goes for the title, but add the following at the end of your video's description:
"Created for the Weekend Challenge: Vimeo Weekend Challenge"
Uploading and post your video to the Weekend Challenge Group by Tuesday, November 7th, 2017 at 11:59 p.m. (EST)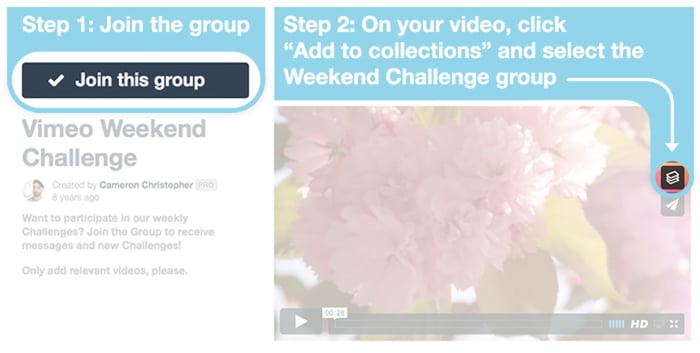 The Prizes:
The winner will receive a free Vimeo Plus membership for one year! If you're already a Plus member, you'll get another year tacked on. If you have Vimeo PRO, we'll give you six more months of PRO added to the end of your current membership. We'll also mail you an authentic autumn NYC leaf.
The runner-up will receive a free Vimeo Plus membership for six months. Current Plus members will get six more months added on, and PRO members will earn three additional months of PRO. We'll also mail you half of an authentic autumn NYC leaf.
All videos must be approved by the Vimeo Staff before appearing in the group, so don't worry if your video doesn't show up at first; we'll get to it!

This weekend's challenge was an extremely hard one to judge. Y'all really did a wonderful job. We did have to choose a winner though, and that honor goes to "Fall" by Marco Spinner.
Our runner up is A Toast To Fall by Dougg

Thanks to everyone who took part. We'll see you all next time!
<
p>