It's time to channel your inner Wes Anderson, find your center, and bend the video-making conventions. All film schools will teach you about the rule of thirds, letting you know it's something that every filmmaker lives and dies by. But we say that rules are meant to be broken and stomped on sometimes — and this is one of those times! So this weekend, embrace centering your subjects to create something special.
For inspiration, watch this supercut of shots from Wes Anderson, the director who popularized filmmaking symmetry.
There's actually a pretty amazing precedent set for this one: last time we did this Challenge, the winning video was so incredible that it was Staff Picked! We hope one of you will be able to pull off that incredible feat this time as well.
So how should you approach your centered masterpiece? The rules are simple: conceptualize, shoot, and edit a video — no more than one minute in length — exclusively using shots where the subject is centered. Keep in mind, your final video does not need to be symmetrical by any means, only centered! Feel free to play with asymmetry and balance as long as your subject is in the middle of that frame. Good luck and have fun!
P.S. Do note that we're giving you an extra day for this Challenge, as many of our American friends are traveling over Labor Day weekend and we want to make sure everyone has enough time to edit!
The Rules:
One minute or less in length, please.
Your subject must be centered in every shot of the video.
Only videos made specifically for this Challenge will be considered.
Anything goes for the title, but add this at the end of your video's description: "Created for the Weekend Challenge: Vimeo Weekend Challenge"
Upload and post your video to the Weekend Challenge Group by Wednesday, September 7, 2016 at 11:59 p.m. (EST). Just follow the screenshots below: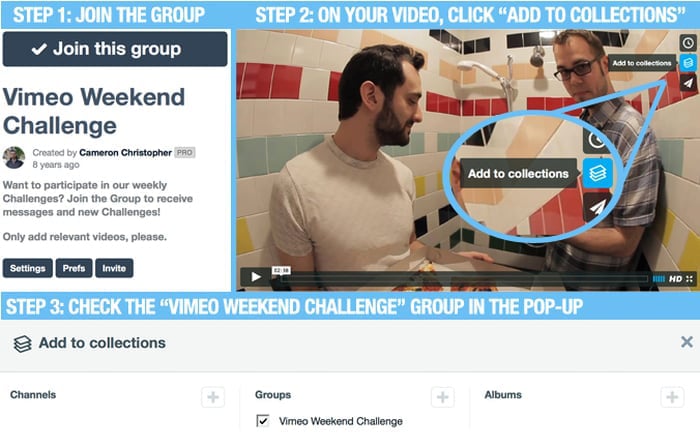 The Prizes:

The winner will receive a badge and a free Vimeo Plus membership for one year! If you're already a Plus member, you'll get another year tacked on. If you have Vimeo PRO, we'll give you six more months of PRO added to the end of your current membership.
The runner-up will receive a free Vimeo Plus membership for six months. Current Plus members will get six more months added on, and PRO members will earn three additional months of PRO.
All videos must be approved by the Vimeo Staff before appearing in the group, so don't worry if your video doesn't show up at first; we'll get to it!

We had such an incredible set of unique entries this week! Our favorite of the bunch was A Whispery Weekend by Recal Media. We're not quite sure we've ever seen anything like this before!

Our runner up is Thoughts by Roald Dahl uploaded by Andrea Marshall

<
p>Thank you all so much for participating!