At Vimeo, we really value the weird, the obscure, the experimental (that's why we haven't fired Jake yet!). When someone here stumbles on a video that feels out of the ordinary, it spreads through our office like the most illustrious and indulgent of room temperature butters. There's something about experimental films that really strike a chord with people, that gets them thinking, talking, sharing. And this week, we want you to make your own.
We want you to reach deep down into the crevices of your brain space and create something wonderfully alternative to traditional filmmaking. Let your imagination run wild and show us what's truly on your mind.
Here's a few experimental videos to get those creative juices flowing.
The Rules:
Your video must be two minutes or less in length.
If you add music, make sure you use a song you or a buddy created, or one that you have the rights to.
Only videos made specifically for this Challenge will be considered.
Anything goes for the title, but add the following at the end of your video's description:
"Created for the Weekend Challenge: Vimeo Weekend Challenge"
Uploading and post your video to the Weekend Challenge Group by Tuesday, September 26, 2017 at 11:59 p.m. (EST)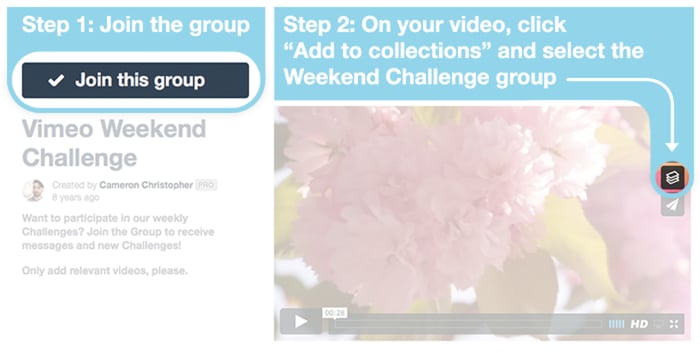 The Prizes:
The winner will receive a free Vimeo Plus membership for one year! If you're already a Plus member, you'll get another year tacked on. If you have Vimeo PRO, we'll give you six more months of PRO added to the end of your current membership.
The runner-up will receive a free Vimeo Plus membership for six months. Current Plus members will get six more months added on, and PRO members will earn three additional months of PRO.
All videos must be approved by the Vimeo Staff before appearing in the group, so don't worry if your video doesn't show up at first; we'll get to it!