Traditionally, super quick cuts are used to show a glimpse of action, to cover up a jump cut, or to help speed up the pace of a storyline. Editors and directors use these cuts pretty infrequently, as the fast-paced edit can overwhelm the viewer. This weekend, we're breaking that rule and challenging you to create a short video using only one-second long clips.

The basic storytelling guide of "beginning, middle, and end" applies, as always. Whether you tell your story through visual cues or dialogue is entirely up to you! You could even use voiceover to reinforce (or to drive!) your story.
Even though your shots will be moving at the speed of a Tesla Roadster flying through space (because that's a real-life thing now), that doesn't mean your subjects need to communicate at that speed. Using dialogue with editing techniques like J and L cuts can mask those cuts and help improve the flow of your final video.
Need some inspiration? Check out the winners from our first Short Cuts challenge:
The Rules:
Create a video between 7- and 70-seconds long using clips no longer than 1-second each. Do keep in mind that shorter videos translate better, since long periods of quick shots can become tiresome to the viewer.
No still photos. We want a video, not a slideshow!
If you add music, make sure you use a song you or a buddy created.
Remember that only videos made specifically for this Challenge will be considered.
Anything goes for the title, but add this at the end of your video's description: "Created for the Weekend Challenge: Vimeo Weekend Challenge"
Upload and post your video to the Weekend Challenge Group by Tuesday, February 20, 2018 at 11:59 p.m. (EST). Just follow the screenshots below: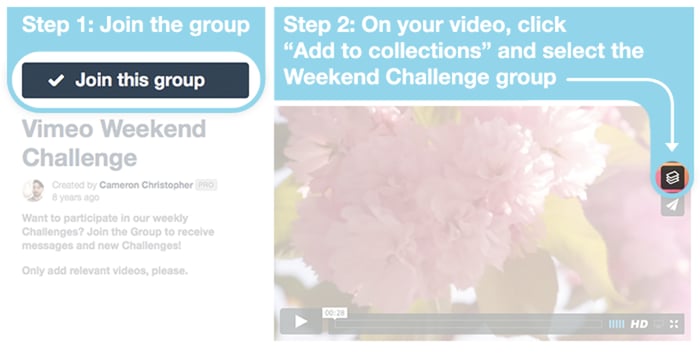 The Prizes:
The winner will receive a badge and a free Vimeo Plus membership for one year! If you're already a Plus member, you'll get another year tacked on. If you have Vimeo PRO, we'll give you six more months of PRO added to the end of your current membership.
The runner-up will receive a free Vimeo Plus membership for six months. Current Plus members will get six more months added on, and PRO members will earn three additional months of PRO.
All videos must be approved by the Vimeo Staff before appearing in the group, so don't worry if your video doesn't show up at first; we'll get to it!

Thanks Vimeans for submitting some fantastic video shorts! This week's winner is Chad Bronder from Southern California, congratulations! We loved the paranoid thriller-movie vibe that fit in so well with the 1-second shot limitation. Well done!
In second place, and making our entire Community team hungry, is skigh.tv from Germany with their short Baking Rolls. Thank you for being you.
<
p>You can find all of this week's entries in the Short Cuts II group album. See you next time Vimeo, and stay positive!