This challenge is done, and we've picked a few great winners! Check them out at the bottom of the post, and stay tuned for the challenge coming up next weekend.
Ever find yourself boogying to the beat of your washing machine? Shimmying your shoulders while your coffee brews? Spinning in your chair as your ancient dial-up internet groans? Cool, me too.
This weekend, we challenge you to create a mini dance film filled with movement — all choreographed to the sound of something you hear everyday. See this example my friend Peter and I made with the sound of his wheelchair.
Not a dancer? Not a problem. The choreography could be a full-body dance, or just something simple, like toes tapping. The movement doesn't even have to involve bodies. You can make anything dance: your dog, a pair of socks, a carton of eggs, a stack of newspaper, and on and on. Feel free to use the magic of editing tools to make your dance come to life.
As for the everyday sound, that can be melodic, like an alarm clock, or atmospheric, like a dumpster truck outside your bedroom window. You're welcome to record the sound separate from the video, but make sure that sound stays in it's true state, recorded by you (read: no editing, no music).
Need some tips on how to record sounds? We've got a lesson for that. For more movement inspiration, please enjoy:
The Rules:

Create a video of movement, choreographed to an everyday sound.
Your video should include only original sound recorded by you.
No longer than two minutes in length, please.
Anything goes for your title, but add this at the end of your video's description: "Created for the Weekend Challenge: https://vimeo.com/groups/weekendchallenge"
Remember that only videos made specifically for this Challenge will be considered.
Upload and post your video to the Weekend Challenge Group by Tuesday, March 14, 2017 at 11:59 p.m. (EST). Just follow the screenshots below: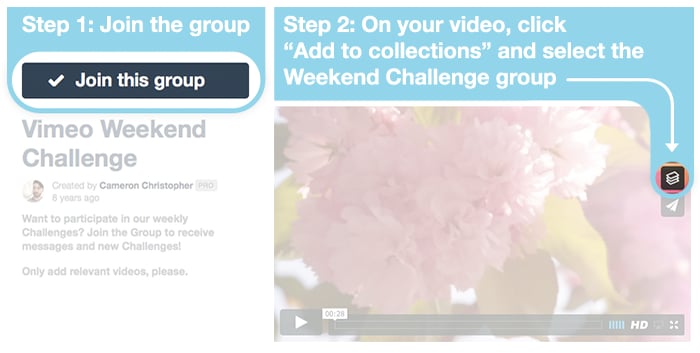 The Prizes:
The winner will receive a badge and a free Vimeo Plus membership for one year! If you're already a Plus member, you'll get another year tacked on. If you have Vimeo PRO, we'll give you six more months of PRO added to the end of your current membership.
The runner-up will receive a free Vimeo Plus membership for six months. Current Plus members will get six more months added on, and PRO members will earn three additional months of PRO.
All videos must be approved by the Vimeo Staff before appearing in the group, so don't worry if your video doesn't show up at first; we'll get to it!

Hey all! Amazing job to everyone who put on their creative choreographer caps to complete this challenge. We heard so many neat sounds, and saw so many things dancing: people, breakfasts, trains, birds, and a few adorable babies. Thank you and congratulations to everyone who took time out of their weekends to submit a video.
There was confusion about the sound rules for this weekend's challenge, and we ended up with two kinds of submissions: 1) simple loopings of original sound, paired with different video footage; and 2) original sound and video, synced up and looped to make an interesting beat. So, we decided to choose two winners, one from each school of thought.
The two winners are:

And the runner up is Lyle Dillie with Slinging Dogs – Music from Sounds, featuring Millennium High School Band and Spring Training concession stand!
Thanks to everyone who participated. We'll see you next time!